Don't sell Micron (NASDAQ:MU) in May. Momentum is on the side of MU and savvy investors may want to continue riding this stock's rise to the tops. Alpha Omega Mathematica (AOM) rates Micron a Strong Buy with 90% grade. AOM's system generates comparative ratings for individual stocks using 38 current data points from the stock market.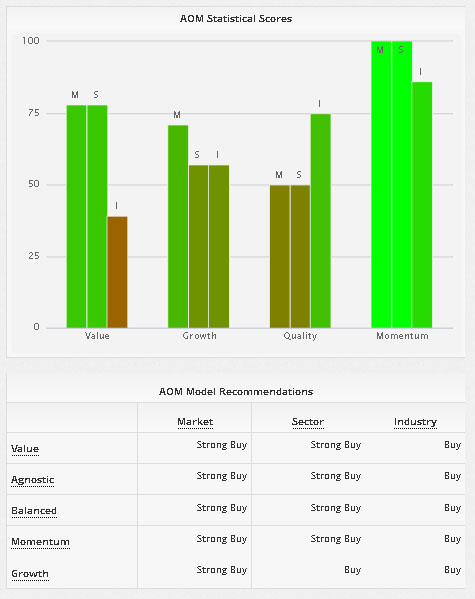 Source: getaom.com
Notice that AOM's algorithm engine gives Micron 100% scores in Momentum when compared to its market and sector peers. This is easily explained by looking at the other AOM chart below.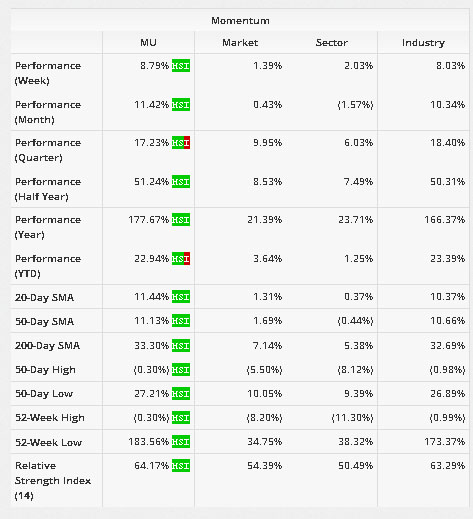 Micron is a good momentum stock that outperformed the market and the technology sector. Just look at those Performance numbers above, MU outperformed its market and sector peers. YTD, One Year, Half year, Quarter, One Month, and One Week gains of Micron is 400%+++ better than the Technology sector average.
SMA20 (11.4.44%), SMA50 (11.13%), and SMA200 (33.30%) gains of Micron also points to a strong thrust towards the $30 price level. I know this stock has made already massive gains with its 183.56% 52-week performance but there's still enough gas in MU for it to reach the $30 median price target made by FT.com analysts.

Source: markets.ft.com
The median estimate of $30 is 12.2% higher and the high estimate of $50 is 87% higher. MU bulls are clearly outnumbering the bears. However, the big past gains of MU might be one reason why only 12 investment analysts (out of 41) polled by FT.com gave MU a Buy rating. There were 15 analysts who gave Micron a Hold rating. Just 1 analyst rated Micron a sell.

Source: markets.ft.com
It should also be noted that 11 insiders sold Micron shares last April. I am however more inclined to believe that Micron's momentum will continue for the near term. Technical experts can verify my suspicion that MU can still go higher.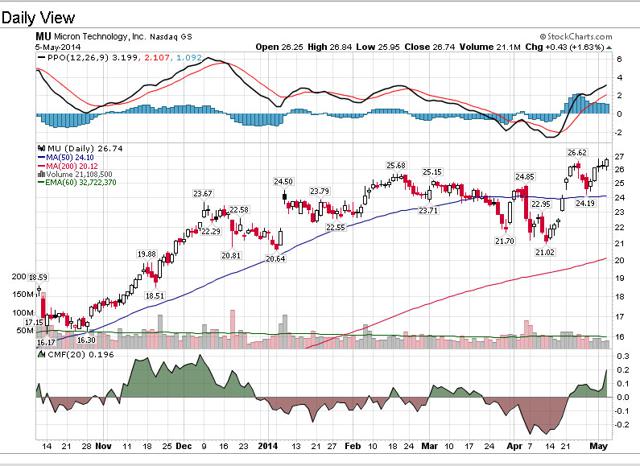 Click to enlarge
Good Fundamentals
MU is still a good stock to bet on this month of May. The company offers some good fundamentals which cushions it from future marketwide pullback. Alpha Omega Mathematica gives Micron good grades in its Value modeling. Based on the chart below, MU is underpriced compared to its market and sector peers.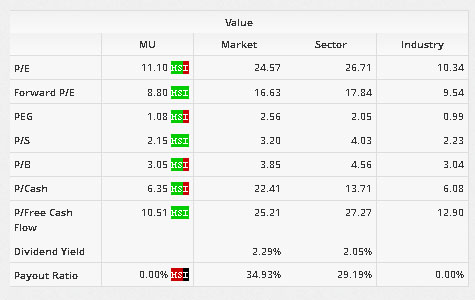 Micron's Forward P/E of 8.80 is just half of the Technology sector's average of 17.84. MU's PEG, P/S, and P/B ratios are much lower than the Technology sector average. P/C and P/Free Cash Flow ratios of Micron are also much better than its market and sector peers. The ratios of AOM coincide with the data from Finviz.

Click to enlarge
Source: Finviz.com
Yahoo Finance's chart also shows Micron, despite its huge 52-week gain, still comes with sub-10 EV/EBITDA valuation.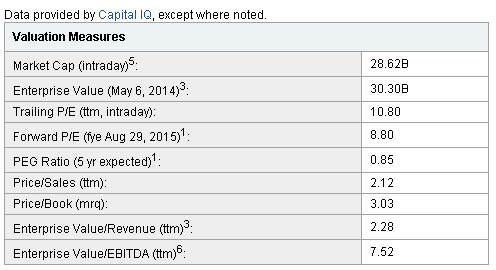 The EV/EBITDA is just 7.52 so Micron has not yet reached stratospheric valuation.
Quality Management
Aside from good fundamentals, Micron also gets a high grade from AOM for its Quality indicators. Effective management has given MU better returns than its market and sector peers.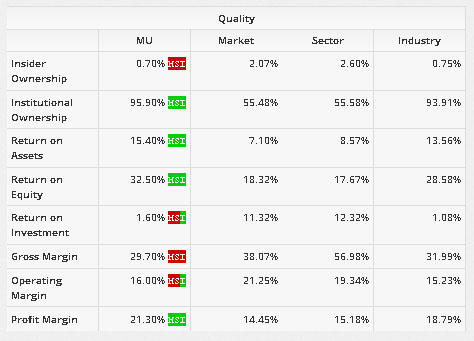 The 15.40% Return on Assets of Micron is better than market, sector and industry averages. The 32.50% Return on Equity is much higher than the technology sector average. MU's management also delivered a 21.30% Profit Margin, again higher than its market, sector, and industry peers.
Momentum Drivers
The momentum of Micron is most likely to continue because the company might raise its DRAM prices this month due to low inventory. MU wants to take advantage of the foreseen short supply due to the high demand for memory chips from PC and mobile gadget manufacturers. Samsung and SK Hynix's productions seems to be also incapable of satisfying the market need for DRAM.
Robust growth in smartphones and tablets will keep Micron's memory products in demand. Global smartphone demand is still growing.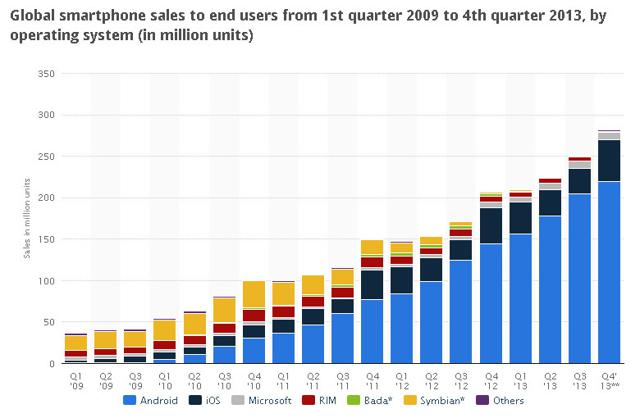 Click to enlarge
Source: Statista.com
Elpida, now under Micron, still benefits from the iLoyalists' undying love for the iPhone. Despite the surge of cheaper high-end Android and Windows Phone, Apple (NASDAQ:AAPL) continues to enjoy record-setting iPhone sales.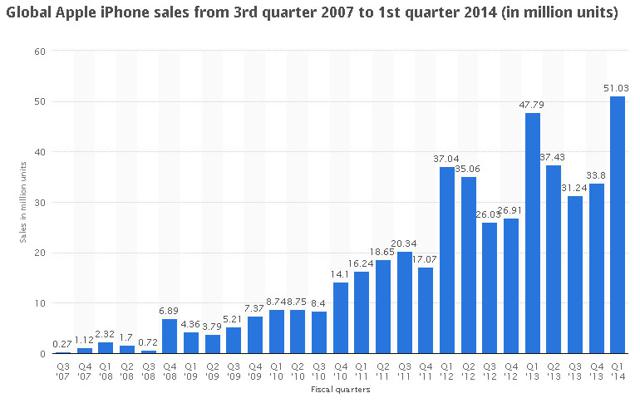 Click to enlarge
Source: Statista.com
Micron's superior NAND technology may also help the company improve its competitiveness against SanDisk. NAND prices are also stabilizing and Micron can improve its gross margin by shifting towards SSD/embedded products. Solid state drives (SSD) for the enterprise market is a growth/momentum driver for Micron. SSD shipments were up by 82% in 2013.
SSD is growing while HDD and ODD shipments are declining. This trend should be another growth driver for Micron.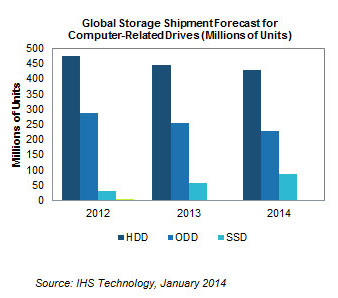 Conclusion
Like what Alpha Omega Mathematica quantitative scoring system said, Micron is a Strong Buy. It's a greatly-managed company with products that are in demand. It has a healthy balance sheet and good cash flow. The stock showed great momentum over the past year but projected short supply in DRAM gives MU more room to crawl higher.
Drexel Hamilton set a $50 price target for Micron. However, I'll already be very happy if MU hits $30 this quarter. The company's 10-year performance chart calls for prudence. It is best not to be too greedy, current momentum drivers of Micron won't help it double again this year.
Buy Micron with modest (10-20%) gains in mind. Existing factors makes me believe that MU can hit the $30 price level soon, or at the least, deliver a new 52-week high.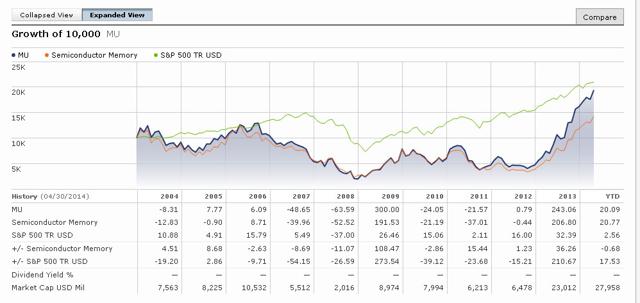 Click to enlarge
Source: Morningstar.com
Disclosure: I have no positions in any stocks mentioned, and no plans to initiate any positions within the next 72 hours. I wrote this article myself, and it expresses my own opinions. I am not receiving compensation for it (other than from Seeking Alpha). I have no business relationship with any company whose stock is mentioned in this article.