Alcoa's (NYSE:AA) investors have been pretty happy lately as the company's share price has seen a hike it hasn't seen in a long time. Many investors can't even believe that this stock is finally taking-off, after spending a considerable time in the single-digit zone (in other words, the penalty box). Should Alcoa's investors expect this rally to continue, or did the stock get ahead of itself? In this article, we will try to find an answer to this question.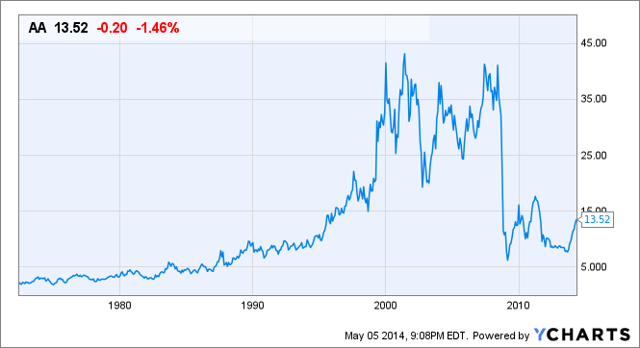 Alcoa's revenues have been highly volatile and highly dependent on aluminum prices for a long time. As the globalized world demanded more and more aluminum for its cars, planes and other industrial products between 1980s and mid-2000s, Alcoa's revenues jumped from about $5 billion to just north of $30 billion. During the first recession, the company's revenues took a plunge and fell to just above $17.5 billion. They have been on the increase since then due to a strong recovery in automobile and plane industries; however, the trend has been headed south for the last few quarters. Many investors are hoping that this short-term trend will not turn into a long-term trend over time.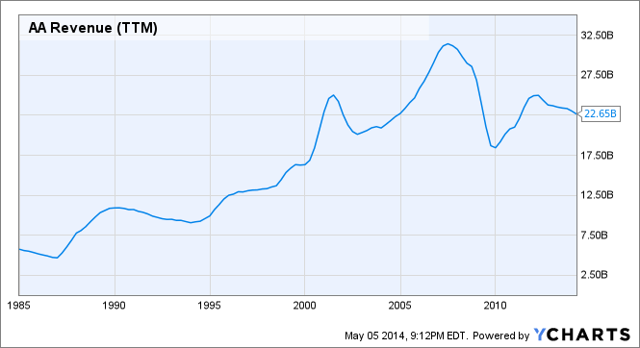 Aluminum prices, have been somewhat volatile; however the long-term trend has been headed upwards for more than 30 years. As Asia and Latin America saw strong growth over the last few decades, many materials became more expensive and aluminum is no exception. During the recession, the price of this material fell sharply but it didn't take a long time to recover. Currently, the weakness we see in the aluminum market is a function of (the seemingly never-ending) European troubles and Asian worries. On the other hand, we don't really know how much more room aluminum price has for appreciating further because the current price is dangerously close to the all-time high figure.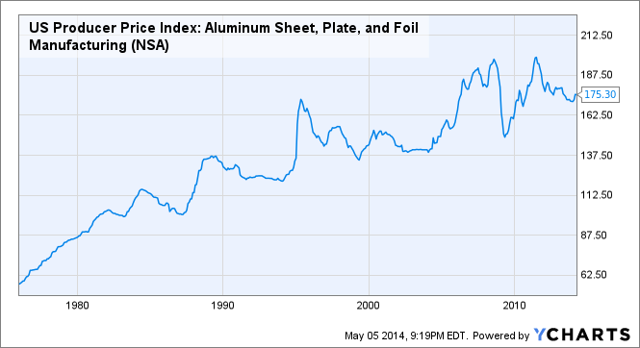 Historically speaking, the investors typically paid about $1 for each dollar Alcoa generated in revenues. During the worst days of the recession, investors were willing to pay Alcoa less than 25 cents for each dollar it generated in revenues. Currently this figure is at 64 cents, which is lower than historical standards but near the peak at the post-recession era.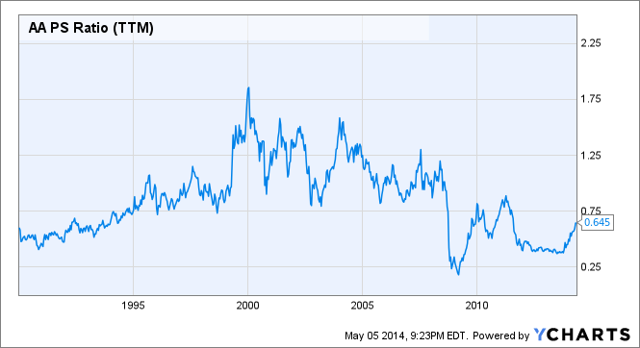 Investors cared more about profits (as they should) than they cared about revenues when it came to Alcoa. Generally speaking, Alcoa has been profitable both in terms of net income and cash flow. There were a few periods in the last 30 years when Alcoa lost money and those periods were generally very painful for the patient investors who held on to their shares. For example, during the recession, Alcoa posted a loss of $1.7 billion. In the last 12 months, the company posted another huge loss of $2.6 billion. As much as cash flow goes, Alcoa has generally been highly profitable.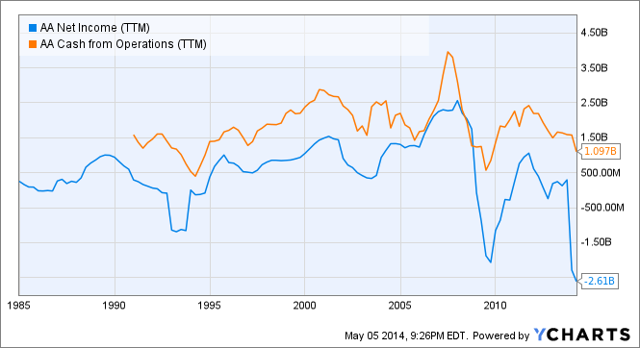 If we look at Alcoa's price-to-cash-flow ratio, we see that the company is currently selling for 13 times the cash it generates from its operations and 36 times the cash it generates when all is said and done. The company's current cash flow generation looks expensive compared to historical averages. In this chart I chose not to show 2008's figures because we would be looking at a huge outlier that would skew the chart completely and make it unreadable.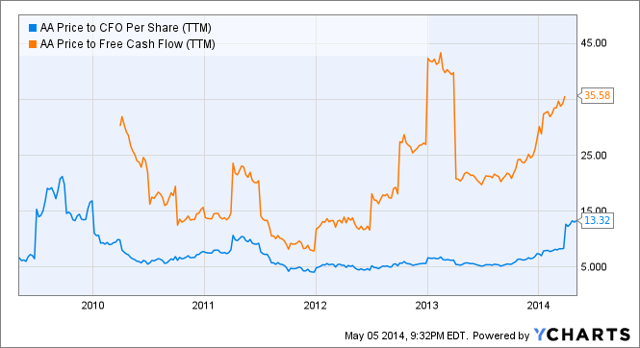 How about AA's book value? In terms of book value, Alcoa looks historically cheap. Currently, the investors are willing to pay Alcoa 1.4 times its book value and 2.0 times its tangible book value. Historically, there were times the investors were willing to pay this company as much as 4.6 times its tangible book value and 2.5 times its book value. Perhaps the investors don't believe that Alcoa will be hugely profitable so they are not paying it a large premium over its book value at the moment.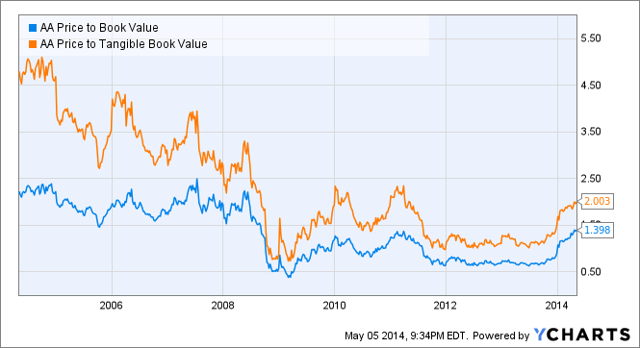 The global GDP is expected to grow at a rate of 3% for the next couple years and Alcoa probably won't be seeing its revenues grow at a rate much higher than that. Historically, the global GDP growth has been a good predictor of Alcoa's revenue growth along with aluminum prices. The company will have to improve its margins big time before many investors find value in the company. Currently, Alcoa's gross margin of 16% and the negative margins for operations and net income don't bode well for the company.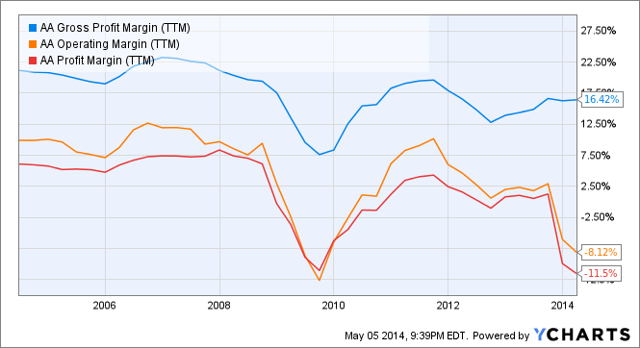 Alcoa will have to grow its gross margins to levels above 20% and the company's operating margin will have to see a big jump to at least 5-6% before we can talk about sustainable profitability for this company. The analysts are pretty optimistic about the company as they expect it to earn 45 cents, 73 cents, 80 cents and 98 cents in the next 4 fiscal years even though it is very rare for Alcoa to grow its net earnings for 4 years in a row. Even if the company meets all of these goals, we are still looking at a company that's fairly valued and a "hold" candidate. While I wouldn't short Alcoa at the current level, I wouldn't buy it either.
Disclosure: I have no positions in any stocks mentioned, and no plans to initiate any positions within the next 72 hours. I wrote this article myself, and it expresses my own opinions. I am not receiving compensation for it (other than from Seeking Alpha). I have no business relationship with any company whose stock is mentioned in this article.