Nanometrics Inc. (NASDAQ:NANO) designs and manufactures advanced process control metrology systems used primarily in the manufacturing of semiconductors, solar photovoltaics ("PV"), high-brightness LEDs ("HB-LED"), advanced wafer scale packaging, as well as by customers in the silicon wafer and data storage industries. Their standalone and integrated metrology systems measure various thin film properties, critical dimensions, overlay control and optical, electrical and material properties, including the structural composition of silicon, compound semiconductor and PV devices, during various steps of the manufacturing process. These systems enable device manufacturers to improve yields, increase productivity and lower their manufacturing costs.
NANO's principal competitors are KLA-Tencor Corp. (NASDAQ:KLAC) and Nova Measuring Instruments Ltd. (NASDAQ:NVMI). Their principal competitor in the integrated metrology segment is Nova Measuring Instruments, while the HB-LED and solar PV markets are served by numerous competitors with no single competitor having a majority position. KLAC (sales of $1.8 billion) is significantly larger than either NANO (sales of $140 million) or NVMI (sales of $62 million).
After the close on August 5, 2010 NANO released second quarter operating results that were well ahead of consensus estimates. Before the release the stock closed at $9.87 up $0.26 for the day and then added another $1.33 in the after hours, where the stock price ended at $11.20. Here are some of the highlights from the Q-2 operating report.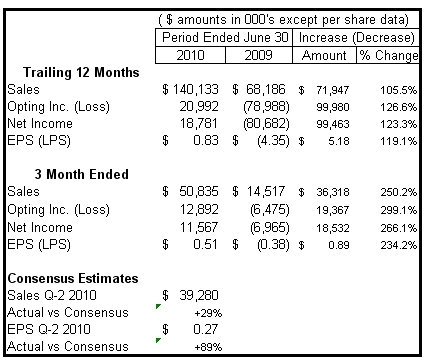 Year over year sales, operating income, net income and earnings (loss) per share were all up more than 100% in the 12 months ended June 2010 versus June 2009. The twelve months ended June 2009 included write-offs of goodwill, restructuring and asset impairment charges totaling $56 million. Even excluding these write-offs the operating results for the trailing 12 months ended June 2010 were significantly better than the comparable 12 months ending in June 2009. Operating results for the most recent quarter ended June 2010 showed even bigger gains exceeding well over +200% in sales, operating income, net income and earnings per share growth versus the comparable quarter in 2009. Naturally, the significant gains were primarily due to Nanometrics and its peers experiencing "depression like" operating results in the first six months of 2009. However, NANO has far exceeded analysts consensus estimated revenue and EPS amounts in the first two quarters of this year.
The Company was positively ebullient in describing their success since the turnaround after hitting bottom during the first quarter of 2009 both in their press release and the earnings conference call. Here are some quotes:
We are truly emerging as a critical supplier to most of the world's leading chip companies, enabling their aggressive performance and cost objectives by addressing tough technological challenges with best-in-class, differentiated, optical metrology systems and solutions for advanced process control.

Our position with leading logic and memory companies, which have been sizeable customers for us since mid-2009, will enable us to continue to benefit from planned capacity expansions, ramping of the next technology nodes and fan-outs of our tool-of-record designations. Our business pipeline is also benefiting from increased spending by other major semiconductor customers as well as contributions from our newer product offerings, which address rapidly-growing segments such as high-brightness LEDs and advanced wafer scale packaging.
Nanometrics was also excited about expanding within the markets they serve, penetrating new markets, broadening their customer base, and making inroads into new geographic regions penetrated by them in recent months as noted by commentary in the conference call:
The second quarter was notable as to the level of revenue, but it was also distinguished by the quality and diversity of our revenue base. Over the last few quarters, we have commented on our growing business within the memory and logic sectors of the semiconductor industry.

As reported, we have had a high concentration of revenues with two major customers, Intel and Samsung, and from two geographic regions, North America and South Korea.

Whereas that business continues to be strong for us, this quarter we reported a third customer that contributed more than 10% to our revenues, which was Hynex.

In addition, we added three countries, Japan, Taiwan, and China as regions that each generated at least 10% of our business in the second quarter. These results reflected growing adoption of our products by a broader customer base over expanded geographic regions, and a healthy reduction in revenue concentration.

Keeping with the quality of revenue seen, I would also like to speak to our product mix. Our flagship product to the semiconductor industry is the Atlas thin film OCD system, which achieved revenue growth of nearly 30% quarter on quarter.

However, many of our other products either met or exceeded that level of growth, including our overlay, integrated metrology, and materials characterization products.

Of particular note, our materials characterization business grew more than 50% this quarter, with about 2/3 of its revenue coming from the LED industry. And our Unifier products has continued to gain traction in the advanced wafer-scale packaging and data-storage markets.

These growing contributions to our overall business by-product, customer, geography, and markets served are meaningful indicators of the breadth of our competitive progress and the success we are beginning to realize in expanding our business base.
NANO also claims they are gaining market share within their fast growing markets and a review of sequential revenue growth since the quarter ended March 31, 2009 lends some credibility to this claim: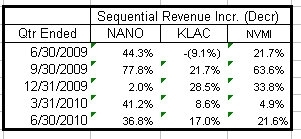 On July 13, 2010 Intel (NASDAQ:INTC) reported better than expected Q-2 2010 revenues ($10.8 billion) and EPS ($0.51), which beat consensus estimates of revenue by about $500 million and EPS by $.08. This prompted analysts to bump up consensus estimates for revenues and EPS covering the remainder of 2010 and for 2011. Despite this better than expected performance the share price has actually declined slightly from July 13, 2010 ($20.85 adjusted for the dividend on 08-04-10) to the August 5, 2010 closing price of $20.67. Maybe some day the managements of these "dinosaurs" will realize they could enhance shareholder value by splitting their company into a number of smaller more competitive and innovative operating entities, which could be spun off to shareholders. This would also take the target off the backs of these companies both here and internationally. Otherwise these "dinosaurs" will continue to trade in relatively narrow ranges and fail to unlock the investment potential for shareholders.
There is no doubt that NANO, KLAC and NVMI are all experiencing substantial growth at this time, which is forecasted to increase nicely for at least the next 12 months and then taper off thereafter. Below is certain comparative data for the three companies (click to enlarge):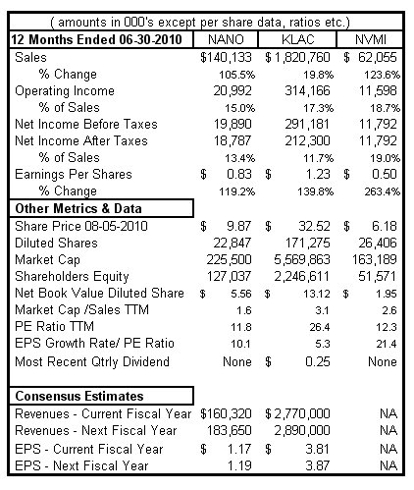 NVMI is a foreign (Israeli) entity, which generally adversely affects the valuation of a company. There are no analysts providing consensus estimates for them but the company has provided upward revised guidance for calendar year 2010 sales of $78-$85 million and net earnings of 21%-24% of sales.

The consensus estimates for NANO covering calendar years 2010 and 2011 was prior to them again smashing the consensus estimates when reporting 2010 Q-2 operating results on 08-05-10. The consensus estimates for KLAC was after upward revisions and cover fiscal years ending June 2011 and June 2012. KLAC's earnings were after a tax provision of about 27%; NANO's tax provision was under 6%; and there were no taxes reported on NVMI's earnings.

KLAC is the only one of the three paying a quarterly dividend (recently raised to $0.25 from $0.15 per share) and they have cash and equivalents of approximately $9.00 per share on their balance sheet. They have also been buying back their stock after the fiscal year ended June 30, 2006 (204 million shares outstanding) and now have approximately 171 million shares outstanding.
We have a long position in NANO and do not hold any position in KLAC, NVMI or INTC. The major investment concern I have for NANO is that the international economies will soften more than anticipated. Also, prior to emerging from the last recession (low point being the quarter ended March 31, 2009), NANO's management did not do a very good job in aligning their operating expenses with revenues. They now claim to have gotten religion and in fact post on their website anticipated expense and operating margin data based on different revenue levels. The fact that they are now acutely aware of this prior weakness is encouraging.
Currently my target price for NANO is $18 by sometime in the first half of 2011.
Anyone that wants our worksheet report covering operating data and various other metrics on NANO, KLAC, NVMI and even INTC, just email resgroweq@yahoo.com.
Disclosure: Long NANO, no position in KLAC, NVMI, INTC