The Reserve Bank of Australia seems to have abandoned efforts to push the Australian dollar (NYSEARCA:FXA) around. The latest monetary decision contained no surprises and looked like a near carbon copy of the few before it. The April and May statements are so similar, I had to reread the May statement to make note of the subtle adjustments.
For the May decision, the RBA dropped the following from the April decision:
…for some emerging market countries conditions are considerably more challenging than they were a year ago.
The RBA changed or added the following for the May decision:
The coming expansion in housing construction was described as "solid" in April. Now the RBA says it expects it to be "strong."
The unemployment rate has "risen somewhat" now instead of "continued to edge higher." The RBA added this time around that "…it will probably be some time yet before unemployment declines consistently."
The data more clearly shows a decline in the growth rate in wages. Once again, this apparent stagnation supports the idea that inflation will remain within target even with a lower exchange rate.
Credit growth is now characterized as picking up a little instead of slowly picking up.
In other words, monetary policy is on cruise control in Australia. Perhaps the only immediate catalyst on the horizon that might interrupt this regularly scheduled programming is the unfolding resurgence in housing.
Appropriately, the currency has essentially gone nowhere (versus the U.S. dollar) since the last decision. It is slightly weaker against the British pound and Japanese yen.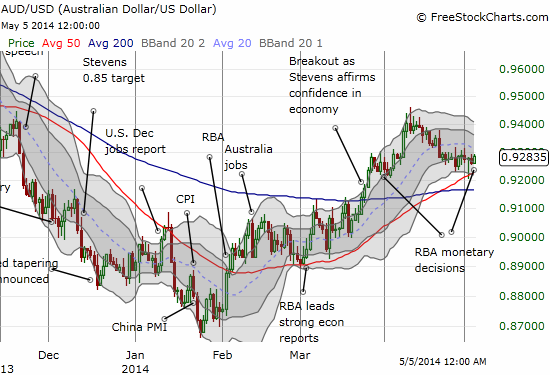 The Australian dollar is on cruise control as it continues a general drift upward with its 50-day moving average (DMA)
Source: FreeStockCharts.com
Under the current circumstances, I find it difficult to get overly excited about the bull or bear case on the Australian dollar. I continue to accumulate a net short position simply out of an expectation that at some point a hiccup will arrive that will deliver the lower currency levels the RBA still appears to expect. A fresh breakout above the 0.95 level will plunge that assumption into serious doubt. Such a move remains a distinct possibility as long as the uptrend from multi-year lows continues as shown in the above chart (defined by the 50-day moving average).
Be careful out there!
Disclosure: I have no positions in any stocks mentioned, and no plans to initiate any positions within the next 72 hours. I wrote this article myself, and it expresses my own opinions. I am not receiving compensation for it (other than from Seeking Alpha). I have no business relationship with any company whose stock is mentioned in this article.
Additional disclosure: In forex, I am net short the Australian dollar