This is Part 1 of a series of articles about Master Limited Partnerships. Subsequent articles will discuss the structure and tax treatment of MLPs generally, and also the business activities and fundamentals of individual MLPs. This article kicks off the series with a listing of 79 MLPs by dominant business activity, showing the position of the closing price to key moving averages, and the stacking of the moving averages versus each other.
Only a few of the MLPs are seasoned and liquid. In subsequent Parts, we will review size and liquidity in some detail. A few of the largest ones with more familiar names are Enterprise Partners (NYSE:EPD), Kinder Morgan Energy (NYSE:KMP), Oneok Partners (NYSE:OKS), Plains All American Pipelines (NYSE:PAA).
The purpose of this Part is to identify the field to be discussed over the article series.
Click the image to view full size (658 pix by 1666 pix)
The table shows the ratio of the closing price to moving averages of various lengths in days (20, 200, 50 and 100); and the ratio of the 20 to 50, 50 to 100 and 100 to 200 day averages.
Ratios very close to 1.000 are shaded Yellow. Higher ratios are shaded with progressively more Green. Lower rations are shaded with progressively more Red.
MLP Categories:
This table provides a legend of the primary or dominant business activities by which the MLPs in the table image are grouped. The capital letter in the left column next to each MLP name identifies the category assignment.
We note that the assignments for some could be argued for different classification, because many of them have activities overlapping the categories, and they have varying levels of disclosure and description of the their businesses.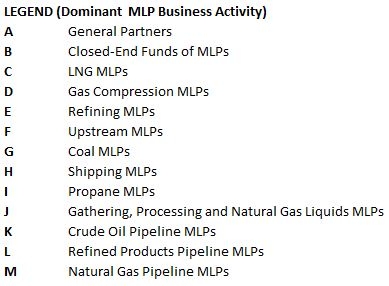 MLP ETNs:
Not shown in the table of MLPs are comparatively new MLP ETNs: AMJ, MLPI, and MLPN. We'll discuss them in a later Part of this series on MLPs.
ETFs Cited: EPD, KMP, OKS, PAA
Holdings Disclosure: As of August 6, 2010 we own several of the securities listed in the table, but not most.
Disclaimer: Opinions expressed in this material and our disclosed positions are as of August 6, 2010. Our opinions and positions may change as subsequent conditions vary. We are a fee-only investment advisor, and are compensated only by our clients. We do not sell securities, and do not receive any form of revenue or incentive from any source other than directly from clients. We are not affiliated with any securities dealer, any fund, any fund sponsor or any company issuer of any security. All of our published material is for informational purposes only, and is not personal investment advice to any specific person for any particular purpose. We utilize information sources that we believe to be reliable, but do not warrant the accuracy of those sources or our analysis. Past performance is no guarantee of future performance, and there is no guarantee that any forecast will come to pass. Do not rely solely on this material when making an investment decision. Other factors may be important too. Investment involves risks of loss of capital. Consider seeking professional advice before implementing your portfolio ideas.