Recently Citi Equity Research released an updated list of global bond refugee stocks. Stocks with higher dividends ands lower volatility as an alternative to bond investments. Among companies making the cut is Lorillard (NYSE:LO) with a current dividend yield of 4.2%. Below we complete our review of LO in Part XVI of this series, evaluating LO from a relative value and dividend stability perspective. We previously covered two other tobacco stocks Philip Morris International (PMI) and Altria (NYSE:MO) in our must read Bond Refugee Ratings:
Overall Bond Refugee Rating: Highly Attractive
Relative Valuation: Highly Attractive
Dividend Stability: Highly Stable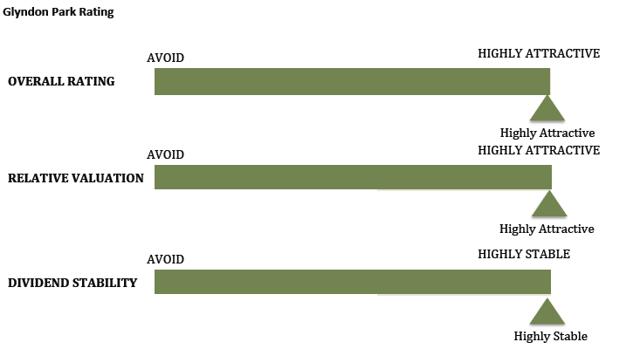 Background
LO is the third largest domestic manufacturer of cigarettes. LO markets under popular brand names including Newport, Kent, Maverick, and Old Gold.
Valuation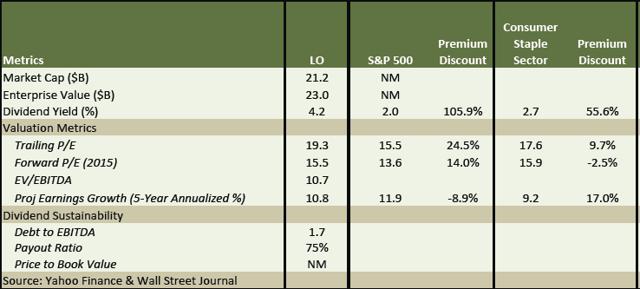 LO has a market capitalization of $21.2 billion, enterprise value of $23.03 billion with a current trailing PE of 19.3 and projected PE of 14.5. Analyst estimate LO earnings will grow at 10.8% annually over the next five years.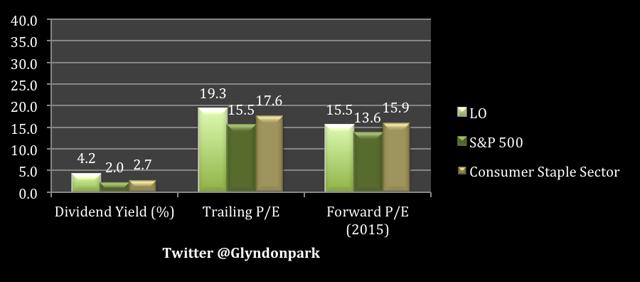 LO trades at a 25% premium to the S&P 500 (NYSEARCA:SPY) on a trailing earnings basis and 14% on forward earnings. On an enterprise basis LMT shares trade at 10.7 times trailing EBITDA.
LO trades at a 10% premium to the consumer stables sector on a trailing basis but a 3% discount on forward earnings. LO's earnings are expected to grow nearly 2% faster annually over the next five years.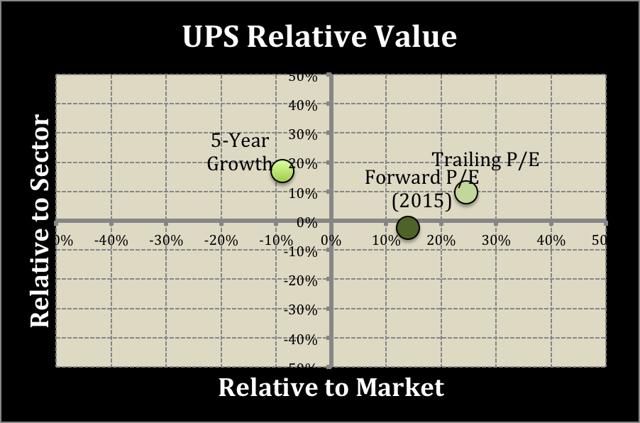 We rate LO as highly attractive based on bond refugee criteria that stresses relative value and stability of income. (see relative value matrix above)
LO trades at a discount to the consumer staples sector on a forward earnings basis.
LO' projected growth rate exceeds the consumer staples sector over the next five years.
Dividend Stability
LO has a an excellent dividend track record since becoming and independent company in 2008. LO has doubled the quarterly dividend and made six dividend increases, including a recent 12% hike.
From a financial view, LO has a conservative balance sheet with debt at 1.7 times EBITDA.. LMT has a payout ratio of 75% in line with their target ratio.
We rate LO stability as highly stable based on:
LO history and commitment to growing dividends coupled with strong free cash flow.
LO balance sheet is conservative.
Sources:
Yahoo Finance
Wall Street Journal
S&P
Disclosure: I am long MO, PMI. I wrote this article myself, and it expresses my own opinions. I am not receiving compensation for it (other than from Seeking Alpha). I have no business relationship with any company whose stock is mentioned in this article.