"I am very pleased with AIG's solid operating profits this quarter. The earnings power of our business coupled with our customer strategy reinforce the strength of our foundation throughout our core insurance operations. I am encouraged by the positive momentum we've generated around the world, which has enabled us to become closer to, and better serve, our customers. These results reflect strong operating income across our insurance operations, as well as execution of our capital management strategy."

- AIG CEO Robert Benmosche
American International Group (NYSE:AIG) reported earnings yesterday, Monday, after the market closed that didn't seem to meet investors' or analysts' estimates.
AIG has traded near 52-week highs a couple of times in the last six months. The company's 52-week high is $53.33 and AIG currently sports a $77.19 billion market cap. After the report posted yesterday after hours, it's likely that the company could be heading back to its support on the 50DMA, around $50.42.
This, in my opinion, would make it a tasty buy.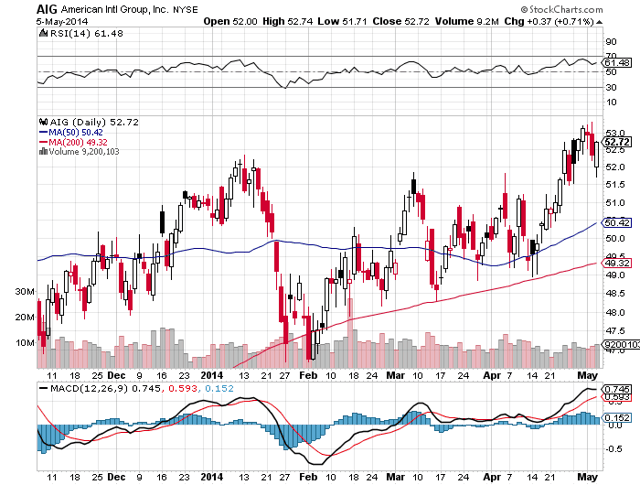 AIG posted EPS numbers of $1.21 ex-items, which beat expectations of $1.06. That number, however, was compared to $1.34 in the same quarter a year prior. The company missed on revenues, posting top line sales of $8.23 billion compared to estimates that were $1.1 billion higher. That number compared to $8.56 billion in the same quarter one year ago.
AIG's property and casualty business had operating income of $1.2 billion, a reduction of $0.4 billion from the year prior - blamed on higher catastrophe losses. Life insurance rose slightly, by $0.01 billion to $1.4 billion from $1.39 billion.
The company's CEO was on CNBC defending his company and placing blame on the USD/Yen rate. He stated:
"Keep in mind our second largest market outside the United States is in fact Japan and so we have a tremendous amount of premiums and fees coming out of Japan," he said. "With the pressure on the yen and looking at the exchange for the dollar, our premiums are actually growing on the property casualty side, but you don't see it because of the effects of the dollar."
The company's assets under management, however, grew 9%.
AIG has been buying back stock rather aggressively as well. They had purchases of shares of $867 million during Q1, which leaves them with $537 million under their current authorization. The sentiment is that once this authorization is up, AIG could continue to buy back shares under future authorizations. The company is trading well below its book value, one item that I think makes the insurer appealing, should it dip today in regular trading.
AIG has been trying to rebuild itself ever since its brush with death over the 2007 financial crisis. Minus the pressure from the Japanese currency, the company - especially its Life division - seems to be making continued progress.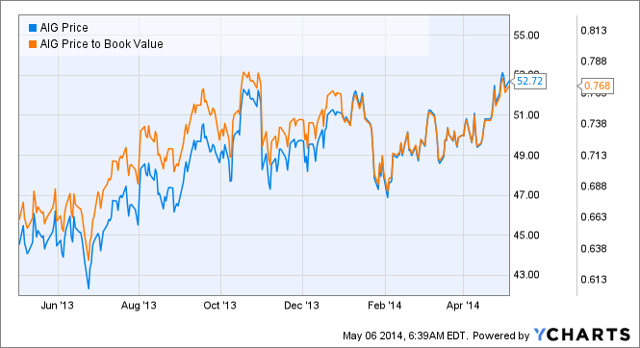 The stock, despite these earnings, still looks rather tasty to me. The company trades about 18% lower than its current book value. As the company continues to buy back shares, and should the stock price dip as a result of its earnings, the company will be trading even lower than its current book value.
AIG fell about 2% in after hours trading yesterday and, as of this morning, has yet to change hands in the pre-market.
Disclosure: I have no positions in any stocks mentioned, but may initiate a long position in AIG over the next 72 hours. I wrote this article myself, and it expresses my own opinions. I am not receiving compensation for it (other than from Seeking Alpha). I have no business relationship with any company whose stock is mentioned in this article.