Like many of its mREIT peers, ARMOUR Residential REIT (NYSE:ARR) has benefited from a return to sanity in the MBS market. mREITs thrive on stability, and Armour is hardly an exception. As a result, the company has seen its share price increase about 5% YTD, while its monthly dividend has held steady at $0.05 per share. At current prices, Armour has a forward yield of over 14%.
Q1 2014 Overview
On May 5, Armour reported its Q1 2014 results. For the quarter, the company reported "core income" of about $58.3 million, or $0.15 per share, in line with last quarter. On a GAAP basis, the company loss about $19.8 million, or $0.07 per share.
The difference between Armour's core and GAAP income lies with the addition of gains from derivatives ("hedges") and the exclusion of one-time gains from sale of agency securities. The company posted a $153 million gain from the change in the fair value of its derivatives, while earning $69.9 million from the sale of agency securities. Furthermore, the company posted other gains and losses related to premium amortization for around $5.0 million.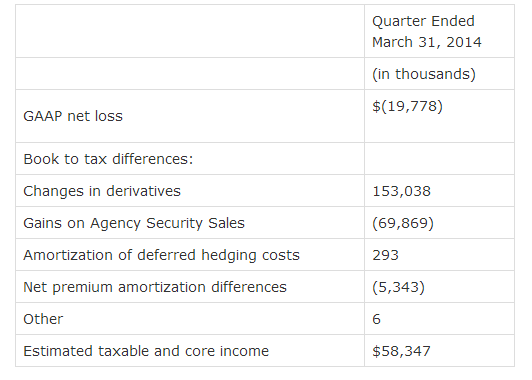 Armour's net interest spread, the bread and butter for mREITs, came in at 1.82% for the quarter, up from 1.60% last quarter. This is largely thanks to an increase in the average yield on assets to 3.19%. Armour's net spread is now at levels not seen since late 2012.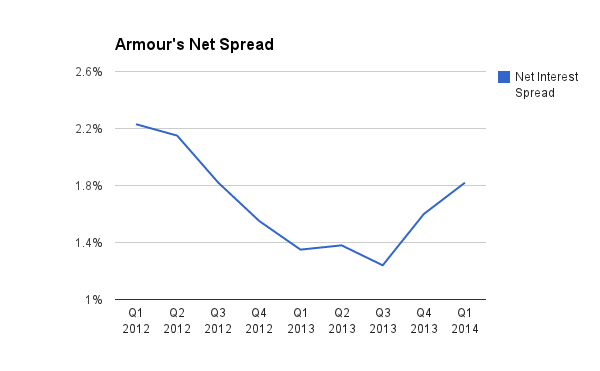 Furthermore, Armour seems to be taking on more risk as stability returns to the MBS market. For the quarter, the leverage ratio ticked higher to 8.12x, up from 6.92x last quarter. However, it is still below the levels seen in 2012 and early 2013.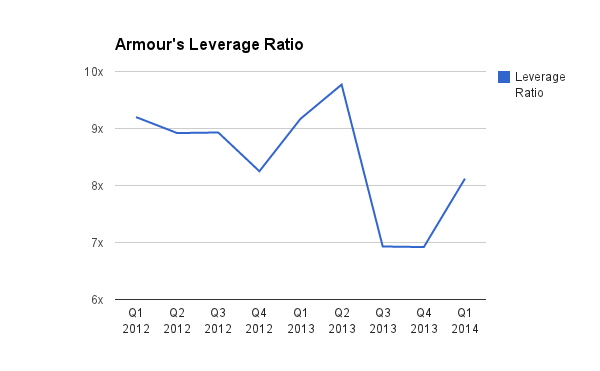 As for Armour's stock buyback program, the company repurchased 600,000 shares at an average price of $4.31 per share, lowering its share count to 357.1 million. This totals for an aggregate of $2.6 million. Do note that the company has an authorization to buy back up to 50 million shares.
Armour has lagged behind its mREIT peers
While Armour's quarter was okay overall, it still had its weak spot. In particular, the "stockholders' equity" per share, the closest metric Armour uses for book value, fell 1.70% to $4.67 during the quarter, down from $4.75 last quarter.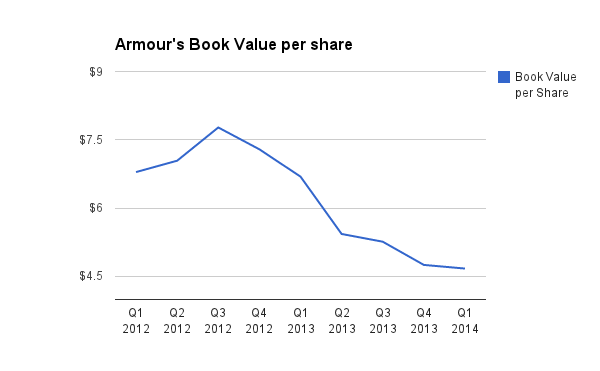 That Armour managed to see its book value decline is a clear indication of underperformance. Of the mREITs which have reported, nearly all have seen Q/Q book value gains. As examples, CYS Investments (NYSE:CYS) posted a 4.70% gain, American Capital Agency (NASDAQ:AGNC) a 2.30% gain and Hatteras Financial (NYSE:HTS) a 1.40% gain.
However, it appears as if the market may have been pricing in a weak result. As shown below, Armour has been underperforming many of its peers YTD.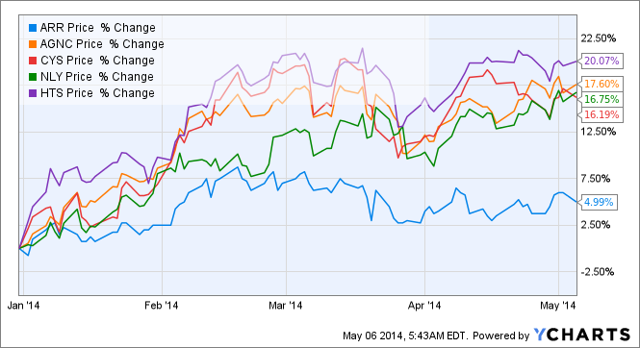 Conclusion
Armour clearly reported a mixed quarter. Core income seems to be able to cover the dividend, with the company confirming dividends of $0.05 per month through June 2014. However, the book value decline was unexpected.
In addition, Armour's aggressive use of leverage is worrisome. Other mREITs responded to higher interest rates by lowering their ratios to the 5.0x to 7.0x range. However, with Armour, it seems as if the company needs its 8.12x in order to maintain its dividend at current levels.
Disclaimer: The opinions in this article are for informational purposes only and should not be construed as a recommendation to buy or sell the stocks mentioned. Please do your own due diligence before making any investment decision.
Disclosure: I am long AGNC, CYS. I wrote this article myself, and it expresses my own opinions. I am not receiving compensation for it (other than from Seeking Alpha). I have no business relationship with any company whose stock is mentioned in this article.