JPMorgan Chase & Co. (NYSE:JPM) reported that its decline in trading revenue has accelerated recently and could continue through the second quarter. JPMorgan is the largest investment bank worldwide in revenue.
Equities and fixed-income trading revenue will decline by almost 20 percent from last year at JPMorgan, and the company stated it is due to "a continued challenging environment and lower client activity levels." JPMorgan made this report in its required quarterly regulatory filing.
First Ever Reported Decrease In Trading Income
Chief Executive Officer Jamie Dimon is the first leader of a major U.S. investment bank to indicate to investors that trading income has decreased and will continue to do so. He stated that revenue in February was off by 15 percent. This continuing decline has us questioning whether decrease in fixed-income trading will continue throughout 2014 and into 2015.
"It's an industry phenomenon, and other banks allow JPMorgan to grease the skids for them so there can be a gentle letdown process," according to Charles Peabody, a bank analyst for Portales Partners LLC.
A 20 percent decline in trading income from the $5.3 billion JPMorgan realized in the second quarter of 2013 would mean a revenue slide of $4.3 billion for the second quarter this year. This amount, combined with the loss of $5.6 billion in the first quarter, would be the worst trading results for the first half since the financial crisis.
Lowered Outlook For JPMorgan in Q2
This bodes ill for JPMorgan for the rest of the second quarter.
The stunning trading results fell far short of analysts' expectations.
The remaining weeks in the current quarter can be a time of volatile trading activity, making it more difficult for JPMorgan to recoup its losses. The performance of the trading division hinges on the next few weeks.
Some Wall Street watchers point to the slowing of the bond buying program by the Federal Reserve as a cause of the decline. This same slowing had a negative impact on many first quarter results at the largest investment banks such as Goldman Sachs Group Inc. (NYSE:GS) and Bank of America Corp. (NYSE:BAC).
Sluggish Trading Overall
Large U.S. investment banks have seen differing results from their bond trading activities recently, mostly due to their differing focuses between equities and fixed income.
Morgan Stanley (NYSE:MS) was the only investment bank to report an increase in trading revenue in the first quarter of 2014. While the bank is smaller than other banks, it posted a 35 percent increase. The bank's trading operation tilts more heavily towards trading in equities rather than bonds. However, Chief Financial Officer Ruth Porat warned of possible continued weakness.
"The volumes that we talked a lot about during the first quarter - lower activity - we're continuing to see that really does persist into the second quarter," said Porat to Bloomberg Television recently.
Shadowy Forecasts For Other JPMorgan Divisions
JPMorgan gave estimated forecasts in other divisions in a new portion of the regulatory filing entitled "selected outlook items." The firm reported that its mortgage banking unit would post a pretax loss of at least $100 million to $150 million in the current quarter, as a result of higher interest rates. However, the company expects overall expenses to decline from the $59 billion spent last year.
The 21 percent decrease in bond trading resulted in a decline of 19 percent in first quarter profit to $5.27 billion. The stock price has fallen 5 percent this year while the Standard & Poor's 500 Index has seen an increase of 1.8 percent.
What's a JPMorgan Investor To Do?
With its flagship trading business grinding to a slow-down - including an additional recent loss of Norway's sovereign oil wealth fund contract, valued at $865 billion, to rival Citigroup (NYSE:C) - and the institution repeatedly making headlines for criminal investigations and excessive executive compensation, investors should strongly consider taking some profits in this weakening mega-bank.
As alternatives, we reiterate our stance that investors should consider Morgan Stanley.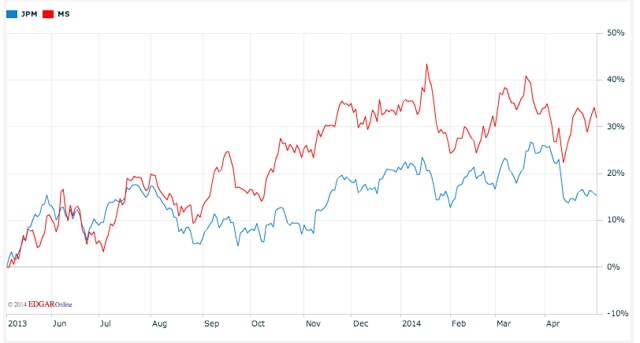 Click to enlarge
(Nasdaq.com)
We invite readers wishing to join the discussion on JPMorgan and other megabanks to click the +FOLLOW button above the title of this article.
Disclosure: I have no positions in any stocks mentioned, and no plans to initiate any positions within the next 72 hours. I wrote this article myself, and it expresses my own opinions. I am not receiving compensation for it (other than from Seeking Alpha). I have no business relationship with any company whose stock is mentioned in this article.