Sky-mobi Limited (NASDAQ:MOBI) is a leading mobile application store in China. The company works with handset companies to pre-install its Maopao mobile application store on handsets and with content providers to provide users with applications and content titles. Users of its Maopao store can browse, download and enjoy a range of applications and content, such as single-player games, mobile music and books on various mobile handsets with different hardware and operating system configurations. The company's mobile social network community in China, the Maopao Community, offers mobile social games, as well as applications and content with social network functions to its registered users.
The Metrics:
29.5 million shares outstanding; Market Cap: $195 million
$6.50 per share, fair value $15-$30 per share 6-12 months. The upside we think is 100%-300% from current levels. (Read on to learn more.)
Earnings Estimates 3/2015 Fiscal Year: 66 cents per Wedge Partners (See article)
Enterprise Value: $3.35 per share; PE Ratio on Wedge Estimates is only 5x next 12 month earnings on enterprise value by itself (Value of company less cash per share)
MOBI has a mobile app platform service/interface/store (Maopao) for the Chinese mobile phone market. The company works closely with individual cell phone providers/stores in China to package up custom apps and software for users. As an app store or platform, MOBI acts as a distribution channel and shares a portion of the in-app purchases with the app developers. Through Maopao, the user then has access to single-player games, mobile music, and books. There are 500 million internet users in China, and over half of them access the net via mobile devices.
Summary/Catalysts:
The China mobile gaming market is expected to grow 94% yoy in 2014. (Sky-mobi's Maopao smartphone platform is expected to grow at least this rate.)
Sky-mobi smartphone revenues, base case, are expected to grow over 100% year-over-year.
User base is growing at a fast rate - adding 380,000 new users per day, over 10 million a month.
Large user base and is currently under-monetized compared to peers - revenue intensity to increase during transition to smartphone.
Large cash balance, attractive valuation.
One of the great things about the public stock market is that the herd of investors can give you some extreme valuation opportunities as a buyer of a business. Think of the public market as a short-term voting machine and a long-term weighing machine, as Warren Buffet has been known to say. When the crowd is selling indiscriminately assets that are in a private market worth a lot more than the public is allowing, we get our opportunities to jump in. We think this is the case with Sky-mobi near-term.
The company recently has had to go through a tough transition in China where feature phones are now in decline, and the transition is to smart phones. This at first hurt MOBI, but we now see see that total revenues are 56% towards the smartphone space, and by the end of 2014, should be at 90%. In the quarter ending December 2013, MOBI was adding over 380,000 new users per day, and by the end of the quarter, had over 110 million users on the Maopao smartphone platform.
Now, that torrid growth was before it announced on March 17th of this year a partnership with China Unicom (NYSE:CHU). The agreement is with the Wo Store of China Unicom, the official application store of China's second largest mobile operator. Under the terms of the agreement, Sky-mobi was designated as an official business partner of China Unicom to provide customized and tailor-made software services at China Unicom's network of physical stores nationwide. This alone could spur huge growth in the 2nd half of 2014.
Cashed up and undervalued:
Currently, the company has about $93 million in cash or about $3.29 per share in Cash, ans 0 Debt. If you strip out the cash, the price per share is about $3.35 as a business. One firm has a model showing .66 cents per U.S. share estimate for fiscal year March 2015, so that would be about 7x-8x next 12-month earnings, if correct. And though this may sound crazy, its model shows $2.29 per share in March 2016.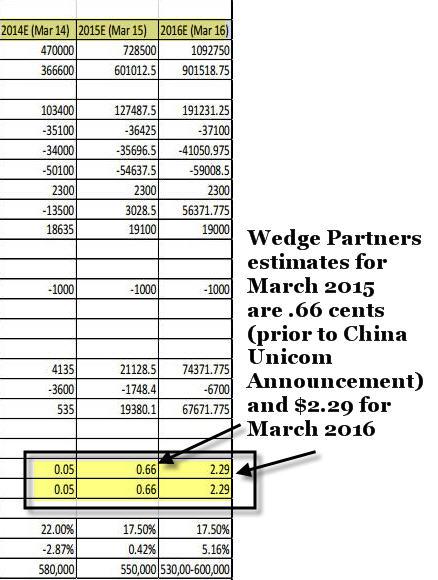 What is the fair value of MOBI compared to peer groups, then? Much higher than current valuations today, for sure. The comparable peer group trades at an average of 11x next year consensus sales, while MOBI trades at 2x, a significant discount. The valuation disconnect is probably due to the fact that most investors continue to view MOBI as a feature phone play. However, more than 50% of its revenues are from smartphones, and by year-end, the contribution will be close to 90%. As investors begin to see further results, there could be a rapid move up in share price to reflect said results.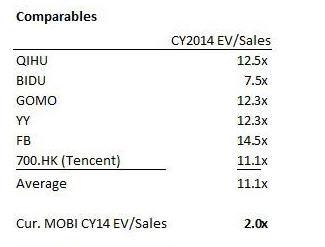 CEO Michael Tao Song's Comments on last Conference Call:
We are pleased that our fiscal third quarter 2014 revenues exceeded the high end of our prior guidance by approximately 15% due to our stronger than expected growth in our smartphone business. During the quarter, we realized over 763 million user visits and over 128 million downloads which helped drive our financial and operational turnaround. Having achieved an over 66% quarter-over-quarter increase in smartphone revenues, our smartphone revenues now represent over 56% of total revenues. This dramatic shift has occurred within only six months since we began the monetization of our smartphone business.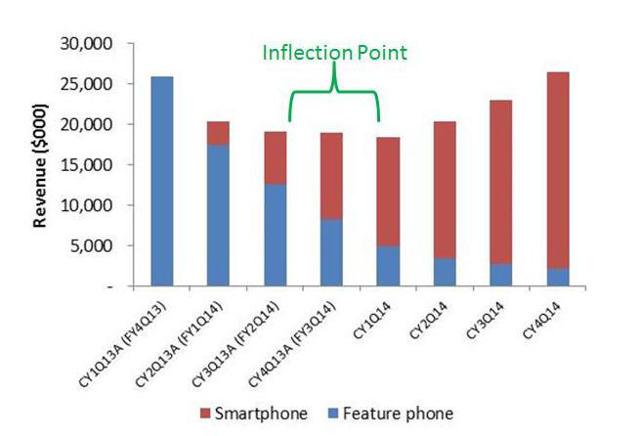 So let's take an assumed fair value of 4x sales (The Peer Group valuations are about 11x sales now) which puts us around $15 a share right now, not counting the new relationship with China Unicom. So we think a double or much better in share price over 6-12-months is most likely. We have had quite a few of our Business Disruptor picks double or better since our inception last March, and we see no reason why this can't do the same. In fact, this could end up rivaling the YY pick, which rallied 500%. We can have a bit more fun, and if we take the $2.29 March 2016 earnings model by Wedge Partners, cut it in half and apply a 20x multiple, that would give us a $23 target 12-months out, which is a triple or close.
MOBI differentiates itself, because its approach in China is to work hand-in-hand with each individual cell phone store, with sales people assigned as relations consultants, if you will. We think this is giving MOBI the upper hand short and long-term, and once investors learn of the story and begin to assign it fair valuations, you'll be chasing the stock a lot higher.
We think MOBI may be one of the best small cap value stocks going forward. Small cap value is where you want to be in the current market. Near-term, we see 9-9.50 on a swing. We have low-end fair value at $12.29 per share, and we have 12-month fair value around $23, if not higher.
Risks: We do not see a lot of downside market value risk here, given the cash balances, lack of any debt, and swing to profitability. The main risk we see is if MOBI has poor execution and can't continue to transition to the smartphone model it has already begun to transition to.
Technical Views:
The stock has had a fairly rapid prior ascent, as it rallied to $12.29 highs in March. With the stock overbought at the time, the small cap growth, and given that technology names were hit as well, MOBI came back down. It is now nearing the 30-week moving average line, which we like for entry points that provide lower risk with strong upside in a growth name.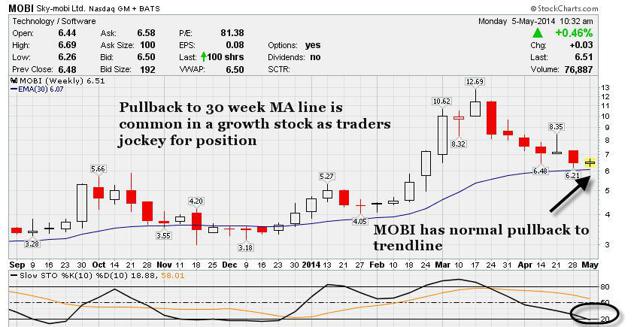 Disclosure: I am long MOBI. I wrote this article myself, and it expresses my own opinions. I am not receiving compensation for it. I have no business relationship with any company whose stock is mentioned in this article.
Disclaimer: Portions of this article were taken from prior Seeking Alpha articles just as the transition chart and Wedge Partners estimates.