As I explained in my last article, out of my last 15 bearish articles published on Seeking Alpha, 14 have been right so far for a 93% success rate.
I attribute my success to my analysis and trust in financial reports. Many people involved with Capstone Turbine (NASDAQ:CPST) exaggerate - but the financials tell it like it is.
When analyzing a company, I start with the numbers, and then work backwards in piecing together the story. Capstone's micro-turbines are both more expensive and less efficient than its competition (as a Peterbilt engineer said, quoted at the bottom of this article), and this is showing up in the financials.
Three recent developments have happened for Capstone Turbine and I believe the stock has quite a bit further to fall. The story I described in my CPST article on March 25th is playing out as I predicted, but worse than even I anticipated. Since the company is missing estimates worse than expected, it should be currently trading below its $1.30 share price from the beginning of the year.
The Three Nightmarish Developments For Capstone As Of Last Week
Three developments have occurred in the past week that have indicated Capstone Turbine's nightmares have come true.
These developments are hidden in Capstone's recent share offering prospectus. Many investors don't read the share offering prospectus, so it was sneaky of Capstone to hide them there. The three developments are:
1. In the prospectus, Capstone pre-reported it badly missed revenue estimates for fiscal Q414 by a whopping 16.4%.
2. The US has stepped up its sanctions on Russia to include the oil and gas industry. This could include Capstone's microturbines, and/or indirectly affect Capstone.
3. In the prospectus, it mentions Capstone has not maintained compliance with the financial covenants for its credit facility with Wells Fargo.
1. Capstone Has Pre-reported Badly Missed Revenue Guidance
In the share offering prospectus, Capstone states:
We expect our revenue for the year ended March 31, 2014 to be approximately $133.1 million.
This means Capstone missed both fiscal 2014 and Q414 revenues by $140M-$133.1M = $6.9M. Quarterly revenues were expected to be $41.98M, so missing by $6.9M is a whopping -16.4% surprise for the quarter. From Bloomberg: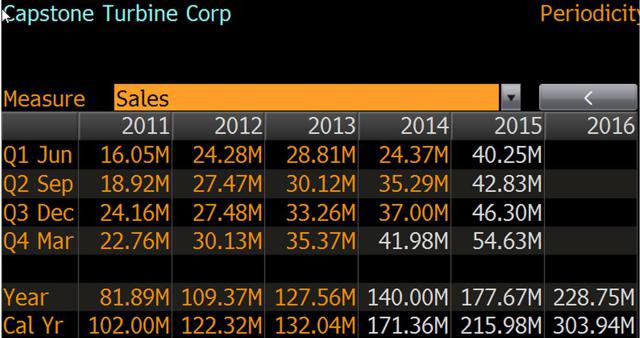 It's no surprise that Capstone missed its quarterly estimate. As I showed in my last CPST article, the company missed the last 11 out of 12 quarters. However, what is surprising is the amount that it missed by. It has only missed by more than this in one other quarter, and that was in fiscal quarter ended Q1 '14, missing by 28.47%. This is shown in the following data from Bloomberg: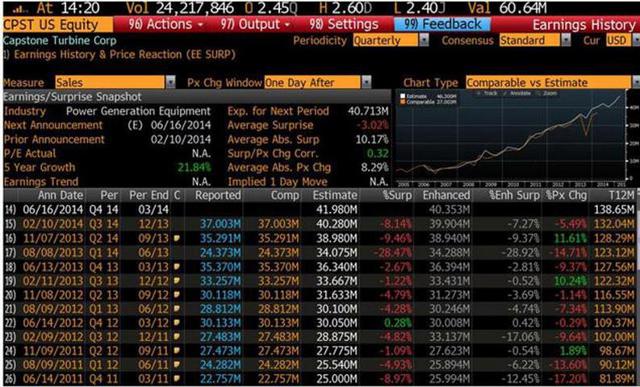 Capstone's Quarterly Estimates Are Getting Ridiculous.
Look at how much more negative the %Surp are for the quarters in fiscal 2014, compared to earlier years. This shows that the estimates are getting further and further away from reality, and need to come down. Isn't it a hint that estimates are too high when the company misses the last 12 out of 13 quarters, and misses the last four quarters by huge margins?
Look at 2015 quarterly estimates. They are in the $40Ms and $50Ms. Capstone has never made $40M in revenues in one quarter. It's revenues declined in FQ4 '14 compared to FQ3 '13. There's no way it will hit those numbers for 2015. Analysts aren't giving realistic estimates, because then they wouldn't be able to pump the stock and make more money in share offerings.
There are eight analysts that are covering CPST. We'll see how many start revising their estimates after this quarter's results. Analyst revisions might be catalysts that move the stock lower.
Backlog Is Different From Revenues. A lot of Capstone's backlog won't ever make it to an actual sale. Any prospective customer can say "yea I want one of those micro-turbines" but if they don't put down a deposit to hold onto it, then they can easily change their mind. One has to especially wonder how much of the backlog of Capstone's Russian distributor, BPC, is going to get cancelled?
From the prospectus, it says:
Our backlog is expected to improve by approximately $22.7 million, or 15%, to $171.6 million as of March 31, 2014
From my last CPST article:
And since revenues are tracking slightly below the previous year's backlog, Capstone will probably need its backlog to be above $180M by FY4Q14 to have a chance of hitting its FY2015 targets.
So not only did CPST miss on revenues, it also missed on backlog.
2. Russia Oil And Gas Sanctions
As I mentioned towards the bottom of my previous CPST article, there was the risk that its Russian distributor, BPC, would be forbidden to sell microturbines in Russia due to an increase in sanctions.
I didn't realize Russia would be so bold as to escalate the tension in Ukraine and spur on harsher sanctions. However, sanctions have been escalated now to include the oil and gas sector. Capstone is now in the "danger zone" and it might soon be illegal for it to export microturbines to Russia.
From the prospectus:
We derived approximately 15% and 11% of our revenue from Russia in the nine months ended December 31, 2013 and the 12 months ended March 31, 2013, respectively.

In addition, we are currently evaluating the impact of the executive orders on our relationships with vendors. If we are unable to conduct business with certain vendors, our operations in Russia and the Ukraine could be materially adversely affected.
Seeking Alpha author Mitch Trachtenberg was bullish on CPST, but sold half of his holdings in early March upon concern about the sanctions, as shown here.
This article explains the US sanctions on Russia are now including energy equipment.
The U.S. will now also restrict exports of high-tech defense products to Russia. Officials within the Department of Commerce will review a growing backlog of trade license applications for equipment such as microelectronics
This article from the NY Times explains the sanctions. It says:
American companies could also see business disrupted, as joint oil and gas projects are delayed.
3. Failed Financial Compliance With Its Wells Fargo Credit Facility
Also explained in the prospectus, on April 25th, 2014, Wells Fargo waived the event of default with its credit agreement with Capstone. Capstone failed to comply with the financial covenants of its credit facility. Wells Fargo let the company off the hook this time. But if the covenants continue to be broken by Capstone, Wells Fargo could terminate the credit facility which is an important part of Capstone's working capital.
Capstone's Recent Equity Raise Takes Advantage Of The Overvalued Share Price
CPST stock recently issued an unexpected share offering last week of 18.825 million shares at $1.70 apiece, for a total of $32M. There has been no acquisition plans, or an expected huge customer with a rush of orders.
This means there are only two reasons for the raise:
1. Cash will continue burning for the foreseeable future.
The company may need the cash from the equity raise to survive as a going concern. It says in the share offering prospectus:
If we are unable to either substantially improve our operating results or obtain additional financing, we may be unable to continue as a going concern.
It also says:
Additionally, we expect our cash and cash equivalents to decrease to approximately $27.9 million as of March 31, 2014 compared to $38.8 million as of March 31, 2013.
Capstone reported it had $31.5M in cash on December 31, 2013, so this means last quarter the company burned $3.5M in cash, which is at a rate of $14M in burn per year. I foresee the company continuing to burn cash in the coming years as they have in the past.
2. The stock is overvalued, so the company wanted to cash in.
I believe management is wisely taking advantage of its bloated stock price and cashing in before it falls to sub $1.00. This is similar to what Plug Power (NASDAQ:PLUG) did on April 30th. It issued 22.6M shares at $5.50 per share, totaling $124.3M. This is about 4x the size of CPST's offering. Since PLUG management knew the stock was overvalued, it wanted to hurry up and issue shares before the stock dropped. Already, one week later, the stock is trading at a 25% discount to the share offering.
The Bull Rebuttals
No doubt there will remain some diehard Capstone Turbine fans, even after this bad revenue miss. The following are some of the major rebuttals that I can think of.
What about the single institutional investor who bought $32 million worth of stock at $1.70 per share?
Just because an institutional investor buys shares, doesn't mean they're making the right decision. Take a look at Plug Power for example. The institutional investors who bought shares at $5.50 one week ago, are now underwater by 25%. I expect a similar decline for CPST in the next couple weeks. A 25% decline from $1.70 will put the stock at around $1.30, where it started the year. FYI, one of the bookrunners for PLUG was Cowen, same as with CPST's offering.
What about the futuristic Wal-Mart truck?
Capstone bulls were getting excited that Wal-Mart (NYSE:WMT) created a prototype truck with a Capstone micro-turbine generator to help power it. I believe this truck was just built as a marketing ploy for Wal-Mart, to show how technologically current and green the company is. It is doubtful it will ever be used practically.
I spoke with an analyst who went to check out the truck's presentation in Louisville, KY. He spoke with a Peterbilt engineer who was quite dismissive of the truck. He said it is so complex that only one guy can drive it.
The Capstone micro-turbine is used solely for charging the batteries of the truck, and not to power the engine. The engineer said the Capstone turbine is far less efficient than others, like those of ICR Tech. The engineer had also never heard of Wrightspeed. Wrightspeed is a small startup powertrain company that is looking to use Capstone's micro-turbines.
Disclosure: I am short CPST. I wrote this article myself, and it expresses my own opinions. I am not receiving compensation for it (other than from Seeking Alpha). I have no business relationship with any company whose stock is mentioned in this article.