The option bulls are giving Alcatel-Lucent (ALU) a lot of love recently. The current modest stock price of ALU is one reason why the option gamblers are betting that Alcatel-Lucent will deliver better-than-expected earnings numbers. The large volume of call options might be a good hint that now is a good time to buy more Alcatel-Lucent.
Alcatel-Lucent has a 52-week high of $4.68, and the current price is $3.89 or 20% lower. The very optimistic option bulls may lead the herd back to the $4.50 price range. They won't be making bets if the odds are not in their favor. No, I don't expect the options turn of events to immediately impact ALU, but it's a good start. I also know that my favorite idea generation tool, Alpha Omega Mathematica, only rates ALU as a HOLD.
Optimism Can Be Contagious
On the other hand, as noted by Schaeffer's Research, option experts have bought 130 calls for every put over the last two weeks. The enthusiasm of options speculators has extended to other communities. Estimize is predicting a Q1 -0.07 EPS on $4.45 billion revenue for Alcatel-Lucent. The Estimize numbers are better than Wall Street's predictions, so the enthusiasm of the options bulls is also shared by Estimize users.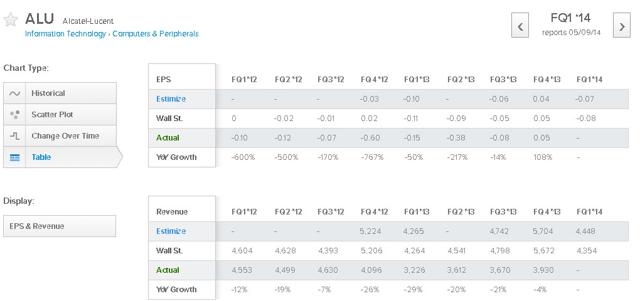 Click to enlarge
Source: Estimize
The Yahoo Finance analysts also share Estimize's average estimate of -0.07 EPS for Q1 2014. Those experts also predict positive EPS number for the next quarter and fiscal year 2014 and 2015.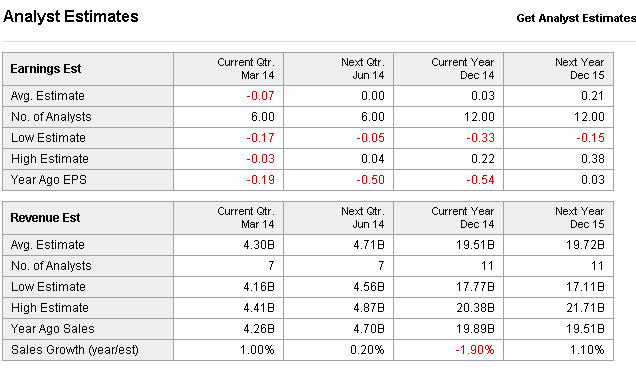 Seeking Alpha investors should also note that FT.com polled 19 analysts who cover Alcatel-Lucent. Those analysts have a 12-month median price forecast of $4.98, with a high of prediction of $6.58.

Source: markets.ft.com
The notable increases in High (+69.2%) and Median (+27.9%) price forecasts among FT.com analysts are a surprise. Alcatel-Lucent has so far underperformed this year.
A Sluggish 2014
After a blockbuster run in 2013, Alcatel-Lucent has dropped almost 13% since the beginning of 2014. Despite returning to profitability and winning major contracts this year, most investors have a pessimistic outlook for ALU.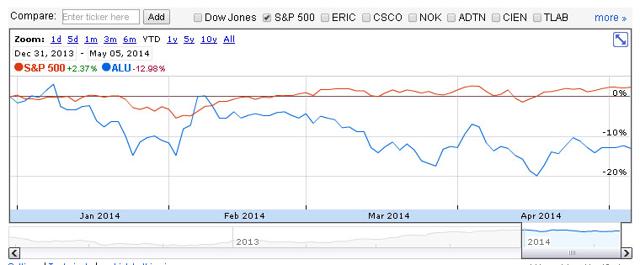 Click to enlarge
Source: Google Finance
Alcatel-Lucent traded sideways between $3.80 and $4 for the last 30 days. The stock price is still below the $5.14 mean target price of Finviz analysts. The road to the $5.50 price target by BMO Capital looks far on the horizon.

Click to enlarge
Source: Finviz.com
The SMA20, SMA50 and SMA200 averages do not indicate that Alcatel-Lucent will soon recover its 52-week losses. There's no momentum to support the option bulls' big bets on call options.
More Reasons Why Option Bulls Are Betting Big
While there's no obvious technical indicators for a near-term upside, the option speculators know that ALU, despite missing EPS estimates for 7 of 8 previous quarters, still gained an average of +6.9% in the week right after the earnings report. Alcatel-Lucent's biggest strengths are in 4G roll-out contract wins. The recent 1-year $1 billion deal with China Mobile (NASDAQ:CMGE) is another tailwind for the company.
Michel Combes' arrival at the helm last year has given Alcatel-Lucent substantial gains in the market. Combes' savvy negotiating skills gave Alcatel-Lucent more than 40 LTE roll-out contracts in 2013. Combes has no misgivings about stealing contracts from rivals. This ruthless leader is a big tailwind for ALU.
The 4G TS-LTE ultra-broadband contract with China Mobile also hinted at more deals for Alcatel-Lucent's Network Functions Virtualization [NFV] and cloud-based services. Alcatel-Lucent, with the help of its legendary Bell Labs researchers, is emerging as a leader in NFV and Software Defined Networking.
A survey of more than 60 service providers by Current Analysis, identified Alcatel-Lucent as clear leader in SDN and NFV solutions. The survey allowed the polled service operators to make several number one picks. The Current Analysis results showed that many service operators picked Alcatel-Lucent as the top choice behind Huawei as their preferred vendor of SDN solutions. This is a very important clue that the world's top service operators that already depend on Alcatel-Lucent's hardware-based IP solutions also trust the company for their future cloud-based requirements.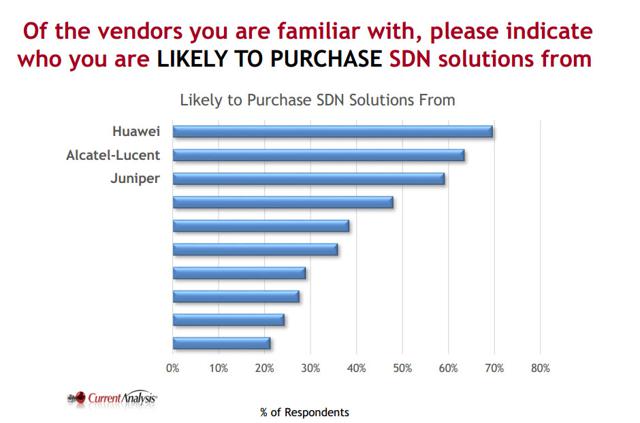 Click to enlarge
Alcatel-Lucent again comes out as the top 3 choice among service operators already purchasing SDN solutions.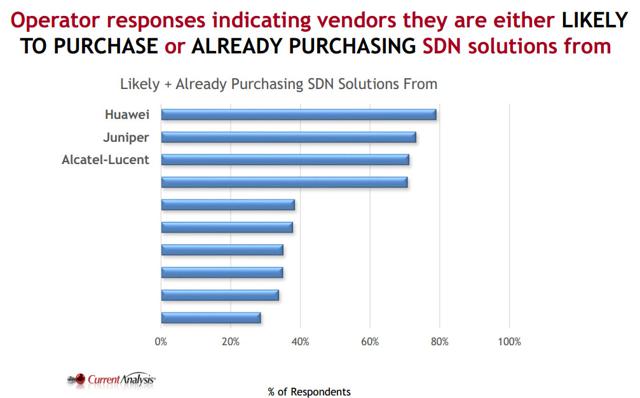 Click to enlarge
Again, Alcatel-Lucent's preferred status among service operators is of utmost importance. Nuage Networks only came about 13 months ago, and yet ALU became an instant serious player in the promising SDN growth industry.
Four years from now, the SDN market size will grow to $15.6 billion - a huge increase from 2013's $626 million. This is rather conservative, considering that IDC is predicting SDN to grow to $35 billion by 2018. Nevertheless, Nuage Networks cost-efficient SDN solutions give ALU a significant tailwind for the next five years.
The NFV market is much smaller than what SDN promises. However, Alcatel-Lucent still managed to win as the top 3 choice of service operators that plan to implement NFV. Alcatel-Lucent, together with NTT and Fujitsu, will demonstrate to Japanese ETSI NFV ISG governing officials that ALU's NFV technology is powerful enough to virtualize large-scale telecom systems.
Alcatel's proof of concept demonstration will try to prove that Virtual Network Platform-as-as service [VNPaaS] is a reliable, scaleable, and cost-efficient solution for telecom operators.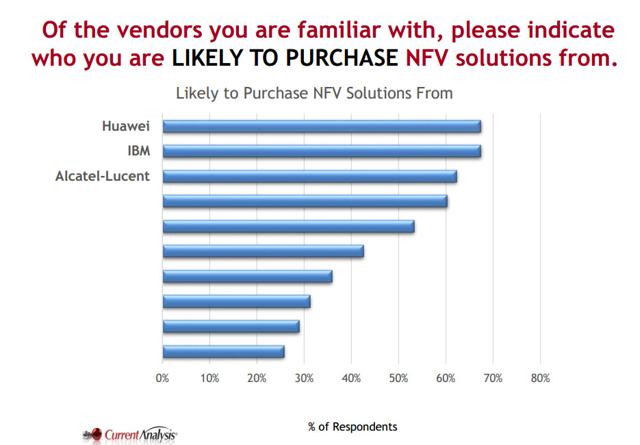 Click to enlarge
Conclusion
The way back towards the $4.50 price level is wide open for Alcatel-Lucent. The option bulls, Estimize, and Yahoo Finance analysts see this path clearly. I hope more investors will get infected with this bullish sentiment for Alcatel-Lucent.
Several obvious factors are pointing towards the way to $4.50. Hopefully the herd will hear the bells of option bulls and soon head towards the right direction.
Alcatel-Lucent has a great captain with Combes at the helm. Service operators definitely value Alcatel-Lucent's SDN and NFV solutions. Huawei topped the Current Analysis survey probably because, being Chinese-owned, it usually offers the cheapest price tags. Technology and quality-wise, Alcatel-Lucent has the better package.
Unlike AOM's judgment, I give ALU a Buy rating. I do not have the budget now to add more to my position, but yes, I firmly believe Alcatel-Lucent is a good bet towards earnings.
Disclosure: I am long ALU. I wrote this article myself, and it expresses my own opinions. I am not receiving compensation for it (other than from Seeking Alpha). I have no business relationship with any company whose stock is mentioned in this article.