We have been going through our emails and other messaging boxes the past week and shaking our heads at some of the comments regarding some of these recent technology IPOs that have lock-up periods that have either ended recently, today or will in the near future. Although some appear to have been genuine questions, others were short essays on why this lock-up would be different and how the market had already priced the selling into the stock price. Rarely is this time different, and today investors are getting a front row seat to that as the sellers are outnumbering the buyers in Twitter (NYSE:TWTR), the focus of over 90% of our lock-up emails.
Granted there are times when companies do something to lengthen the lock-up period and delay insider shares hitting the market, but that can only be done so long and unless managed very carefully can lead to an even larger impact later down the road.
Chart of the Day:
The tech IPO market has dried up recently and the performance shows in the big IPO issues of the last year. The performance has been awful and until this excess supply is soaked up by the market there will remain too many shares floating around for further IPOs to take place and be successful.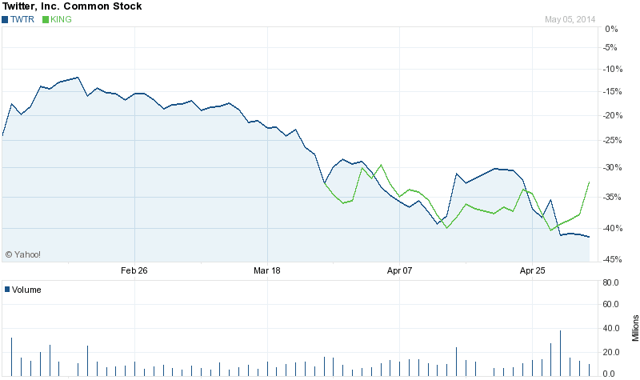 Click to enlarge
Source: Yahoo Finance
We have economic news today, and it is as follows:
Trade Balance (8:30 a.m. EST): Est: -$42.5 B Act: -$40.4 B
Asian markets are mixed today:
All Ordinaries -- up 0.35%
Shanghai Composite -- up 0.03%
Nikkei 225 -- down 0.19%
NZSE 50 -- down 0.49%
Seoul Composite -- down 0.12%
In Europe, markets are lower this morning:
CAC 40 -- down 0.69%
DAX -- down 0.66%
FTSE 100 -- down 0.44%
OSE -- down 0.45%
Falling Out Of The Sky
In the tech sector there are many parallels that one can draw between companies that compete, especially the social media names. The parallels hold so long as the two companies stick to the same general path but that is no longer the case with Twitter and Facebook (NASDAQ:FB).
With the average price of each insider's shares being in the low single digits, it is no surprise that Twitter shares have been hit so hard today. Even with the dramatic underperformance in recent months versus the ProShares QQQ Trust (NASDAQ:QQQ), there are huge paper profits still to be taken.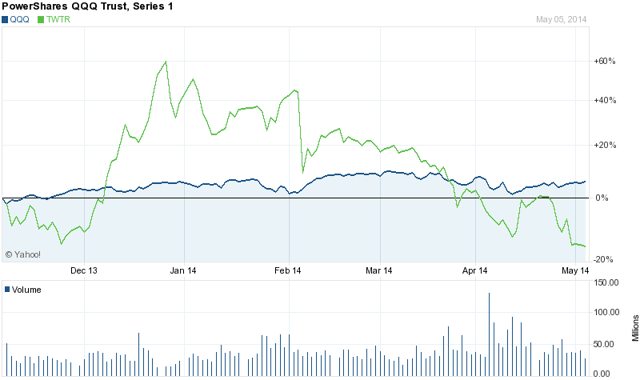 Click to enlarge
Source: Yahoo Finance
Many investors are confused as to why this big sell-off is taking place now that the lock-up period has ended and the market knew ahead of time that many of the largest holders were not going to partake in the selling. Well, truth be told, this is what always happens unless management comes out and gives dates for when they will delay their sales to and in rare situations delay all insiders from selling until a few months after the lock-up period. Mr. Costello was unwilling to give a date that Twitter management and insiders would delay their sales until, so the traditional lock-up sell-off is occurring.
The momentum here has been broken for some time, and we do not expect the downward trend to abate until the company reports a quarter that Wall Street can appreciate. So with that being said, readers should know that the only money we would be allocating to Twitter would be highly speculative funds at this time for a contrarian bet on the advertising business.
Apple Higher
Don't look now but our "boring" tech pick is outpacing the general tech market recently and broke through the all important $600/share resistance level. We are of course talking about Apple (NASDAQ:AAPL), a name we took some heat for being bullish on but is now flexing its muscles.
The stock split is exciting investors, even though it means nothing financially other than the lower share price will allow more individuals to buy the stock and exit the options market - where many were forced to go after the stock's huge run over the past few years. Also on the horizon is the possibility that the stock split could lead to Apple being included in the Dow Jones Industrial Average (NYSEARCA:DIA) now that its stock price has been adjusted to a level that it would not be an unproportional leader in the direction of the index.
The recent breakout in Apple shares has attracted the momentum traders again and if the move above $600/share can hold through the session, technically it could set the stock up for another move higher.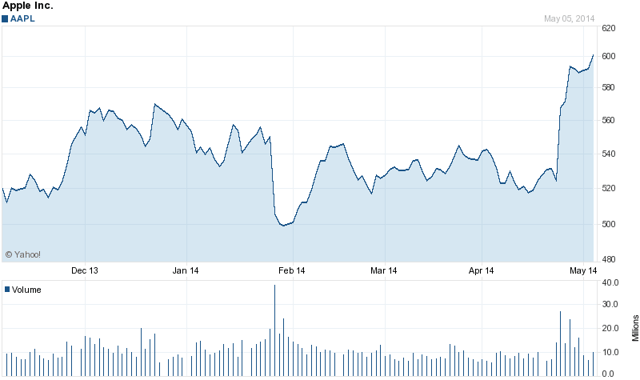 Click to enlarge
Source: Yahoo Finance
We are less concerned about the index or indices that Apple is included in and much more interested in the future product cycles that will affect the company's revenues and profits down the road. Although much of what we hear are simply rumors, the recent hiring spree by the company paired with the stock buybacks and bond offerings appear to set the field for another move higher based on operating results and a lower float.
We are sticking with this name right now and shall see where it takes us leading up to the new iPhone launch.
Disclosure: I have no positions in any stocks mentioned, and no plans to initiate any positions within the next 72 hours. I wrote this article myself, and it expresses my own opinions. I am not receiving compensation for it (other than from Seeking Alpha). I have no business relationship with any company whose stock is mentioned in this article. AAPL has previously been recommended.