Google Inc. (GOOG, GOOGL) is trading at a one-month low of $516.18 per share. The stock price dipped to $534.01 after the search engine giant missed the earnings estimate for the first quarter of 2014. Google reported $15.42 billion in revenues, which is an impressive improvement of 19% from $12.95 billion in revenues for the same quarter of the previous year. Although revenues were almost in line with Wall Street's expectations of $15.5 billion, the earnings per share of $6.27 were below analysts' expectations of $6.41 per share.
Google's core business activity cannot be blamed for the lower than expected profits. This is because the revenue growth was driven by a 26% increase in paid clicks. However, the 9% decline in cost-per-click did the trick and expenses increased 23%, which Google suffered in terms of less net income growth. The net income increased 6.4% to $4.30 billion compared to $4.04 billion in the first quarter of 2013. The earnings per share of $6.27 increased 4.5% from $6 in the first quarter of 2014.
Google's sites accounted for 68% of total revenues in the first quarter and derived $10.47 billion at an impressive growth rate of 21%. The network revenue growth of 4% was the slowest mover amongst all the segments and generated $3.40 billion in revenues and accounted for 22% of total revenues. Other revenues increased at a tremendous rate of 48% and generated $1.55 billion for the quarter representing 10% of total revenues. The other revenues were driven by significantly improved digital sales of apps and content plus Chromecast sales during the quarter. The international markets should be Google's focus to derive future growth because during the quarter the international markets added 25% revenue growth whereas the U.S. and U.K. markets each added 14% to revenue growth.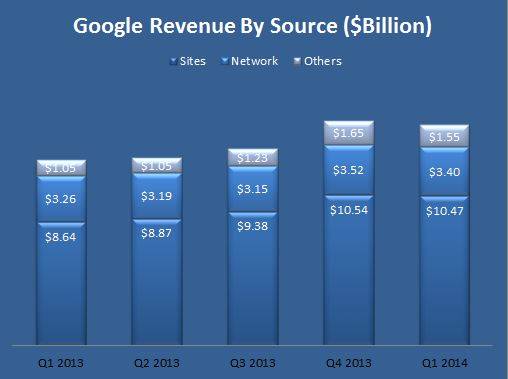 Source: Quarterly Earnings Release
Should Google Be Worried About Mobile Ads?
The significant increase in smartphone and tablet usage caused a decrease in the usage of desktops. This trend caused a change in the digital advertisement industry. According to recent statistics last year the global mobile ad spending reached $17.96 billion at a very fast growth rate of 105%. As mobile shipments are expected to reach 1.75 billion in 2014 mobile ad spending is likely to rise another 75% to $31.45 billion accounting for around one-quarter of total digital ad spending worldwide. However, afterwards the growth is likely to slow down to 22.2% in 2018 due to a number of factors and by the end of 2018 this market will hit $94.91 billion.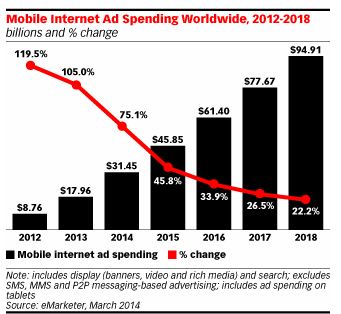 Source: emarketer
Google leads the mobile internet ad market with a 49.3% market share in 2013 but over the last few years its market share has been slipping away and Facebook's (NASDAQ:FB) market share has been consistently increasing. In 2013, its market share significantly increased to 17.5% in 2013 reflecting an improvement of 12.1% from 2012. The cost-per click rate difference between mobile and desktop interfaces will impact Google's market position and Facebook will reap the benefits. In 2014, Google's market share will slightly decline 2.5%, which is less than the previous decline of 3.3%. Facebook's market share will increase by 4.2%, which is much less than the previous increase of 12.1%. This slowdown in market share shift will not go far because of the saturation of Facebook users and apart from that the mobile ad market still has a lot more to offer. Also Google believes that this is a short-term trend and in the medium-to-long term mobile ad pricing will be better than desktop ad pricing.
Google's management is confident and during the conference call to discuss the earnings Google's SVP and chief business officer, Nikesh Arora, mentioned that with regards to mobile interfaces you have the advantage of knowing the location and context of the individual-which you don't have on desktop. This information helps Google provide effective advertising and thereby achieve better conversion rates.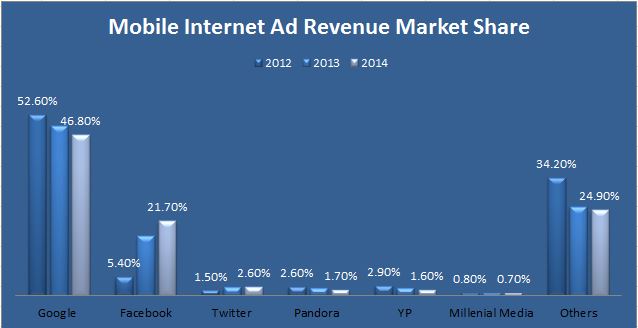 Source: emarketer
Google is Making Huge Capital Investments
Google is amongst those big giants who are spending heavily to diversify their operations to maintain their impressive growth. According to Google's first quarter results the company increased its capital spending from $1.203 billion to $2.345 billion reflecting an increase of around 95%.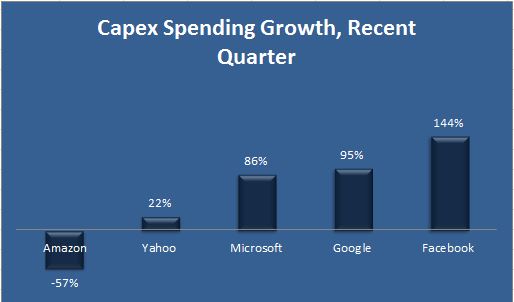 Source: Morningstar
According to the graph above, Google's 95% increase in capital expenditure is only below Facebook. Google is way higher than its counterparts when it comes to investing to diversify operations reflecting the company's eagerness to maintain its earnings growth. Another important factor is that Google is making significant investments in the cloud market because it wants to be ahead of the curve. During the conference call, Google's management mentioned that a majority of the capital expenditure increase are related to data-center construction, production equipment, and real estate purchases. Google's efforts to strengthen its footing in the cloud market makes sense because according to IDC, the cloud services market is expected to grow from $47.4 billion in 2013 to $107.2 billion in 2017 at a CAGR of 23.5%.
Despite Google's significant growth potential the competition between big players is becoming intense. Amazon (NASDAQ:AMZN) dominated the cloud market in 2013 and comparatively Google's cloud services market share remained low. However, analysts expect that 2014 will be a good year for Google and the company will gain momentum through its Google compute engine. Unlike Amazon's approach of offering a wide range of services, Google will be recognized as a high-performance, reliable, low-cost cloud provider. Google could become the go-to IaaS for high-performance computing. To better compete Google recently slashed its cloud services prices and in response Amazon reduced some of its service prices but Google's pricing is still very competitive and will give Google an edge to gain considerable growth in 2014 and beyond.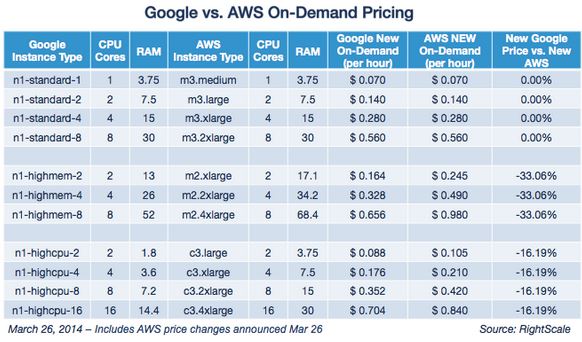 Source: RightScale
Conclusion
Google has diversified its operations well in order to maintain strong footings in the tech industry. The company's aggressive capital spending strategy is evident and Google's investments in cloud services combined with competitive pricing will help the company to retain a significant market share. The average target price for this stock is $662.17 per share, which gives rise to an impressive upside potential of around 28% to its current stock price. Furthermore, if Google's project Ara, the company's next step towards smartphone revolution, and its recent acquisition of Titan Aerospace, both succeed then investors can expect even more upside potential.
Disclosure: I have no positions in any stocks mentioned, and no plans to initiate any positions within the next 72 hours.
Business relationship disclosure: The article has been written by a Gemstone Equity Research research analyst. Gemstone Equity Research is not receiving compensation for it (other than from Seeking Alpha). Gemstone Equity Research has no business relationship with any company whose stock is mentioned in this article.