Newmont Mining Corporation (NYSE:NEM) is involved in the production and exploration of gold and copper. The company recently reported its Q1 FY 2014 results, revealing a 69% decline in the company's earnings in comparison to Q1 FY 2013 but the company's earnings beat analysts' estimates for the quarter.
In this article I will discuss the company's results for the recent quarter and identify the factors that adversely impacted the company's bottom line. I will also determine the future outlook of the company taking into account the factors that adversely affected the company's results in the recently reported quarter.
Let us begin by taking a look at the company's financial performance in the recently reported quarter.
Recent Quarter's Performance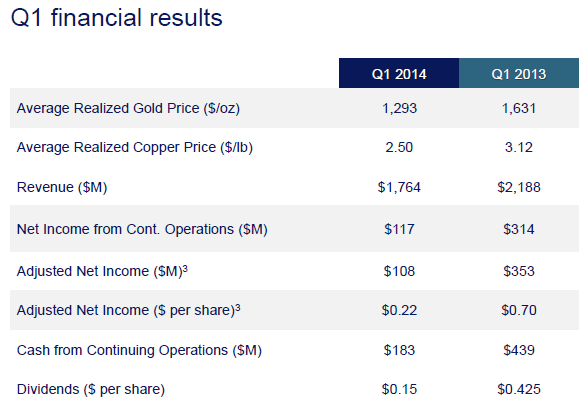 Source: NEM First Quarter Earnings Call
The company reported earnings of 23 cents per share (22 cents per share on an adjusted basis) in its Q1 FY 2014 and was able to beat analysts' estimates of 19 cents per share.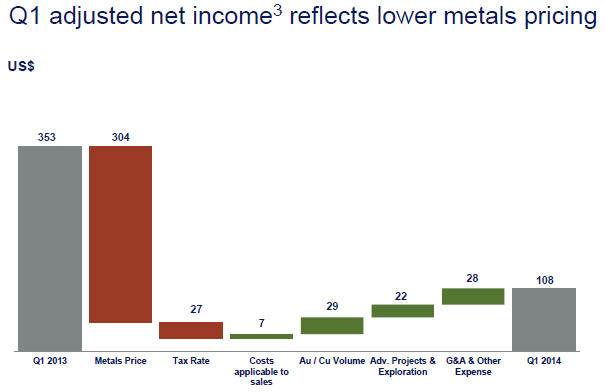 Source: NEM First Quarter Earnings Call
The major reason behind the deterioration in the company's recently reported bottom line performance was the decline in metal prices as shown in the chart above. The significantly negative impact of unfavorable metal prices on the company's net income also offset the positive impact of improved production in terms of volume and stable operating costs.
Due to the decline in average realized gold and copper price the company's revenue for Q1 FY 2014 dropped about 19.4% to $1.764 million compared to Q1 FY 2013. Its revenue also fell short in comparison to the consensus estimate of $1,829 million. Newmont Mining realized $1,293 per ounce of gold in Q1 FY 2014 (a 21% decline compared to Q1 FY 2013) and $2.50 per pound for copper in Q1 FY 2014 reflecting a decline from $3.12 per pound of copper realized in Q1 FY 2013. On the other hand, the company's revenue and bottom line received support from higher production. Newmont's gold and copper production was up 4% and 20%, respectively, in Q1 FY 2014 in comparison to Q1 FY2013 as shown in the following charts.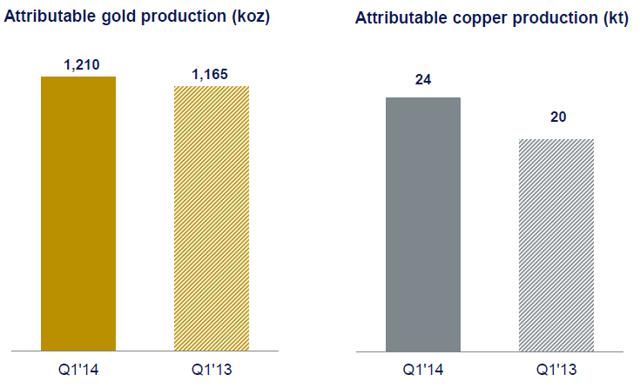 Source: NEM First Quarter Earnings Call
The company's gold all-in sustaining costs (AISCs) in Q1 FY 2014 fell 8% in comparison to Q1 FY 2013 while the company's copper AISCs increased by 9% (see charts below).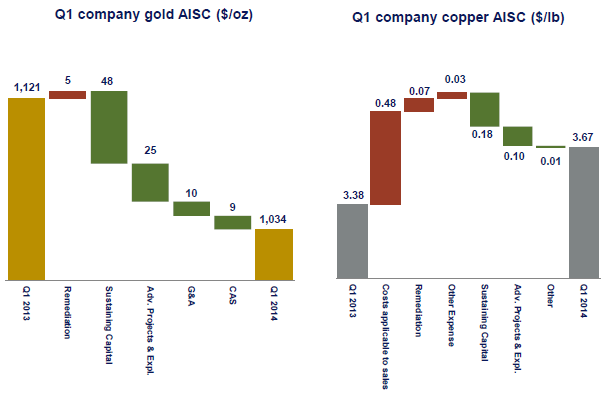 Source: NEM First Quarter Earnings Call
In terms of regions Indonesia turned out to be a high-cost region with further increases in AISCs during Q1 FY 2014 in comparison to Q1 FY 2013 (see charts below). Therefore, I will also discuss the issues the company is facing in this region along with the impact of certain factors on the company's future.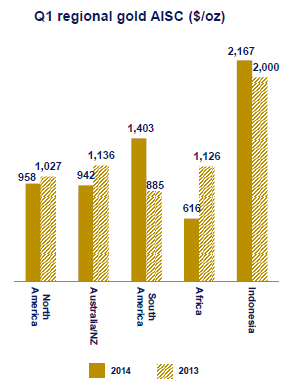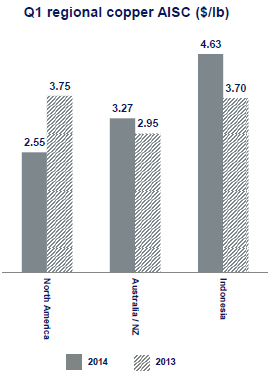 Source: NEM First Quarter Earnings Call
Gold and Copper Demand and Price Outlook
Gold prices have recovered 8.03% since the beginning of the current year as shown in the following graph.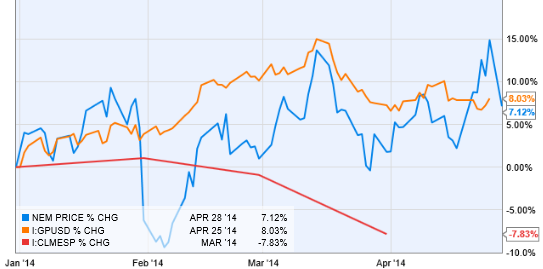 Source: Ycharts
Images of tanks rolling into Ukraine, persistent uncertainty building doubts over the recovery in Europe and the U.S. and havoc in emerging market currencies are expected to support the rise in gold prices. The current tensions in Ukraine may favor gold as the last safe haven investment. Therefore as the West's bombardment of vocal threats was fulfilled with Russia's movements, investors and traders have started anticipating the gold price will head toward $1,400. Bank of America Merrill Lynch also believes that gold prices will recover in 2014 as the bank increased its average gold price forecast for 2014 by 13% to $1,300/oz.
As far as copper prices are concerned, Barclays anticipates the reign of low copper prices will end in 2014. The bank expects the demand for copper to pick up gradually in the second quarter of 2014. According to Barclays, macro guidance for China will be meager until April 2014 and the physical market outlook is vigilant indicating moderate downside risk to the bank's Q2 2014 copper prices forecast of $7,300 per ton (around $3.31 per pound).
As China is the world's largest consumer of copper the copper consumption in the region is expected to increase by 6.7% to 8.75 million tons in 2014 as a result of investment in utilities (power grid) and the rail construction sector. The State Grid Corporation of China that provides power to 80% of the country is hoping to boost its annual investment by 13% to more than $60 billion according to research by Barclays. These factors are likely to support the recovery in the demand and prices of copper for the coming years.
Updates Regarding Issues in Indonesia
Newmont's facilities in Indonesia recorded higher AISCs in Q1 FY 2014 as a result of export constraints in the region. The company disclosed that it was unable to export about 2,000 ounces of gold and 2,500 tons of copper from Indonesia in Q1 FY 2014 because of an amendment in export regulations in the region.
Indonesia implemented a ban on exports of metal ores on January 12th, 2014, as part of its 2009 Mining Law that necessitates mining companies must have refinery capabilities as an effort to lift the value of exports. On the other hand, Newmont considers the new 2014 regulations and their implementation as conflicting with the "Contract of Work." Newmont Nusa Tenggara came up with a "Contract of Work" agreement with Indonesia in 1986 and according to Newmont that agreement includes "the right to export copper concentrates and a prohibition against new taxes, duties, and levies" for the company.
Newmont's CEO Gary Goldberg stated in the latest earnings call that he is hopeful that Newmont would receive approval to export from Indonesia in the coming weeks and that the country's proposed export tax will be clarified. However, if the issue is not resolved Newmont may be required to cut its production in Indonesia.
Future Expectations and Final Take
Newmont's gold production is expected to be in the range of 4.6-4.9 million ounces for FY 2014. For FY 2015 and 2016, it is projected to be in the range of 4.8-5.2 million ounces. The company's copper production for FY 2014 is estimated to be around 95-110 million pounds while in FY 2015 it is expected to be in the range of 145-160 million pounds. These reflect the expectations of an increase in the company's gold and copper production that will support the company's top-line for the coming years.
The company's top-line is expected to recover slightly in the current year as there is optimism regarding gold and copper demand and prices and the expectations of a rise in production. The demand and price of gold will recover due to uncertainty regarding the recovery in mature economies, currency-related issues in emerging economies, and tension between Russia and Ukraine. Additionally, the rise in demand and consumption of copper from China will support copper prices. Recovery in the company's top-line along with the company's cost containment efforts will support the company's bottom line in FY 2014 but uncertainties regarding the export issues in Indonesia are still a concern for the company. Therefore, analysts expect that Newmont Mining will post EPS of $0.82 for the current fiscal year up from the loss per share of $4.94 recorded in FY 2013.
Furthermore, equity researchers at JPMorgan Chase & Co. recently reiterated their neutral rating on Newmont's stock. Analysts at Citigroup Inc. also reaffirmed their hold rating on shares of Newmont setting a price target of $28 on the stock while the stock is currently trading around $24.60.
Disclosure: I have no positions in any stocks mentioned, and no plans to initiate any positions within the next 72 hours.
Business relationship disclosure: The article has been written by a Gemstone Equity Research research analyst. Gemstone Equity Research is not receiving compensation for it (other than from Seeking Alpha). Gemstone Equity Research has no business relationship with any company whose stock is mentioned in this article.