The biotech sector across the board has been subject to a drastic correction over the past 3 months. Despite the IBB flirting with bear market territory in mid-April and the volatility in the overall market, I believe there are several speculative biotech names worth considering in the near future should the sector continue to stabilize as it has over the past couple of weeks. In particular, Alcobra Ltd. (NASDAQ:ADHD) is a company to keep on your radar in the following months. Alcobra is a biotech company founded in 2008 with its lead drug candidate, MG01CI, currently on a promising course after successful proof-of-concept Phase IIb results in the treatment of adult ADHD. In addition to adult ADHD, the drug has shown potential for use in a genetic disorder referred to as Fragile X Syndrome and more recently will be moving forward into the pediatric ADHD arena with a Phase II study protocol submitted to the FDA. As someone who is currently in medical training, I like to use my medical and clinical knowledge acquired in training as well as technical and fundamental analysis to make investment and trading decisions. My investment thesis in this company will be comprised of 3 parts. First, I will look at the drug itself and the potential in each of these conditions. Then I will take a brief look at the fundamental and technical aspects of the stock to determine a potential entry position. I will then look at the clinical implications of the drug and how it would possibly be received in the medical community. I think this last aspect provides a crucial component of the thesis as the company and the drug can look great on paper, but if physicians will be reluctant to prescribe due to safety concerns (i.e. Vivus, Inc (NASDAQ:VVUS)) or efficacy concerns (i.e. Arena Pharmaceuticals (NASDAQ:ARNA)), then the fundamentals and technicals really won't matter in the end.
Background
ADHD is a disruptive behavior disorder that is thought to result from a deficit of executive functions of the brain. This deficit manifests in symptoms such as alterations in attention, level of activity or impulsivity. It is estimated that approximately 4-5% of adults and 8-10% children worldwide are affected with the condition with many more currently undiagnosed. The first-line treatment for ADHD in both children and adults are stimulant medications such as Adderall, Ritalin and Concerta followed by non-stimulant medications such as Strattera. The stimulants currently available on the market have different mechanisms of action that ultimately result in changes of various neurotransmitters in the brain such as norepinephrine, dopamine and serotonin. Despite the approximate 70% response rate of these stimulant medications, they have the potential to cause many troublesome side effects including black box warnings for cardiovascular effects. These side effects are tolerable in most children; however, can become more worrisome in adults with other comorbid medical conditions. Alcobra's lead-drug candidate MG01CI is very different from stimulant medications in both mechanism of action and overall safety due to its lack of effect on neurotransmitters in the brain. MGC01CI is an extended-release version of a drug known as metadoxine. Immediate release forms of the drug have been used in other countries since the 1980s for acute Alcohol Intoxication and Alcoholic Liver Disease due to its ability to shorten the time ethanol is in the blood stream and ability to block adipocyte differentiation in the liver respectively. MGC01CI was found to selectively act as a 5HT2B receptor antagonist. The complete mechanism by which blocking this serotonin receptor affects symptoms of ADHD has not been completely elucidated; however, it is thought that it results in a selective decrease in dopaminergic signaling to a structure in the brain which has been implicated in the etiology of ADHD called the nucleus accumbens. Most importantly, this mechanism allows for a much more favorable side effect profile compared to the current widely prescribed stimulant medications. Based on recent Phase IIb results, the most common adverse event was nausea occurring in 17.2% of subjects. Most importantly, insomnia and weight loss, which are common side effects associated with stimulant medications, were not noted. These findings, along with drastically decreased potential of significant cardiovascular events, make the drug much more attractive to patients, prescribing physicians and ultimately investors in the biotech space.
In addition to treating ADHD, metadoxine has also shown strong preclinical data for the treatment of cognitive symptoms of a genetic condition called Fragile X syndrome. This condition is associated with the development of intellectual disability, developmental delay, attention issues and autism. In September 2013, the company reported positive results in a pre-clinical study with mice lending support for efficacy of the drug in treating some of the cognitive symptoms associated with the syndrome. This also opens the door for the potential to treat cognitive dysfunction symptoms in other psychiatric and medical disorders such as autism.
Fundamentals and Technicals
Alcobra released financial results for the third quarter on February 6, 2013, reporting operating expenses for the three-month period ending December 31, 2013 as $5.6 million, up from $0.2 million from the year prior. The net loss for the fourth quarter was $5.7 million or $0.45/share, compared to $0.3 million or $0.04/share, for the same period in 2012. These increases are reflected in increased expenditure for clinical trials and are expected to increase in the coming year with two Phase III trials for adult ADHD (importantly one comparing the drug to Strattera) and potential initiation of one Phase II trial in Q2 of 2014 for pediatric ADHD and one Phase II trial for Fragile X syndrome. The company reported cash and cash equivalents of approximately $50 million and should have enough cash to last until Q2 of 2015. This time frame should allow for potential approval of MG01CI without any further share offerings. Several institutions have initiated coverage of Alcobra with an Aegis analyst specifically estimating peak sales of MG01CI in 2020 at $1.1 billion with a price target of $30. Another non-stimulant medication, Strattera, generated sales of $621 million in 2012 with peak sales of $667 million in 2004. This value was generated two years after approval with Strattera prescriptions comprising a high of 17.3% of all ADHD prescriptions in the quarter that ended September of that year. The total ADHD medication sales for 2004 was $3.1 billion with Strattera accounting for 22% of that total. IMS data projects total spending for ADHD therapy in 2016 at $12-$14 billion annually. Now, assuming the upper end of that range ($14 billion), MG01CI approval in late 2015 and similar market penetration and peak sales performance as Strattera in 2004, we arrive at a peak sales value of $3.1 billion. Obviously, this is a big stretch considering Strattera had no competition in the non-stimulant sector of the market at the time. In addition, there was a lot of hype about the drug's safety compared to stimulants and lack of proven efficacy versus these first-line medications had not yet been established. This scenario does, however, make that $1.1 billion peak sales estimate and $30 price target seem more attainable pending continued positive clinical trial results. With combined pediatric and adult indications, I believe MG01CI could reach this $1.1 billion sales mark due to two main reasons. First, it could take significant market share from Strattera if proven to be superior in Phase III trials slated in late 2014. Second, the expansion of the market with the new ADHD diagnostic criteria discussed later in the article could allow for significant sales growth beyond current expectations. This obviously does not take into account large potential markets of patients with Fragile X syndrome, autism and other syndromes with cognitive impairment. As of the close of the market on Friday, Alcobra has a market capitalization of $235 million at a price of $17.27/share. At this price and market capitalization, the company offers significant upside potential based on even conservative estimates.
Technically speaking the stock recently fell through a previously well-established channel in early March and since has continued to trend down as seen in the chart below.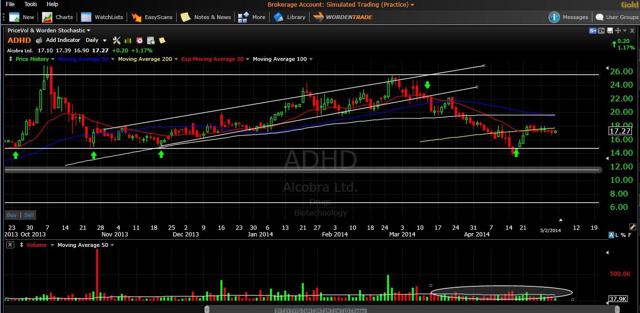 (Image created on Worden Brothers TC2000 5/3/2014)
The stock had a nice bounce of support in the $14-$15 range and is currently sitting just below the 200-day moving average. The chart currently continues to look bearish with the 50-day crossing down through the 100-day on its way to the 200-day moving average. Pending any unforeseen good news in the next month or two, I see the stock drifting back down to that $14 level. Another bounce off of that level with some volume would be a confirmation of significant support and a good potential entry. A break of that $14 level and stock could see $10-$11 quickly.
Implications in Clinical Practice
Whether or not the drug is able to take a considerable share of the current ADHD market will depend largely on the drug's efficacy compared with current stimulant and non-stimulant medications. Physicians may initially see this drug as an alternative treatment for patients with significant cardiovascular risk factors instead of a first-line treatment if it lacks the 70% response rate seen with stimulants. This is especially true in patients who were diagnosed with the disorder in childhood and subsequently started on stimulant treatment, which is the majority of the current market. In addition, MG01CI will take a big hit to its market penetration if the drug is not found to be superior to the non-stimulant drug Strattera, which will be available as a generic medication in 2017. Despite these possible risks, I believe the real potential of this drug is in adults who are currently not diagnosed with ADHD and have not begun treatment. Importantly, the Diagnostic and Statistical Manual of Mental Disorders, Fifth Edition (DSM-V) recently changed the ADHD diagnostic criteria, which previously only recognized symptom development before the age of 7 as diagnostic for the condition. Without an early childhood history of symptoms, patients could not formally be diagnosed with the disorder leading to reluctance in prescribing treatment in adults. With the new criteria, clinicians are now able to look back to adolescence and teenage years for development of symptoms to formally diagnose the condition. Furthermore, the criteria now describes subtypes of the disorder that may change in presentation as a person ages which allows for further broadening of the criteria for diagnosis. The widely cited prevalence estimate of 4-5% of adults with ADHD is based largely on a survey study in 2006 using the DSM-IV criteria for diagnosis. The authors of the study notably state in their discussion, "An important limitation is that the DSM-IV criteria for ADHD were developed with children in mind and offer only limited guidance regarding diagnosis among adulthood. Clinical studies make it clear that symptoms of ADHD are more heterogeneous and subtle in adults than children, leading some clinical researchers to suggest that assessment of adult ADHD might require an increase in the variety of symptoms assessed, a reduction in the severity threshold, or a reduction in the DSM-IV six-of-nine symptom requirement." This possible underestimation of the prevalence of the disease with combined expansion of diagnostic criteria could substantially increase the market for treatment, especially treatment with safe and effective medication. Unfortunately, there are not many reputable studies reporting the growth of the adult ADHD in the US. The CDC reports that the growth of ADHD diagnosis in children in the US increased an average of 5% per year from 2003 to 2011. I believe that a similar growth trend in diagnosis can be attained in the adult population with the new diagnosis guidelines coupled with extensive marketing resulting in increased awareness of the disorder in adults. Current impedance to treatment is also due to concern regarding prescribing stimulants as some physicians are reluctant due to several factors. Perhaps the most significant of these reasons, in addition to the side-effect profile, is the abuse potential associated with stimulant medications. These drugs are scheduled medications that have the potential for addiction and require frequent follow-up and documentation of prescription information. In addition, I have seen some reluctance due to decreased physician reimbursement for overprescribing stimulant medication due to this very reason. Overall, I feel that MG01CI could potentially take a large share of an expanding market of newly diagnosed adult ADHD with more patients complaining of attention and concentration issues now receiving treatment. Looking further into the future for the drug, it is conceivable that this drug could be prescribed as adjunct treatment for many different psychiatric/developmental disorders that result in cognitive impairment as well.
Risk
Obviously, this is a very risky opportunity as there is significant downside risk if Phase III trials do not show efficacy versus Strattera or if they should ultimately fail. In particular, I believe the head-to-head study with Strattera will be the most important driver of stock price. If the study were to show inferiority compared with this drug, I could easily see the stock dropping to the $8 IPO level or below to its 52-week low of $6.50. There are also currently no options available to purchase for downside protection in the event of a failed Phase III trial. In addition, the stock has low volume with the 100-day volume average just above 100k shares adding liquidity problems to the already extensive risk profile.
How I'm Playing It
Unfortunately, this stock does not have options as I would prefer to sell puts to enter a long position in the name. I am currently waiting for another pullback to the $14 support level after the recent bounce we have seen. If the stock can hold that level with some significant volume, and the overall market is holding up, I will consider starting a long position. If it should break that level, I will again take a look for a long position at the next support on the chart at the $10-$11 level. My one-year price target is $25, which is a 46% return from Friday's close. If the Phase III trials are positive, I believe there is a good chance the company could be bought out at an even higher price.
Disclosure: I have no positions in any stocks mentioned, and no plans to initiate any positions within the next 72 hours. I wrote this article myself, and it expresses my own opinions. I am not receiving compensation for it (other than from Seeking Alpha). I have no business relationship with any company whose stock is mentioned in this article.