In the more cyclical sectors, we note some outstanding reports from
Cytec (NYSE:CYT)
and
Eastman Chem. (NYSE:EMN).
The chemical names have practically restructured to the bone, but these two companies have benefitted from volume growth and (some) pricing power.
CYT: Revenues at this specialty producer rose 28% with strength in additive chemicals and resins.
Considering CYT's earnings yield last year at this time was -37%, you have give them some credit for the +5.5% EY generated in their latest period.
There's a lot more to like about CYT's latest numbers. Our dual-cash and accrual analysis reveals increased operating cash-flows and declining balance-sheet cash flows (an indication of improving earnings quality). We also note the period just ended marks the second consecutive quarter with OCF > BSCF.
Goodwill levels both as a % of assets and equity have been declining modestly in recent periods and there were significant improvements in revenue metrics and capital productivity at CYT.
The only knock in our view is the current share price. We peg fair-value to be $44.03 (+/-), and shares are now 13.5% above our FV est. View our full report
here
.
EMN: Sales for the diversified producer were up 38% (+2 beta) over last year, primarily driven by demand for coatings and specialty plastics. Dual cash-flow and accrual indicators indicate a possible bullish earnings quality trend developing, but we'd like to see the accrual readings get below 0 for confirmation.
One area to watch going forward is days-sales-outstanding. Turnover in June was 42 days compared to an average 32.5 days during the past seven quarters.
EMN shares too have enjoyed a good run into and after the June earnings report. Fair-value looks to be about $53.20 (+/-). The stock is currently trading almost 20% above our FV est. View our full report
here
.
As feed-stock industry suppliers, chemical companies are very capital intensive to run. They are however, quintessential cyclical in nature and investors will need to keep an eye on inventory and capacity utilization going forward for signs of improving returns on assets and investment.
These two well managed companies have done a tremendous job of minding the store. Between high debt levels, legacy costs and capital intensity, it takes real managerial skill to turn the corner in relatively good shape. Yet, we do think investors may be assigning too rich of a multiple following their earnings reports.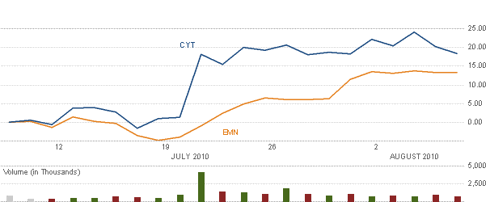 Another thing, management at both companies expressed guarded optimism going forward. It couldn't hurt to take some profits off the table on the earnings news. The run-ups in both stocks were impressive, but is the good news already priced in at current levels?


Disclosure: Holding CYT debt