Overview: On Friday, August 6, 2010, Hewlett-Packard (NYSE:HPQ) announced Chairman and CEO Mark Hurd has been ousted for inappropriate personal relations and expense reimbursements related to an HP contractor. Mr. Hurd took over HP's top spot in 2005, succeeding Carly Fiorina, and turned around HP through acquisitions and cost cutting.
The stock dropped 10% on Friday following the news. Management is critical to any organization and the lack of visibility of who will replace Hurd (HP's CFO took over as interim CEO temporarily) deserves a discount to HPQ's stock. But is HPQ really trading at a discount relative to its peers? Let's take a look.
Industry Comps: Based on Friday's close, HPQ currently trades at 9.3x 2010E non-GAAP EPS of $4.50 per share. (We'll look at GAAP EPS and issues related to non-GAAP in a bit). This compares to industry average of 14.4x for PC manufacturers (DELL and OTC:APPL) and 12.2x for IT Services (IBM and ORCL).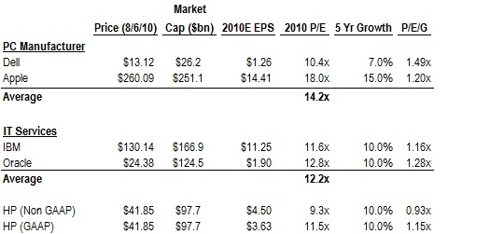 IT Service Segment:

IT Service companies trade at a higher multiple because it's a higher profit margin business. IBM and ORCL have net margins of 14.6% and 28.9% compared to DELL of 4.1% and HPQ of 8.7% (or 7% if you look at GAAP Net Income). DELL and HPQ realize the attractiveness of the service sector and have both made acquisitions of service companies in recent years (HPQ acquired EDS for $14bn in August 2008 and DELL followed with its acquisition of Perot Systems for $4bn in December 2009). As a result, service revenue now comprise of 20% of total sales for DELL and 35% for HPQ.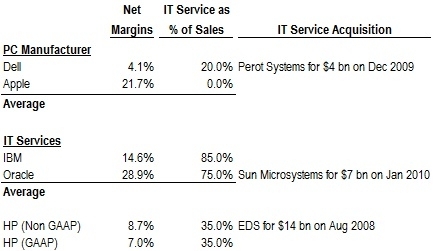 Non-GAAP EPS Concern:

HPQ reports both GAAP and non-GAAP EPS to investors. Non-GAAP EPS is meant to reflect recurring EPS through backing out non-recurring one-time expenses such as merger related restructuring charges. Given the latest scandal with Mark Hurd, investors are beginning to question these non-GAAP EPS numbers. A look at the past 3 years of earnings shows that there is a difference of 12-24% between GAAP and non-GAAP EPS, given HPQ's focus on growth through acquisitions.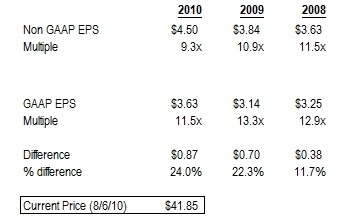 Valuation: By applying industry multiples to HPQ's earnings, we get to a price range of $40.07 - $49.67, depending on whether you using GAAP or non-GAAP EPS numbers. For applying PC Hardware (65% of HPQ sales), we only looked at DELL's multiple of 10.4x, given DELL is more of a traditional low margin PC business similar to DELL. Apple's multiple is not as applicable to HPQ, given its unique growth story (iPhone, iPad, Mac conversion, etc.). For IT Services (35% of HPQ sales), we IBM and ORCL's average multiple of 12.2x.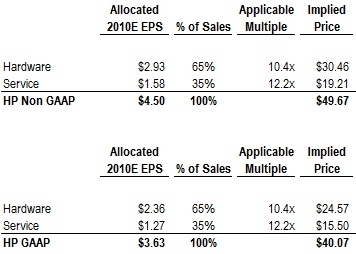 Conclusion: Given the latest top management scandal, the market has penalized HPQ with the current price as of Friday of $41.85. The market basically is now valuing HPQ more towards its GAAP EPS numbers (implied price of $40.07). This is understandable given concerns of quality of non-GAAP EPS earnings given former CEO's potential ethics issue, as well as the fact that Mark no longer will be around to drive future acquisitions for HPQ. If HPQ can get investors to value off of non-GAAP EPS numbers again, the stock could have 20-25% upside, trading toward $49.67. This is a big IF though. An investor may be better served by directly buying DELL and IBM and creating their own HPQ like exposure to hardware and software IT spending cycle.

Disclosure: No position in HPQ