I have been largely out of small cap biotech and pharmaceutical sectors for the past six months. For my core and long term positions in these spaces I sold very lucrative out of the money call options on the positions during February. The sector had risen into bubble territory over the previous year. Myriad of my positions had doubled or tripled over that time span.
However after many names have declined 30% to 60% in a rout that began in early March, I am starting to nibble again in the space. One small cap play I have recently taken a quite substantial stake in is Avanir Pharmaceuticals (NASDAQ:AVNR).
The company just won a huge court victory and has the only effective and approved drug for a niche disease that impacts almost 2mm people in the United States. Although some recent analyst reports have highlighted how undervalued the shares are currently, I believe most investors are not aware of how much upside this small pharmaceutical firm could potentially have for shareholders.
Company Overview:
Avanir Pharmaceuticals is a pharmaceutical company whose lead drug, Nuedexta, has been approved by the FDA for the treatment of pseudobulbar affect (PBA), a disorder of laughing or crying that can accompany underlying neurological disease. This condition is commonly observed in people with neurological injuries such as brain injury and stroke.
Launched in February 2011, Nuedexta is a combination of dextromethorphan (DM) and quinidine (Q). AVNR is also evaluating AVP-923, a combination of DM+Q, for the treatment of central neuropathic pain in MS patients. The stock has a market capitalization of around $700mm.
Major Court Victory: Late last week Avanir prevailed in a huge court decision. The issue at hand in a District of Delaware court was whether Nuexdexta had patent exclusively or whether biosimilars could come into the market. In a decisive decision the judge involved in the case agreed that Avanir has patent exclusively on Nuedexta until 2026.
Actavis (ACT) also agreed to a settlement in which it will distribute a generic version of Nuexdexta in conjunction with Avanir when it comes off patent in 2026 about eight months ago. These two events basically should put this huge issue to bed.
The importance of the court decision cannot be overstated. If Avanir would have lost the court case it would have face major competition with its only major drug. The court decision also removed a major overhang on the stock and the company.
A Huge Market Opportunity:
Approximately 1.8mm individuals are believed to have PBA in the United States. About 100,000 of these are "institutional" or severe cases of this affliction or and another 1.7mm have more manageable symptoms. Nuedexta has seen tremendous growth in treating this problem but still only has only reached 1% of the people that have PBA. This represents a massive opportunity and Avanir and a huge secular tailwind. Sales of Nuedexta have grown from ~$2.5mm from its launch in the second quarter of 2011 to over $23mm in the first quarter of 2014.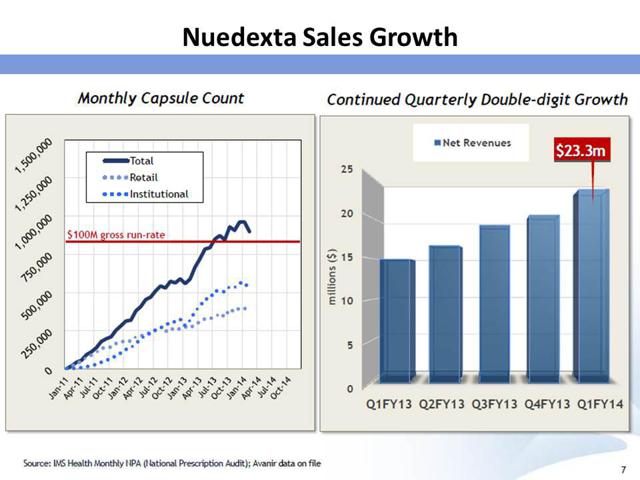 Click to enlarge
Pipeline:
In addition to Nuedexta, Avanir has several compounds in the pipeline and in early trials. The FDA has accepted Avanir Pharmaceuticals' New Drug Application (NDA) for the company's AVP-825 "breath powered" drug-device combination for treating migraines.
The main attraction for Avanir investors right now is Nuedexta and it is the primary basis for this analysis. However, it is important to remember has other compounds in the pipeline as well as uses for Nuedexta to treat other disorders. These pipeline opportunities represent additional "shots on goal".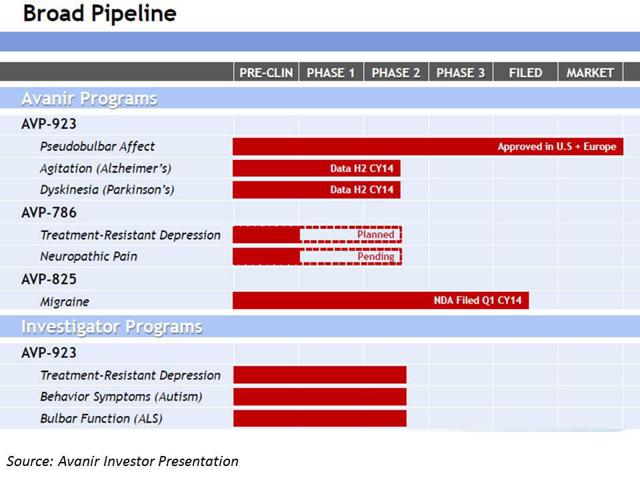 Click to enlarge
Analyst Commentary:
Obviously the court win has had major impacts to how analysts view Avanir. Jason Butler, a five-star rated analyst according to Tipranks, at JMP Securities just moved his price target on AVNR from $8 a share to $11 last week and has an "Outperform" rating on the stock.
Mizuho also moved its rating from "Neutral" to "Buy" last week. It also raised its price target to $10 a share from $5 a share. Finally, Canaccord Genuity provided a "Buy" rating on AVNR as well and raised its price target from $6 a share to $10 a share after the court decision.
Avanir currently fetches around $4.60 a share. The median price target by seven analysts that cover the stock is now approximately $9 a share with analyst upgrades this week.
The company will be presenting at the Deutsche Bank 39th Annual Health Care Conference this Thursday and the Bank of America Merrill Lynch 2014 Health Care Conference next Tuesday. The company also reports quarterly results after the bell tonight.
I would be surprised if Avanir does not illicit further positive analyst comments and/or upgrades from analysts after these conferences are complete. This should be another short term positive catalyst for the equity.
Possible Buyout Candidate:
According to the current consensus Nuedexta should enable Avanir to post ~$120mm in total sales in FY2014 (Quarter ends September 30th, 2014). However, due to litigation expenses (which should now be curtailed substantially), R&D, marketing to make people aware of PBA and its sales force costs; Avanir is currently posting small losses.
The company makes sense as a possible buyout candidate. A larger concern could easily fold Nuedexta sales representatives into its existing sales force.
In addition, Avanir only has some 150 sales representatives. A larger company could easily have thousands of sales people. It is hard to see how a bigger firm could not accelerate Nuedexta's ~1% market penetration substantially to at least 3% to 5% in a relatively short time frame. A bigger concern could also help get Nuedexta approved and distributed globally.
A larger concern could make Nuedexta immensely profitable almost overnight and accretive to their bottom line through acquiring Avanir even they had to pay a substantial premium to make the purchase. Biotech and pharmaceutical companies are routinely purchased for 10x to 20x revenues or more when they actually have sales.
A buyout using this range would give this ~$700mm market capitalization a market value north of $2B without assigning any value to its pipeline and some ~$45mm in net cash. I believe the company has plenty of positive catalysts as a stand-alone entity, a possible buyout would just be icing on the cake as it is an additional but not the primary reason to own the stock.
Summary:
Even without the buyout the shares of Avanir seem extremely undervalued based on prospective sales and earnings growth. Sales are projected to be ~$120mm in FY2014 and more than $180mm in FY2015.
In addition, a huge legal overhang has been removed from the stock and litigation expenses will drop substantially. Nuedexta is just beginning to penetrate a potentially large market for PBA and has other potentially lucrative drugs in the pipeline.
I believe analysts will continue to upgrade their price targets and earnings estimates on Avanir over the coming weeks based on its legal victory and information presented at a couple of upcoming investor conferences.
At the very least the stock should be able reach $6 a share in the short term. This was the level it hit in September before a short article on Avanir hit the street by Gravity Research. Not only has Avanir won its critical legal case but none of the other possible negative issues outlined in the piece has come to pass so far. Over the longer term - 12 to 24 months - it seems quite possible Avanir will approach the price targets several analysts put on it last week. SPECULATIVE BUY
Note: Avanir constitutes approximately two percent of my overall portfolio. My usual allocation to small, speculative biotech or pharmaceutical stocks is usually anywhere between .5% to 1% as I view Avanir as one of best high risk/high reward investments in this space.
Disclosure: I am long AVNR. I wrote this article myself, and it expresses my own opinions. I am not receiving compensation for it (other than from Seeking Alpha). I have no business relationship with any company whose stock is mentioned in this article.