Russian premier Vladimir Putin has ordered a halt to all exports of wheat and other grains from August 15, raising the stakes dramatically in the crisis over wheat supplies.
— UK Telegraph, Agflation fears as Russia halts all grain exports
Russia's worst drought in a century is now impacting the macro picture. With Russia planning to halt grain exports for the rest of the year as a precaution against shortage, talk of "agflation" is surfacing as a new worry for central banks.
Given the broader deflationary backdrop — note recent data on rising jobless claims and tepid retail sales — a round of painfully intensified commodity price inflation could be damaging.
Consumers, already showing signs of "hunkering down" under stress, could see their wallets further hit by rising food prices at a most inopportune time.
Dennis Gartman thinks the way to play the wheat trend is by focusing on the long side of American ag:
"You have a situation unlike anything that I've seen in the 35 years I've been trading in the grain markets," Gartman, 59, said. "This is going to be one of the great years for American agriculture probably in history. Let's not mince words here."

…Companies, particularly in U.S. Midwestern states that support the agriculture industry, are also poised to benefit as farmers spend more money on livestock feed, machinery and retail goods, Gartman said. He recommended buying shares of farm equipment manufacturer Deere & Co. (NYSE:DE), fertilizer producers and local Midwestern banks, which will gain from better loans.

Beer brewers, restaurant companies and livestock producers may be hurt by increasing commodity prices, he said.

- Bloomberg, U.S. to Reap as Russia Wheat Dries Up, Gartman Says
The trouble with "buy the ag winners / short the ag losers" at this point is that the train has left the station for the obvious candidates. Consider the below chart, which represents one of the runaway winners cited by Gartman — Deere & Co. — as spread against a loser, General Mills (NYSE:GIS).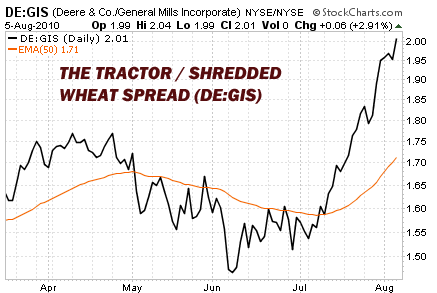 From a trading perspective, the problematic aspect of the wheat breakout is how quickly the story migrated from page sixteen to page one without taking a breath. As a general rule, it's tough to make money from a "page one" story without having gotten a bead on it earlier (i.e. tracking it on the way up from page sixteen).
If the "agflation" theme has legs, on the other hand, new trading and investing entry points should arise at future breathing spaces in the cycle (when overbought names take a break and consolidate).
As Gartman notes, persistent agflation pressures could also bolster the short side case in restaurant names, like Chipotle (NYSE:CMG) and PF Changs (NASDAQ:PFCB), that are 1) not yet beaten down and 2) already vulnerable to weakening consumer trends.
Disclosure: As active traders, authors may have positions long or short in any securities mentioned.
See full disclaimer
here
.