This P&C insurer and reinsurer continues to benefit from its diverse business mix, underwriting expertise and improving industry trends. Rising earnings estimates sent the stock back to a Zacks Rank # 1 (Strong Buy) last month.
About the Company
Founded in 2002 and based in Hamilton, Bermuda, Aspen Insurance Holdings (NYSE:AHL) is a global insurance and reinsurance company. It operates through wholly-owned subsidiaries and offices in Bermuda, France, Germany, Ireland, Singapore, Switzerland, the United Kingdom and the United States.
AHL had assets of $10.2 billion and over 900 employees at the year ended 31 December 2013. The company/its operating subsidiaries are rated 'A (Strong)' by S&P, 'A (Excellent)' by AM Best and 'A2 (Good)' by Moody's.
Solid First Quarter Results
Aspen reported its Q1 results on April 23, 2014. Net operating income for the quarter came in at $1.55 per share, handily beating the Zacks Consensus Estimate of $0.98 per share by 58% and also up 46% from $1.06 per share realized during Q1 2013.
Insurance segment gross written premiums was $383.3 million, up 14.8% from the prior-year quarter, thanks mainly to continued growth from the U.S. teams.
Reinsurance segment gross written premiums of $472.2 million increased 7.4%, mainly due to growth in Catastrophe and other Property lines of business.
Net investment income for the quarter was $49.5 million slightly ahead of $48.3 million for the first quarter of the previous year
Management Guidance
Aspen management reiterated their target of a 10% operating ROE in 2014. Further, they expect operating ROE to increase in each of 2015 and 2016.
Per management, the expected acceleration of ROE will come primarily from growth in the U.S. Insurance business, portfolio optimization initiatives, rising interest rates and capital management.
Buyout Offer from Endurance Holdings
Last month, Endurance Holdings announced an unsolicited offer for Aspen for $47.50 per share in cash and Endurance shares. According to Aspen management, the offer significantly undervalued Aspen's business.
Further in their view, Endurance stock as consideration in a combination is not appealing due to its unattractive business mix and quality of earnings issues.
After turning down the offer, Aspen adopted a one-year shareholder rights plan, which would be triggered if a person or group buys a stake of 10% or higher in Aspen, allowing other shareholders to buy shares in the company at a discount.
Positive Earnings Estimates Revisions
As a result of continued solid performance, the Zacks Consensus Estimates for 2014 and 2015 have increased to $4.24 per share and $4.06 per share, from $3.59 per share and $3.85 per share, 30 days ago.
Aspen has delivered positive earnings surprises in three out of last four quarters of 2013—with an average quarterly surprise of 21%. Looking at longer-term, the company has delivered a 'beat' in 11 out of last 12 quarters.
The following chart shows AHL's excellent track record of beating estimates: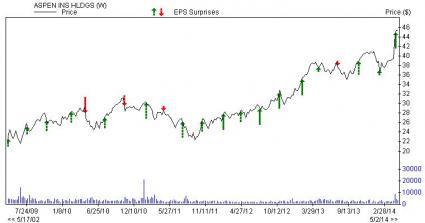 Returning Cash to Shareholders
During the quarter, Aspen repurchased its shares for a total cost of $30.9 million. The company had $193.3 million remaining under its current share repurchase authorization at the end of the quarter.
AHL also increased its quarterly dividend to of $0.20 per share, from $0.18 per share earlier.
Solid Industry Outlook
Improving US economy and rising capital levels P&C insurers in particular continue to benefit from pricing improvement and remains on track for growth in 2014. Pricing for reinsurance also sees slow improvement now.
Insurance industry is currently ranked 31 out of 265 Zacks industries (top 12%).