On the cover of the latest issue of Forbes magazine is Harold Hamm. Usually a good reason to short a stock. But let's look at facts before we take that leap.
Hamm's story is one of rags to riches. Hamm started working at a gas station at age 16 to support his family, then mucked out oil tanks at a refinery until he finally started his own trucking company hauling water to and from the oilfields.
In the early 70s, his company drilled its first well. In the 70s and 80s, he did well during the boom and survived the busts. But his big breakthrough came in the early 1990s when, while scouring Oklahoma for undiscovered oil, he came across an old meteor crater.
Over millions of years, that crater, which was buried 9,000 feet underground, became rich with oil. That oil field in Oklahoma ended up gushing up to 17 million barrels of oil, and instantly transformed all those years of hard work into financial security. Harold Hamm was Mitt Romney's energy advisor during his 2012 campaign.
Today, now a multi-billionaire, Harold Hamm is the executive chairman and CEO of Continental Resources (NYSE:CLR), an onshore oil and natural gas exploration company founded in 1967, and is based in Oklahoma City, Oklahoma. Until 2012, Continental Resources' headquarters had remained in Hamm's hometown of Enid, Oklahoma. But the company finally moved into Devon Energy's (NYSE:DVN) old headquarters, which Hamm purchased for $23 million.
Hamm owns 70% of the shares of Continental. This became as issue while he was divorcing his wife of 26 years. It was recently ruled that he could keep his Continental shares, which he owned before his marriage. When news of the divorce filings became public last year, Continental shareholders were concerned at the possibility that Hamm would have to give up his controlling stake in the company in a divorce settlement.
Continental's operations are focused primarily on the Bakken, Red River Units, Anadarko Woodford and SCOOP field plays. It is the #1 oil producer in the Rockies, and it is the #1 leaseholder in the Bakken.
The Bakken
The Bakken region is a shale rock formation named after Henry Bakken, a farmer in Tioga, North Dakota, who owned the land where the formation was initially discovered while drilling for oil. The Bakken, Three Forks formation has been described by the U.S. Geological Survey as the largest continuous oil accumulation it has ever assessed.
Although oil was first discovered in the Bakken in 1951, modern hydraulic fracturing (fracking) and horizontal drilling techniques have caused a production boom, which started in 2000. The region has emerged as one of the most important sources of oil in the U.S., now representing more than 10% of U.S. oil production. Production in the region is now almost one million barrels per day, second behind Texas. The U.S. is now on track to displace Russia as the top oil-producing country by next year.
As the largest leaseholder in the Bakken, Continental Resources is a pure-play on this domestic energy boom, which is in its early stages. The company's acreage growth in the region has grown from 421 thousand in 2007 to 1.2 million net acres by year-end 2013.
Looking at the company's production growth, 71% was oil coming primarily from the Bakken and SCOOP (South Central Oklahoma Oil Province) reserves. Continental estimates the SCOOP reserve could contain as much as 70 billion barrels of oil, even bigger than the Bakken with only 24 billion barrels of recoverable oil. SCOOP is considered one of the top emerging plays in the U.S. Harold Hamm refers to SCOOP as the company's "stealth play."
Experience and Technology Pays Off
Continental's vast industry experience has paid off, as drilling efficiencies have helped drive the company's production growth. In the Bakken, for example, Continental's rig count has gone down, while oil and gas production has increased. It has also reduced it average well costs to $8 million from $9.2 million just last year. Cash margins have risen to 74%.
Growth Story
Continental Resources remains a high-growth company. The company estimates by 2017, production should be triple what it is today. On it recent earnings call in late February, the company reaffirmed 2014 production growth guidance of 26-32%, based on capital expenditures of $4.05 billion.
The company plans to drill 350 wells on its 32,000 acres of the Antelope area of the Bakken in the next 4-5 years. This drilling will be on multiple pad, with up to 30 wells per pad. Drilling will target four stacked intervals: the Middle Bakken and the top three benches of the Three Forks. Continental is capitalizing on the success of its Hawkinson density drilling pilot, and will use it as a prototype.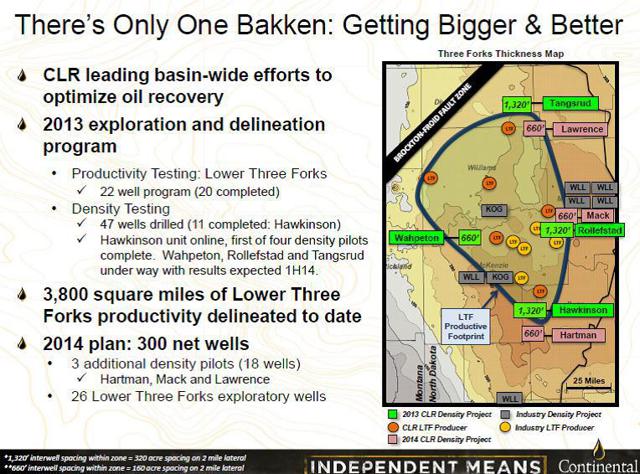 Click to enlarge
And as mentioned, Continental is also very optimistic about its SCOOP reserve. Continental's wells there produced 23,760 barrels of oil equivalent per day in the fourth quarter of 2013 for a 233% increase YOY. Its location is also not far from existing pipelines and a major storage hub in Cushing. Unlike Bakken oil, it does not need to rely on rail for transport.
Flaring, Fracking, and Groundwater Controversies
One of the controversial aspects of production in the Bakken are the associated environmental impacts. Developers in the region have been so eager to get to the oil, they have just flared the natural gas, rather than trying to capture it. Continental Resources is committed to zero flaring. As a result, it is seeing increased profits from the captured natural gas. Continental's natural gas production has increased from 65,598 Mcf/d in 2010 to 240,355 Mcf/d in 2013, and natural gas now represents 17% of revenues from the region. As natural gas prices increase, this strategy should continue to pay off.
Hydraulic fracture stimulation, or fracking, is a term that describes the process of using high-pressure water and sand to crack a rock formation deep underground. By pumping this fluid into a drilled well, the process opens up tiny fissures, up to several tenths of an inch wide, which then allow oil and natural gas trapped in tight rocks to flow back through pipes to the surface. Continental has trademarked its ECO-Pad technique, which allows drilling for four wells from a single drilling pad. The approach allows the development of two separate formations on two separate spacing units simultaneously, increasing production efficiency. It also allows Continental to harvest more of a reservoir's resources, while reducing environmental impact on the surface of the land. The ECO-Pad technique also provides a 10% cost savings on the drilling and completion of each well.
Another environmental side-effect of fracking is that it can cause earthquakes. According to the U.S. Geological Survey, pumping fracking wastewater underground has been linked to a six-fold jump in quakes in the central U.S. from 2000 to 2011. State regulators are looking for ways to toughen standards. Anti-fracking concerns are gaining momentum, creating headline risk for Bakken-related stocks.
Continental also utilizes horizontal drilling techniques. Because the oil and gas resources targeted are usually located thousands of feet below freshwater sources, the company must take precautions to protect groundwater. The company puts special casings around the drilling pipe before it extracts oil and natural gas in order protect the freshwater resources. The casing enables Continental to confine the hydrocarbons so they do not mix with groundwater as they reach wells.
Competition and Potential for Consolidation
Given the growth prospects for Continental Resources and its preeminent position in the Bakken, the company has been a rumored takeover candidate. Continental Resources' stated goal is to grow the company organically. Other major competitors in the Bakken region include EOG Resources (NYSE:EOG), which also has fields in the Eagle Ford shale region in southern Texas, Whiting Petroleum (NYSE:WLL), Hess Corporation (NYSE:HES), Rose Rock Midstream (NYSE:RRMS), and Kodiak Oil and Gas (NYSE:KOG).
Major competitors that drill and operate in the Anadarko Basin/SCOOP play include Newfield Exploration (NYSE:NFX) and Marathon Oil (NYSE:MRO).
Gunderson Capital Management Best Stocks Now! Analysis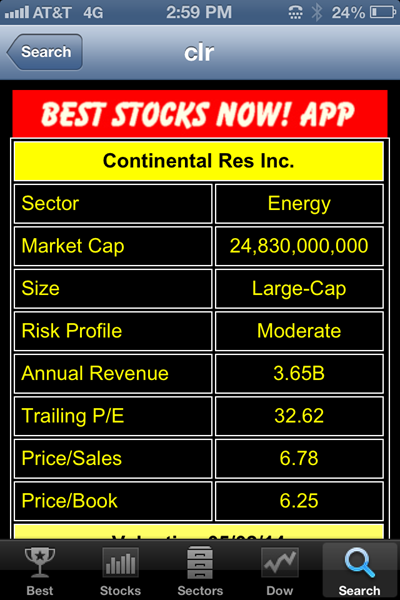 Continental Resources is a Large Cap stock with a market cap of $24.8 billion. I have its risk profile categorized as Moderate. The stock has been a very strong performer over the years.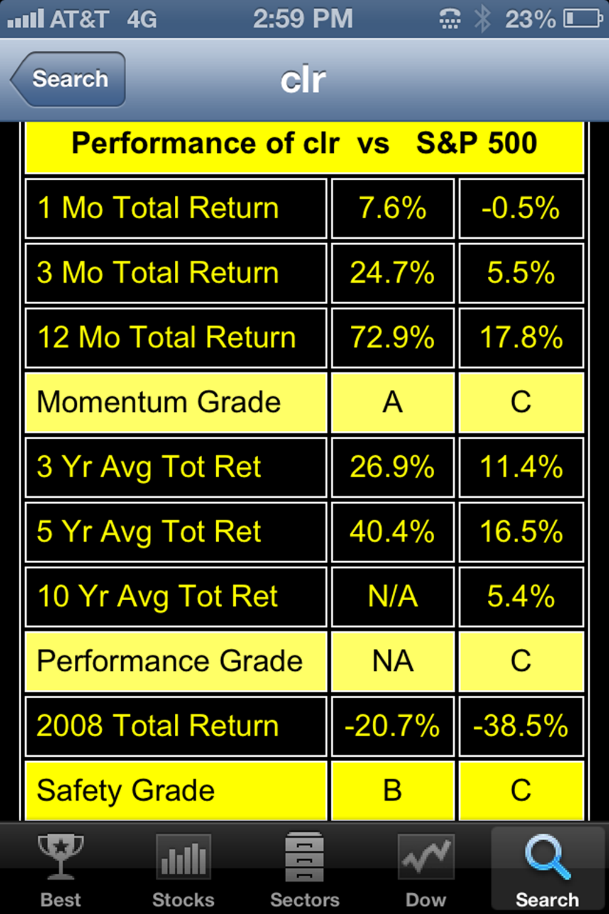 Over the last five years, it has beat the S&P 500 by a wide margin. CLR has delivered an average annual total return of over 40% per year, while the market has delivered 16.5%
Over the last three years, the stock has once again beat the overall market by a wide margin. The shares have delivered an average annual return of almost 27% per year, while the market has delivered 11.4%.
Over the last twelve months, Continental Resources is up 72.9%, while the S&P 500 is up 17.8%. The stock currently earns a momentum grade of "A."
While I like to invest in performance stocks, I also demand good valuation metrics. In addition to this, 2014 is a year that favors low-PE stocks, as opposed the high-PE momentum stocks that led the market last year.
Here is my current valuation of the shares: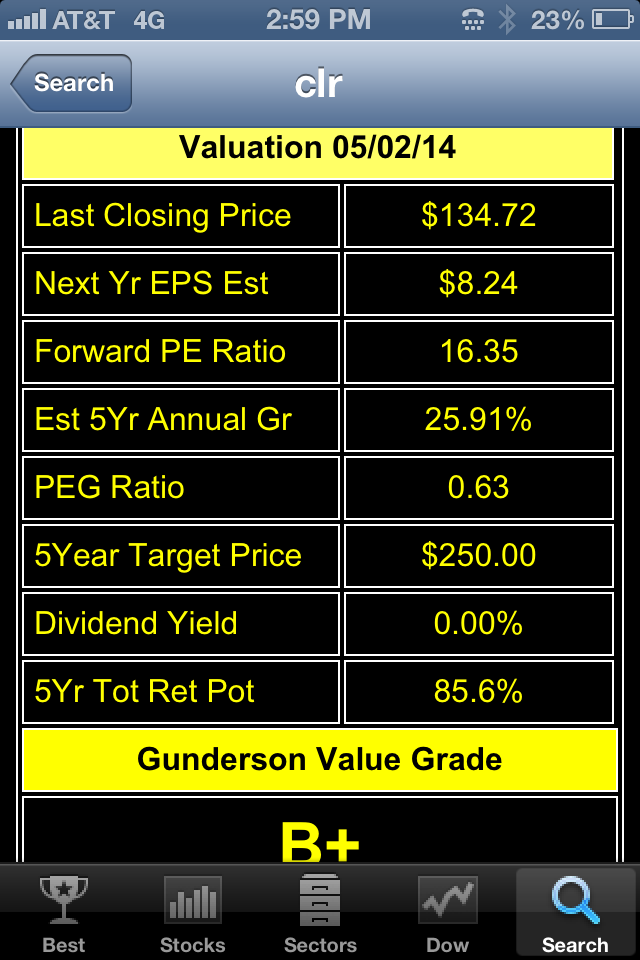 Continental Resources is currently trading at just 16.4X forward earnings, against a consensus five-year average annual growth rate of almost 26% per year. This makes for a very favorable current PEG ratio of 0.63.
The consensus EPS estimate for next year is $8.24 per share. When I extrapolate those earnings out over the next five years and apply a multiple that I believe is appropriate, I come up with a five-year target price of $250 per share. The stock currently meets my valuation criteria.
I also like a good strong stock chart. I don't like sideways trend, I despise downtrends, and I am very wary of extended uptrends.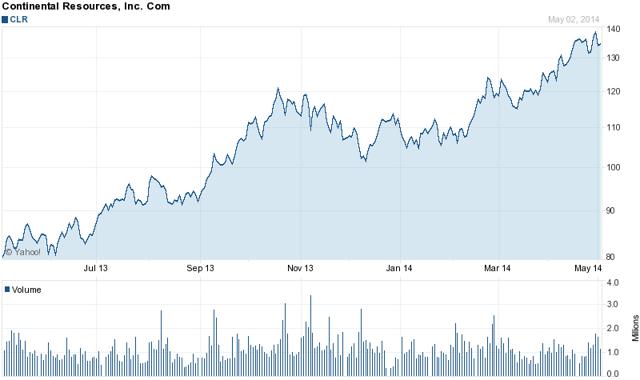 CLR is in a nice solid uptrend. In addition to this, the energy sector is emerging as one of the leading sectors in 2014. Last year, at this time, it was all about internet, biotech, and pharmaceutical stocks.
Here is my current ranking of the top eight sectors from amongst the 60 sectors that I track.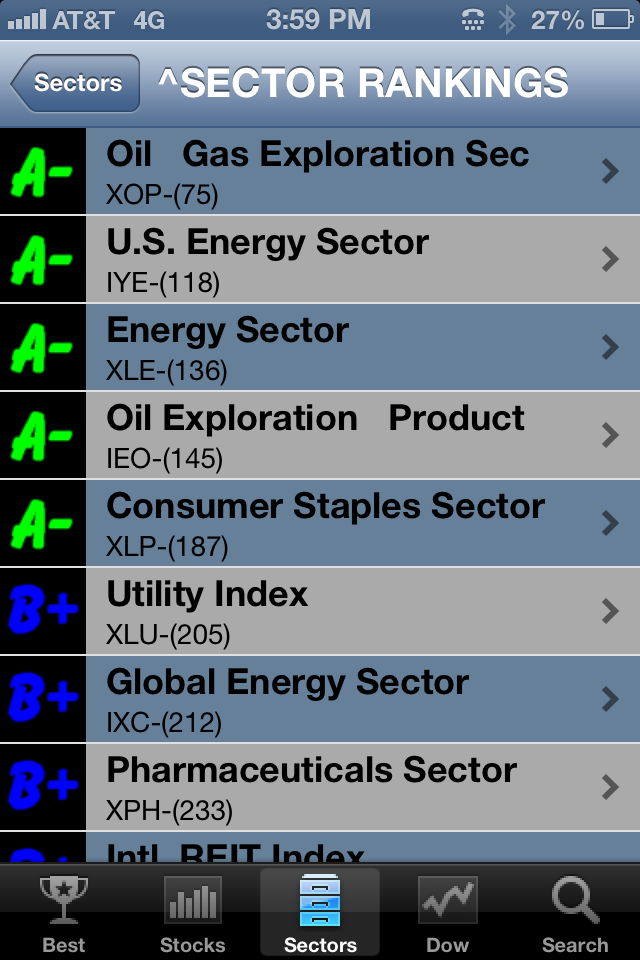 As you can see, last year's leading sectors have disappeared from their former leadership positions. Instead, the top spots are dominated by energy-related sectors. I am sure Mr. Putin's activity in Ukraine has helped.
The global energy economy is changing. The U.S. is poised to become a major net exporter of oil and natural gas. U.S. domestic oil production is projected to reach historically high levels by the year 2016, and natural gas production is expected to increase by 56% through 2040. While the energy sector lagged the S&P 500 as a group in 2013, it has posted impressive gains year-to-date.
Conclusion
Continental Resources is a great stock in a good sector for the coming year - energy. I would argue that energy stocks could end up being this year's biotech stocks. Within energy, the company is poised for growth due to its leading position in the Bakken, superior technology and cost-cutting capabilities, strong company management, and growing exposure to the promising SCOOP region.
All the shale energy players will be facing a headwind of environmental opposition in the coming years. There will be growing pains and headline risk on the way to energy independence, but Continental Resources, with Harold Hamm at the helm, will continue to be a leader and innovator in the domestic energy industry. Continental Resources' shareholders should continue to be rewarded, as well.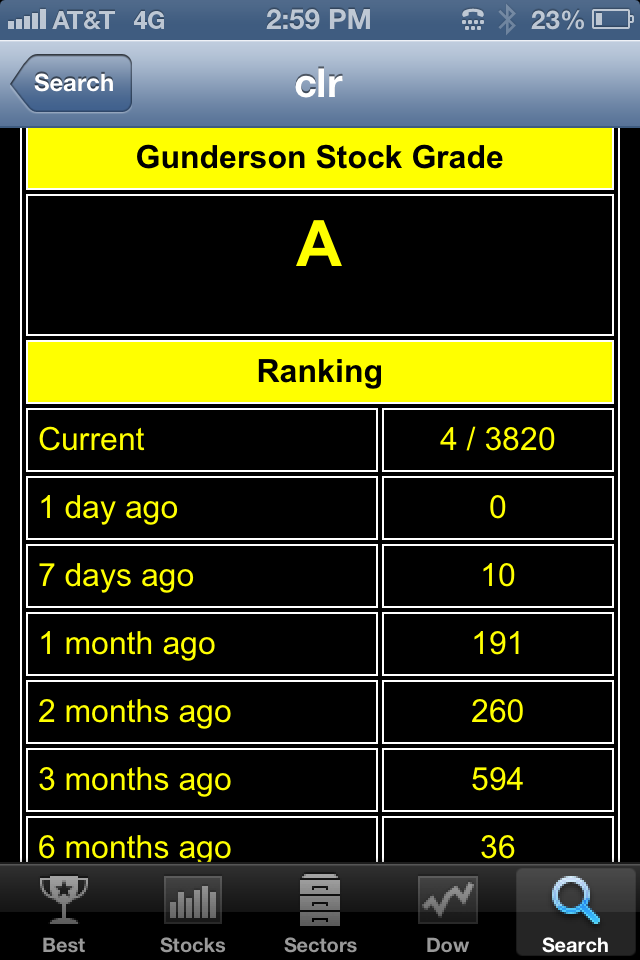 The stock currently ranks number 4 overall all in my proprietary ranking system. It is also a position that I own for my clients at Gunderson Capital Mgt.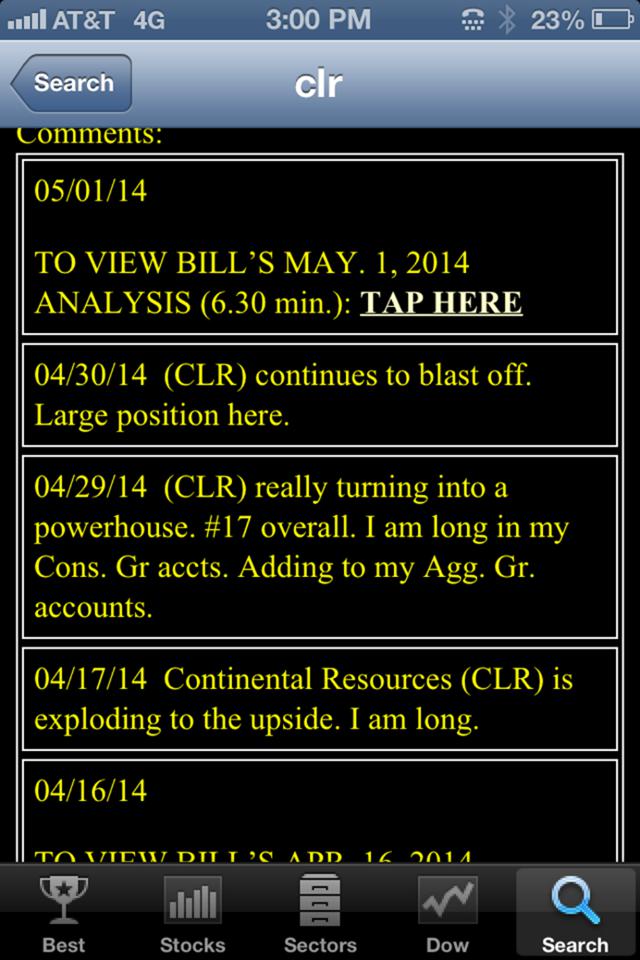 Disclosure: I am long CLR. I wrote this article myself, and it expresses my own opinions. I am not receiving compensation for it (other than from Seeking Alpha). I have no business relationship with any company whose stock is mentioned in this article.