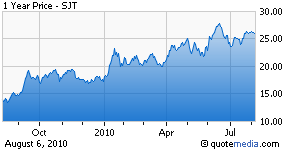 Buy-recommended San Juan Basin Royalty Trust (NYSE:SJT) offers a 6% distribution yield derived entirely from natural gas production in a large, high quality, long-life field. Stock price is backed by estimated Net Present Value (NPV) of $25 a unit, up from $23. Second quarter results represented by the most recent monthly distributions exceeded our projections of three months ago. As a result, we adjust NPV upward to bring it in line with the reserve life and cash flow relationships traced by large cap companies.
Among the factors contributing to better than expected monthly distributions for most of the past year is rising heat content, signifying a shift to more lower cost, richer natural gas from tight rock and less higher cost, leaner natural gas from coal seams. Distributions have also benefitted from a narrowing of the regional price discount for San Juan gas and lesser deductions for spending to replace naturally declining capacity. Taking account of those trends and using prices already determined, we project the next three monthly distributions in the range of $0.10 to $0.14 a unit. Seasonally higher winter natural gas price leads distributions higher in the first half of 2011. SJT stock price is in an uptrend trading above its 200-day average of $21.
Investors Favor Income and Small Cap
Four income buy recommendations have distribution yields in the range of 6-8%. Along with two small cap growth buy recommendations, McDep Ratios for the six stocks are in the range of 0.72-1.00. Two-thirds of 24 stocks have been among the best performers in oil and gas measured by current price exceeding the 200-day average. In the face of economic and electoral uncertainty, our optimism has natural gas joining in the price uptrend by crossing the 40-week average before winter.
To help that happen, we look for supply growth to be tempered for awhile and for demand growth to become more evident. If we are too optimistic in our timing, the distribution yield makes waiting worthwhile in the income stocks. The downside risk in stock price for natural gas producers is diminished, we believe, by the unusually low price of natural gas at a third of the heating equivalent of oil. Further on the upside, near-zero interest rates on government securities point to attractive future capital gains in income and small cap oil and gas stocks, in our opinion.
Originally published on July 16, 2010.