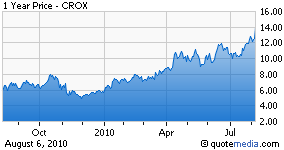 By David Sterman
Walking by my firm's trading desk in 2008, I overheard some chuckling. Turns out, a pair of traders were having a laugh fulfilling a client's seemingly foolish "buy" order for shares of Crocs (NASDAQ:CROX). They wondered if the client had heard that the plastic shoes had been a fad that came and went. When I saw the shares eventually plummet to around $1.10 in early 2009, I assumed they were still laughing.

Not anymore. Shares have staged a remarkable comeback, with Friday's +10% move capping a +1,200% gain in 15 months.

He who laughs last, laughs best. As it turns out, these plastic shoes may be a fad, but the fad has staying power after all. Sales of these shoes had fallen at a double-digit clip in 2008 and 2009, and thanks to a bloated cost structure, steadily rising profits quickly turned to losses. Management eventually took a hatchet to costs, and suddenly this former highflyer once again looks like an earnings powerhouse.

A Slow Turn
Gutsy investors saw the turn coming, even as shares were heading down to the magical $1 mark. Back in the third quarter of 2008, year-over-year sales comparisons turned slightly positive, although the prospects of full-year profits dimmed and Crocs was destined to lose plenty of money in out-of-season quarters.

Yet investors soon saw signs of the company's sharp cost cuts. The company slipped back into the red in the next quarter, but the quarterly loss shrunk by 70% from a year earlier, giving a clue that profits could be respectable once the company moved back into its seasonally strong quarters. Sure enough, Crocs earned $6 million in the seasonally weak first quarter.

Fast forward to last Thursday, and Crocs is no longer just a cost-cutting story. Second-quarter sales rose a hefty +31%, which led to a nice turnaround in profits. Second quarter profits of $32 million, reversed a similarly-sized loss from a year-ago. That profit performance was nearly +70% better than analysts had expected. And thanks to current demand trends, management thinks sales will be up another +24% in the current quarter as well.

All of the sudden, analysts' forecasts look very conservative. They had been modeling for +10% to +12% sales growth in 2010 and 2011, which in and of itself is an impressive feat when you think about sales trends from a few years ago. But it now looks like sales growth could top +25% this year. Equally important, per share profits could approach $0.80 or even $0.90 this year -- well ahead of the 2010 consensus forecast of $0.47 a share. Add in another +15% sales growth in 2011, and profits could approach $1.25 a share. Shares trade for about 11 times that projection.

When a company is in the sweet spot of a fad, shares can climb through the roof. But if the company loses its mojo, it will never quite regain the luster it once had, even if sales rebound back to that former peak -- and that's why shares are unlikely to ever touch the $75 mark again as they did back in 2007.

But there's no reason that Crocs can't trade for 20 times forward earnings, as it looks as if this current sales run is sustainable, and perhaps more reflective of a loyal customer base and not just fickle customers seeking the latest fad. Despite running from $1.10 to $14 in the past 15 months, shares could power into the low to mid-$20s once more investors revisit this "new" growth story.
Disclosure: Neither David Sterman nor StreetAuthority, LLC hold positions in any securities mentioned in this article.