I strongly believe in investing in dividend paying and dividend growing companies, re-investing all dividends for the first 10 years (unless one needs the income today), and thereafter holding them for the long term. The first phase, lasting 10 years or so, is the "accumulation" period, which is when you should reinvest the dividends. This helps to bring down the cost of ownership and to elevate the dividend yield on cost. Thereafter, you can enjoy the passive income, which normally grows well in excess of inflation.
However, one must be careful to choose the right mix of companies that not only have the excellent track record, but also hold a premise of decent growth into the future. Diversification is very important, as all of our selections will not turn out as planned and others may exceed our expectations. It is wise to choose at least 20 companies, preferably more, with sector and geographical diversification.
Why Unilever Fits the Bill
Unilever Plc (NYSE:UL) is a well-known consumer products company based in Europe that operates on a global scale. It is listed in the U.S. as an ADR (American Depository Receipt). Unilever has a major presence in Asia, Africa and the Middle East as well as in the developed world markets of Europe and North America. It owns some of the most well-known brands such as Dove, Vaseline, Sunlight, Knorr, Lipton, Hellmann, and Breyers and boasts 14 brands with annual sales in excess of 1 billion euros.
The company's peers are Procter & Gamble (NYSE:PG) in the consumer products segment and Kraft Foods (KRFT) and General Mills (NYSE:GIS) in the food segment; I like the geographical diversification that Unilever provides. It is well-accepted fact that emerging countries will have higher growth compared to developed world as more and more people in the developing countries join the middle class. That said, Unilever's big exposure to the emerging markets provides both growth opportunities as well as some risks (such as currency risk).
In its 2013 annual report, the company reported an overall sales growth of 4.3%. Emerging markets now account for 57% of its business and grew at a healthy rate of 8.7%; however, they were flat after taking into account the currency variations. The developed markets sales declined: Europe was down by 1.1% whereas North America declined 1.5%.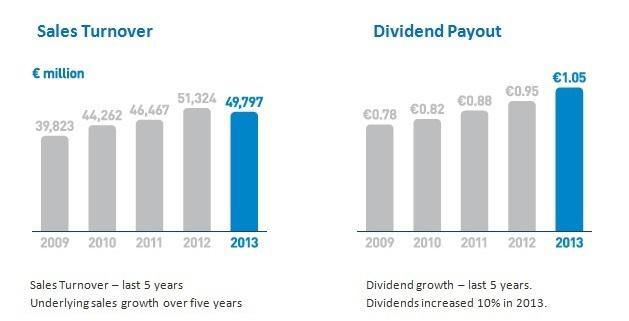 Source: Unilever Annual Report.
Free cash flow (an all-important metric for dividend investors) grew at a healthy rate during the last five years, though it declined slightly in 2013. It generated a total of 18.7 billion euros of free cash flow during the last five years, with 3.9 billion euros in 2013. According to the company's website data, the dividend payout has increased at CAGR of 8% (in EUR) from 1979-2013. Also the payout ratio is below 60%, which sits favorably for sustainability of dividends. In the latest quarter (first quarter of 2014), the trends are somewhat similar to 2013 and the quarterly dividend is up 6%.
Growth of $2,000 Invested in Unilever From January 2005-14
As the adage goes, "past financial performance is no guarantee of future success." However, at the same time, the past track record does provide a glimpse of the future. Let's assume that you invested $2,000 on the first trading day of 2005 and did not add a penny after that. Fast forward to April 2014 and you would have had 129 shares of Unilever that would be worth $5,779 and be paying you a dividend of $188 every year, providing over 9.4% yield on cost. Below is the performance of your UL holding compared to S&P 500.
Source: Morningstar.
Now, please allow me to add my favorite twist (dollar cost average) to the above example. Let's assume that you also added $1,000 at the beginning of each year after your initial investment of $2,000. Your total contribution under this model would be $11,000. After 10 years of dollar cost averaging and dividend reinvestment, as of April 30, 2014, you would be sitting on 490 shares of UL worth $21,952, which would be paying you a dividend of $715 every year, providing 6.5% yield on cost.
How Did My Investment in Unilever Grow From 2007-14?
The table below is one I created myself and is an example of investments and returns from UL, which mimics my own portfolio.
Date of Purchase
Share price
Number of Shares
Amount
5/30/2007
31.15
38
1183.70
7/7/2008
28.71
24
689.04
11/3/2008
23.06
36
830.16
8/8/2011
31.48
60
1880.80
2/3/2012
32.60
60
1956.00
TOTAL cost of purchase
218
6539.70
Current value of original shares
44.74
218
9753.32
Shares from dividend reinvestment
-
35.504
-
TOTAL

(at current price)

44.74
253.504
11341.77
Cost basis per share
$25.80
Closing price as of April 30, 2014
$44.74
Current Forward Annual Dividend per share (in U.S. dollars)
$1.46
Current Forward yield per share (annual basis)
3.30%
Yield on cost
5.65%
After reinvested dividends, my investment has grown to $11,341 as of April 30, 2014, paying a projected 2014 dividend of $370 (5.65% yield on cost).
Conclusion
In my opinion, the current price of Unilever has become expensive relative to its fair price with some margin of safety. I would not be adding more until it corrects to below $38, preferably the $35 range. It may not happen in the near term, but sometimes patience pays. That said, I consider this company a great investment for the long term in any dividend growth investing portfolio, provided it is accumulated at the right price range.
Disclosure: I am long UL, PG. I wrote this article myself, and it expresses my own opinions. I am not receiving compensation for it (other than from Seeking Alpha). I have no business relationship with any company whose stock is mentioned in this article.
Disclaimer: The above article and examples have been provided for information purposes only and should not be construed as recommendation to buy or sell any security.