It is probably me, but after reading an article by my fellow contributor, "Ugly Duckling", not only did I get more confused than I usually am, but I found myself agreeing not to sell any shares of Apple (NASDAQ:AAPL) and to consider continuing to buy, even as the stock moves higher.
His first bullet point was this:
Continued dividends destroy value.
I am pretty certain that I completely disagree with this statement. Actually, not only do I disagree with it, but I wrote this article explaining why the dividends makes AAPL a more compelling stock to own than ever before.
I believe that it is important to note that with the amount of cash that Apple has, and the payout ratio as low as 29%, it is probably quite inaccurate to say that continued dividends will destroy value.
The Company Has So Much Money, It Can Do Just About Anything! (Maybe Even Bail Out A Few Countries)
I think it is worth reposting the following chart: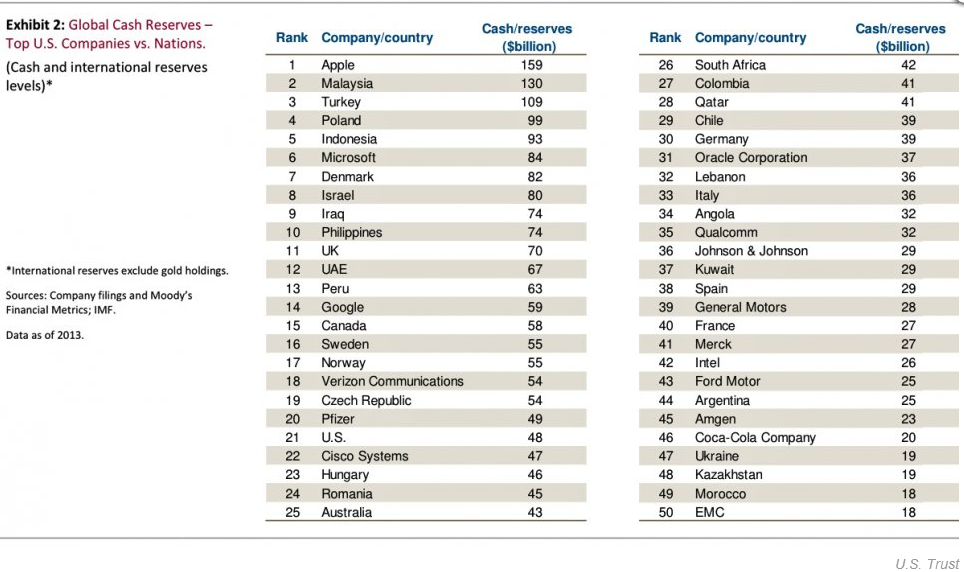 As of the last quarter, Apple now has about $151 billion sitting in cash, with virtually no debt. Capex has also been raised to $11 billion for 2014, as revenues continue to increase as well. How could any investor say that dividends destroy value, when the growth engine is also hard at work as well?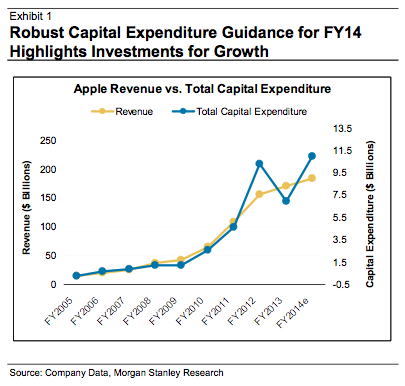 I believe it is fair to say that Apple is a money machine at this point, and as long as it continues to upgrade and develop, that will simply not change for quite some time. The company generated over $13 billion in cash last quarter, and paid out $21 billion in shareholder value via dividends and share buybacks.
Does that appear to be a company that is destroying value, or creating it?
The Second Bullet Point Is Almost As Confusing
In the second bullet point, the author noted:
Continued repurchases imply value.
Well, in my book, it not only implies value, but creates value. The less shares outstanding, the higher the share price at current valuations.
That is not an implication, that is simply a fact. When combined with the dividend increase of 8%, Apple has enormous shareholder value, and the value is being reflected every day since its conference call, as its shares are around $600 now.
The company is continuing its share buyback plans, and I believe will also be the next dividend champion in the footsteps of Johnson & Johnson (NYSE:JNJ) and Exxon Mobil (NYSE:XOM), and perhaps even bigger.
Finally, The Third Bullet Point Is Maybe, Perhaps, Somewhat Accurate, But I Disagree Completely, I Think!
I am pretty sure I think I know what this means:
Don't sell until the repurchases stop.
The author seems to mean that shareholders should NOT sell shares until the company stops buying shares back. Ok, that is his opinion and that is fine, but as far as I am concerned, the company can stop buying shares back in 2014, continue to increase dividends at 8% annually, and the company will still be giving tremendous shareholder value.
I also believe that Apple has now become one of those rare stocks that not only offer accelerated dividend income growth, but has the potential and money to become a huge growth company once again.
Can any company touch it right now? Name ONE.
As far as I am concerned, there will be a flood of investors after the 7:1 split next month also. Sell this stock? Ever? Not a chance for me, folks.
Disclaimer: The opinions of the author are not recommendations to either buy or sell any security. Please remember to do your own research prior to making any investment decisions.
Disclosure: I am long AAPL, JNJ, XOM. I wrote this article myself, and it expresses my own opinions. I am not receiving compensation for it (other than from Seeking Alpha). I have no business relationship with any company whose stock is mentioned in this article.