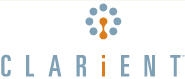 This small-cap company may be poised to be a long-term leader in cancer diagnostics and molecular testing. It combines innovative diagnostic technologies with world-class pathology expertise to assess and characterize cancer. The rise of individualized medicine as the new direction in oncology has created the need for a centralized resource providing leading diagnostic technologies, such as flow cytometry and molecular testing.

Clarient Inc. (CLRT) has a state-of-the-art commercial cancer laboratory, providing the most advanced oncology testing and diagnostic services. It's also developing new, proprietary "companion" diagnostic markers for therapeutics in breast, prostate, lung and colon cancers, and leukemia/lymphoma. Clarient has a wonderful and comparatively inexpensive series of cancer diagnostic platforms that enables clinicians to determine the most effective therapies available for cancers having various genetic expressions. Its sales have been increasing at up to 20% a year compounded. Much of CLRT's IP comes from its acquistion of Applied Genomics, Inc in December 2009.

This has really broadened the horizons for CLRT's vision and future potential revenue. The next 18 months (rest of 2010 and 2011) are shaping up to be key milestones for future growth and sales. Mammostrat is expected to be commercialized in Q4 2010 and has 5 validation studies to back up the test. This opens up roughly 174,000 patients annually in the US. Mammostrat development was targeted to breast tumors which express estrogen receptor, the most commonly seen subtype of breast cancer. Mammostrat testing will help pathologists, oncologists and patients decide whether additional aggressive chemotherapy should be added to the treatment regimen. The test is used to classify individual patients as having an AGI-defined risk of breast cancer recurrence following surgical removal of their primary tumor and treatment with tamoxifen alone.

Taxanes are important cancer therapeutics which, in combination with other cancer therapies, can markedly improve a patient's response rate to therapy. However, taxanes also carry with them a significant incidence of severe side effects, so identifying which patients will most likely benefit from the therapy is vital.

The TLE3 biomarker is the anchor of Clarient's proprietary taxane predictive product line that includes an array of tests created for lung, ovarian and breast cancers, among others. Clarient's Ovatax assay for ovarian cancer and Mammotax assay for breast cancer are expected to be launched in the fourth quarter of 2010, and launch of its Pulmotax assay for lung cancer is expected in 2011. That's 3 major diagnostic tests coming to the market in the next 6-12 months.

Its recent IP protection in the UK for a taxane(TLE3) biomarker and Notice of Allowance from the US Patent and Trademark Office for a U.S. patent on the TLE3 biomarker have broad revenue implications. Other patents for the TLE3 biomarker are pending in Canada, Japan, China, India and elsewhere in Europe. The U.S. patent will cover uses of the TLE3 biomarker in breast cancer. The U.K. patent covers uses of TLE3 in breast, lung and ovarian cancers. This has also led it to discussions with several international partners to expand the reach of the TLE3 products outside the U.S., including the possible creation of diagnostic test kits for distribution in key world markets.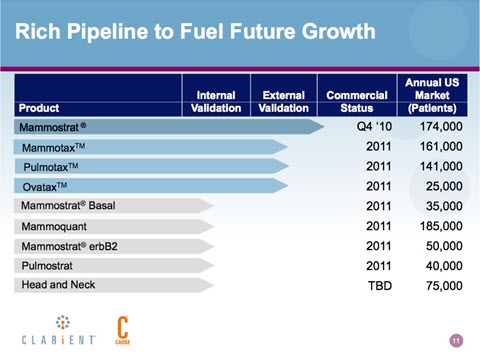 It has a strong balance sheet that has cash with recurring revenue and little debt. As of June 30, 2010, Clarient's cash and cash equivalents totaled $9.6 million. Second quarter 2010 net revenue was $28.7 million, a 21 percent increase over the $23.7 million net revenue in the 2009 second quarter and a sequential increase of nearly eight percent over the $26.6 million in the first quarter of 2010. Its diagnostics are valuable and customers are satisfied with its product. Clarient's pathology and oncology customer base is approximately 1,300 and reflects a better than 98 percent customer retention rate.

For a small-cap with about $300M market cap, it has great institutional and insider holdings. This includes a 35% stake in the company by Safeguard Scientifics, Inc. (NYSE: SFE) and large holdings from several prominent funds. All investors are encouraged to read over its most current presentation from August 2010. It is also actively covered by a large number of funds.

Disclosure: No positions.