Target (NYSE:TGT) has sold off significantly over the past several sessions. TGT's data breach issues and lack of execution led to the abrupt departure of their CEO. Target shares are down nearly 10% since the start of the year. The sharp declines gives investors nearly a 3% yield and a great buying opportunity.
Let's compare TGT to Wal-mart (NYSE:WMT), it's most like competitor, the consumer discretionary sector and S&P 500.
Relative Value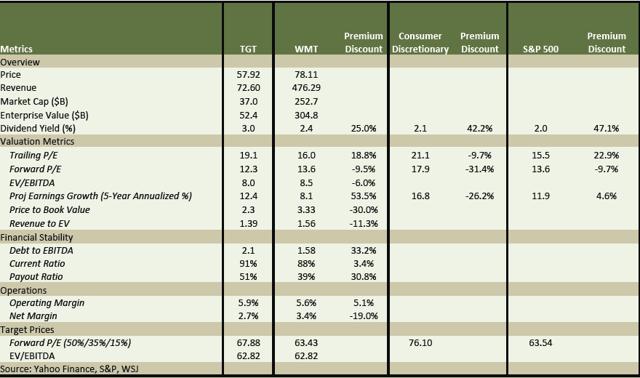 Target has a market capitalization of $37.0 billion and enterprise value of $52.4 billion. TGT's trailing PE is 17.3 and 12.3 on projected earnings. On a trailing basis TGT trades at a premium to both WMT and the S&P 500 (NYSEARCA:SPY), but a near 10% discount to the consumer discretionary sector. On a forward earnings basis TGT trades at a discount to all three.
Analyst's project TGT's earnings will grow at a 12.4% annual rate over the next five years more than 1.5 times WMT but more slowly than the consumer discretionary sector.
Looking at other valuation measures TGT trades at a discount to WMT on an EV/EBITDA, revenue to EV, and price to book basis.
Financial Stability and Operations
From financial stability perspective TGT is more leveraged than WMT with debt at 2.1 times EBITDA. Both have a current ratio slightly less than 1. TGT has a more generous dividend payout than WMT.
TGT outperforms WMT in operating margin at 5.9% versus 5.6% but underperforms in net margin at 2.7% versus 3.4%. More effective TGT management should translate better operating margins to the bottom line.
Undervalued
The data suggests TGT is undervalued relative to WMT, the consumer discretionary sector, and S&P 500. On a forward earnings basis TGT shares would trade in a range of 63.43 to 76.10. Using a weighted average methodology, that weights WMT and sector more heavily that market comparisons, we calculated a target price of 67.88. On an EV/EBITDA basis equal to WMT, TGT shares would trade close to $63. Both measure indicate TGT has valuation upside.
Dividend Investors
TGT shares now yield close to 3% a 25% premium to WMT, 42% premium to the consumer discretionary sector, and nearly 1.5 times the S&P 500 yield. TGT has increased their dividend substantially in recent years with management committed to shareholder payouts. TGT's debt to EBITDA at 2.1 times and payout ratio , while elevated compared to WMT do not threaten dividend stability.
Conclusion.
Dividend Investor should look at TGT as yields approach 3%. The shares offer potential upside given discounted valuation comparisons.
Disclosure: I am long TGT. I wrote this article myself, and it expresses my own opinions. I am not receiving compensation for it (other than from Seeking Alpha). I have no business relationship with any company whose stock is mentioned in this article.