Chipotle Mexican Grill (NYSE:CMG) performed impressively during the first quarter of the year, and the earnings surpassed the market expectation. The stock price ended at $519.61, with a healthy trading activity of more than 4 million shares. The food giant is currently trading with the share value down by 1.7%. During the past year, CMG's share value touched a peak value of $622.90 per share, and it traded as low as $350.66 per share.
While the company debuted with impressive results in the first quarter, there are some concerns in the market about the rise in commodity prices and possible slowdown in the future. During the first quarter, which ended on 31st March 2014, more than 40 new restaurants were opened and more than 180 restaurants are going to be launched during 2014. The net revenues saw an increase during the reported quarter, and the earnings rounded at $83.1 million, marking an approximate 8.6% jump compared to the prior year period.
Challenges and Opportunities
While the net sales continued to increase, a drop in operating margin to 25.9% was noticed based on basis points. The rise in food prices are seen to be a concern, and the company seems to be realizing the same. The prices of beef, cheese and vegetables have been growing consistently year after year. Together with operating costs, the net sale was offset by rising commodity prices. There has not been a price hike for the past 3 years, and the time is ideal for a price increase. The decision to increase the price of products may not alter the customer perspective, as Chipotle is already regarded as a healthy fast food restaurant when compared to other fast food chains.
Competitors like Yum! Brands (NYSE:YUM) and Darden Restaurants (NYSE:DRI) are close on CMG's heels, launching new products regularly. But Chipotle, which is a health-friendly brand, is way ahead of its competitors. It is currently concentrating on products like vegan tofu and many more.
Chipotle still has the option to go global, and this could seriously increase the overall share value. Emerging markets like India and China assure bright prospects.
Stock Price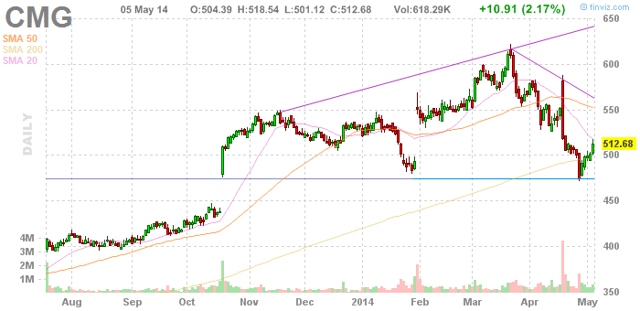 CMG's stock increased quickly in late November on high volume and has continued the uptrend, for the most part. It continues to maintain a solid support at $475, which it recently just rebounded off. It seems that with Chipotle, the moves come quick and hard. The stock in general seems to make moves very fast all at once. Any breach of the $475 support would be cause for concern, with a possible drop all the way to $400 levels. However, at this point, the more likely scenario is a gradual uptrend towards $550.
Forecast
While competitors found it hard to get customers in, Chipotle was recording net growth worth 20% on an average for past 2 years. With the latest pricing, and international and domestic growth looking positive, investors are bound to rally around the food giant.
Disclosure: I have no positions in any stocks mentioned, and no plans to initiate any positions within the next 72 hours. I wrote this article myself, and it expresses my own opinions. I am not receiving compensation for it (other than from Seeking Alpha). I have no business relationship with any company whose stock is mentioned in this article.