When it comes to strategic asset allocation, most investors typically move their investments between equities, bonds and cash, and are often satisfied with the returns and diversification they achieve just through investments in international securities within those asset classes.
However, the diversification promised by international investments, when sticking to bonds and equities can be quite deceptive. The basic premise behind the belief of diversification benefits achievable from international investing stems from the common view that correlations between international markets are low. That claim may not necessarily hold true in today's markets. (Click to enlarge)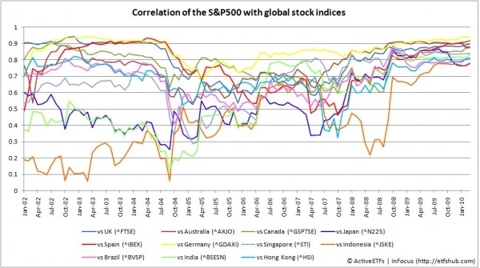 For example, take a look at the chart above that graphs the correlation of the S&P500 with various international stock indices from both developed and developing markets. If you were to claim back in 2002, that investing in stocks internationally held significant diversification potential for US investors, your argument would have some weight given the low correlations exhibited of the S&P500 against markets like Indonesia, India and Japan. However, by 2009-2010, we witness the phenomenon of correlations "colliding" on a global scale. By 2010, nearly all markets had correlations in excess of 0.80 with the S&P500. That number should place an element of doubt in any investor's mind with regards to the diversification potential of investing internationally within the same asset class.
What all this means is that investors looking for true diversification will likely have to look outside the basic asset classes of equities and bonds. One such asset class that doesn't get much attention is currencies. Currencies, viewed as a separate asset class can provide significant potential for true diversification in returns.
Fundamental Case For Emerging Market Currencies
It is widely known that the US dollar has been on the decline against major currencies in the last decade, with the exception of the panic period between 2008 and 2009. Once the flight to safety and market panic abated, the fall of the US dollar resumed. The euro also had its own more dramatic decline in value thanks to the sovereign debt crisis that emerged in 2010 and strong support for the currency has yet to return. Given the fundamental state of many developed economies within North American and the eurozone, there is a little to inspire confidence in developed economy currencies.

Looking at the figures in the table above paints quite a picture. The numbers have been taken from various sources including the CIA World Factbook, The Economist, PrincipalGlobalIndicators.org. Each of the deficit-to-GDP, debt-to-GDP and current account-to-GDP for the developed countries is significantly worse than that for the developing economies, providing some basis for the poor performance of developed country currencies in general. Even the future prospects for developing economies, in terms of projected GDP growth in 2010, looks much more appealing relative to the likes of the US and Japan.
All the key factors measured bode well for the strength of developing economy currencies. Research from WisdomTree Investments showed that the addition of emerging market currencies notably moved the efficient frontier upwards when compared to a portfolio of just stocks and bonds. And over a 10-year period ending Mar 31, 2010, where the S&P500 had an annualized standard deviation of 15.9%, emerging market currencies had a standard deviation of 7.1%.
WisdomTree Dreyfus Emerging Currency Fund (CEW)
CEW is an actively-managed ETF, sub-advised by Dreyfus, that looks to achieve returns that are reflective of money-market rates in emerging market countries and also the changes to the value of emerging market currencies relative to the US dollar. The fund implements its strategy by entering into forward currency contracts collateralized by US money market securities. A basket of 8-12 emerging market currencies are selected annually, which are then equally weighted in the portfolio. As of June 30, 2010, CEW had an approximate 9% exposure each to the currencies of Brazil, Chile, Mexico, China, India, Korea, Taiwan, Poland, Israel, Turkey and South Africa, by holding 118 currency forwards. Its latest published market cap on Aug 4, 2010 stood at $355million and the fund had an expense ratio of 0.55%. The fund has provided an average annual return of 6.26%, since its inception in May 2009.



Disclosure: No positions in above-mentioned names.
Disclaimer: Views and opinions expressed on EtfsHub are those of the author alone and do not in any way represent the official views, positions or opinions of the employers – both past or present – of the author in question, or any other institutions and corporations associated with the author. Neither the information nor any opinions contained or expressed above and elsewhere on EtfsHub constitutes or should be construed as a solicitation or offer by EtfsHub to buy or sell any securities or other financial instruments or to provide any investment advice or recommendations. None of the material above and elsewhere on EtfsHub is intended to endorse or promote any company or its products. EtfsHub shall not be liable for any claims or losses of any nature, arising indirectly or directly from use of the information on or accessed through the site. Please see full disclaimers here.