Apple (NASDAQ:AAPL) stock has been on a roll since its most recent quarterly report. That party may soon be over.
On October 13, 2013, Localytics estimated that the iPhone 5S and 5C represented 3.8% and 1.7% respectively of the iPhones in use worldwide. The data were well-received, given the device had just launched.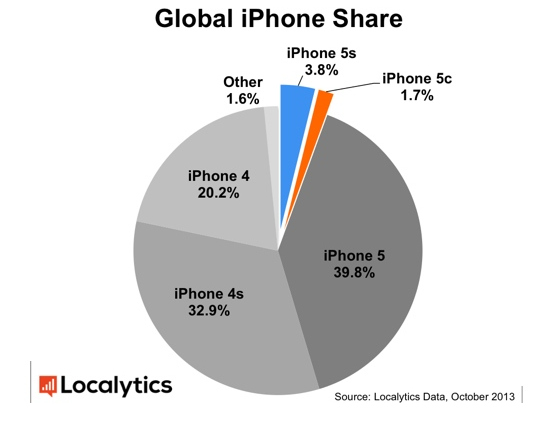 On March 7, 2014 Mixpanel found that the iPhone 5S made up 19.31% of all iPhones in use globally. Again, the tone of the data was to demonstrate how successful the iPhone 5S had been.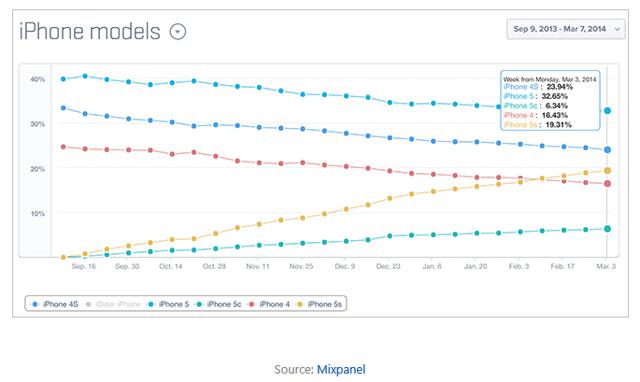 Source: Apple Insider
Combining these data with estimates of the total iPhones in use on the respective dates, one can estimate how many units of the iPhone 5S were sold in the period. In fact, the data allow us to get a peek into unit sales of each variant of the iPhone listed. I have relied on data on iPhone sales supplied by Statista.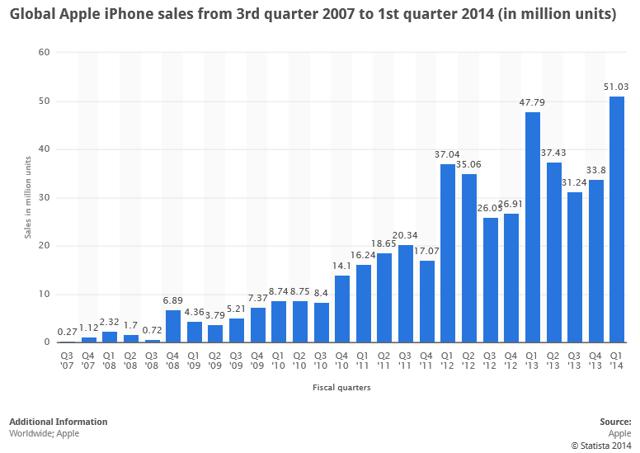 We know that Apple had recognized sales of 421 million iPhones from inception to September 30, 2013 from Apple's 10-K, and we know that at that year end, 14.3 million of those remained in carrier inventory, as disclosed on the earnings conference. Another 51 million were sold in Q1 of fiscal 2014. On October 13, 2013 (the date of the Localytics data), 13 of the 91 days of the quarter had elapsed, and assuming the sales rate was constant, the total number of iPhones sold in the interval September 30, 2013 to October 13, 2013 was about 7.3 million. The constant sales rate is at best an approximation, but does not give rise to any material error on a base of over 400 million. Total iPhones shipped since inception as at October 13, 2013 thus amounted to 428.3 million, of which, 414 million were sold through to users.
To go further, we need an estimate of how many iPhones have been discarded since 2007, and we turn to Horace Deidu for that answer. Deidu developed a model to estimate iPhone discards in the United States based on activation data, reproduced below: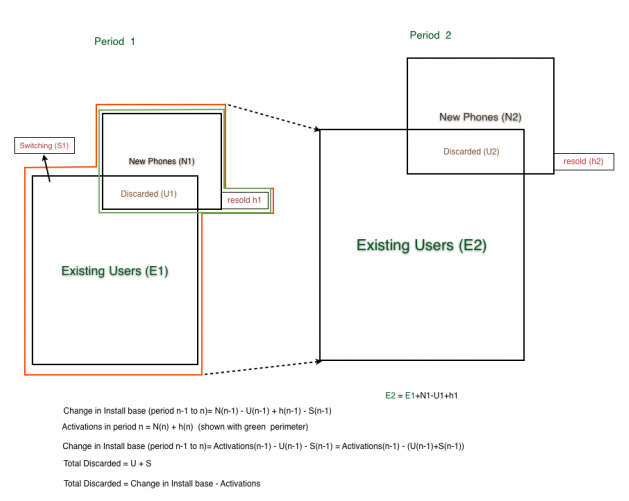 Sources: Asymco
Using a somewhat similar approach, I estimated that as on October 13, 2013, there were 260.5 million iPhones in use after discard of 153.2 million, or about 37% of those ever sold to users. The blank lines in the table are for convenience, and will be filled in later.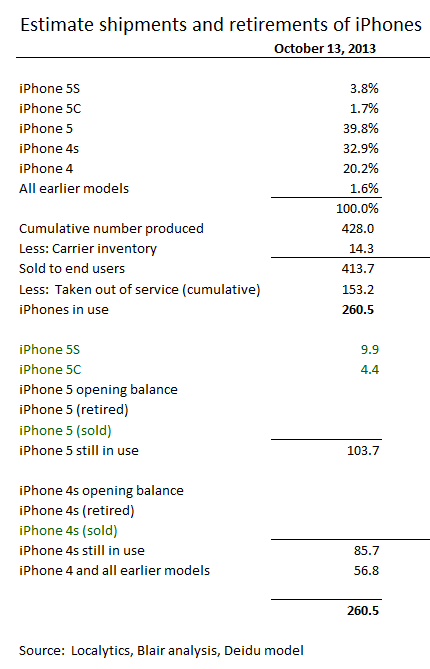 Deidu actually concluded that the discard rate in any given quarter was about 50% of the new phones sold when he did his analysis in 2011.

Source: Asymco
In the quarter ended March 31, 2014, Apple sold 43.7 million iPhones, according to its earnings release, and ended the quarter with 15.4 million units in inventory, according to the earnings conference. March 7, 2013 is 66 days into the quarter, and pro-rating iPhone sales, I have estimated that Apple sold 31.7 million iPhones between December 31, 2013 and March 7, 2014. Total shipments of iPhones from inception to March 7, 2014 were about 503 million.
Using the proportions of the various iPhone variants in use, according to Mixpanel on March 7, 2014, I did the algebra to calculate what the mix of iPhone shipments and retirements must have been from October 13, 2013 to March 7, 2014.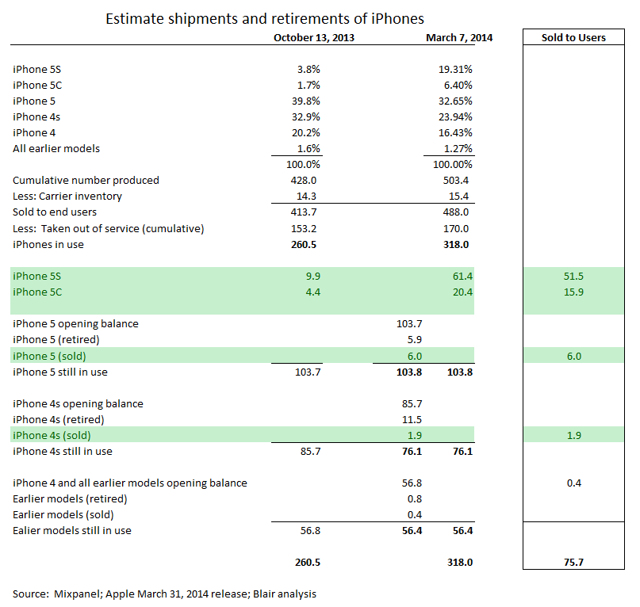 The results are quite striking. Within the bounds of reasonable error in the Localytics and Mixpanel data and the error resulting from the assumption of a flat rate of daily unit shipments in the stub periods, the arithmetic is quite robust. It shows that Apple sold an amazing 52 million iPhone 5S units; 16 million iPhone 5C units; 6 million iPhone 5's; and 2 million iPhone 4S's in the interval between October 13, 2013 and March 7, 2014, or a total of 76 million units.
It also shows that fewer iPhones are being discarded, with only 18 million retired, while 76 million were sold. I draw three conclusions:
The iPhone 5S was a blowout success, and outsells the iPhone 5C by over 3 to 1, with a salutary effect on margins;
The addition of 58 million new users is consistent with Apple experiencing a modest loss of share of the global installed base of smartphones;
Assuming a 30 to 36 month replacement cycle going forward, replacement iPhone sales should be on the order of 106 million to 127 million units annually.
Apple added new users in the period at a rate of about 30 million each quarter, suggesting annual sales of 136 million to 157 million iPhones if that pace continues. If the iPhone 6 draws users from other platforms, those figures will grow in proportion. Market share is now important to Apple, if it wants to continue to enjoy its outsized share of industry profits.
Apple's reportedly 91% retention rate has been a great benefit, but it will not lead to growth unless Apple continues to attract new users, in addition to selling replacement devices to its loyal customer base.
To date, Apple's addition of new users has lagged market growth. In part, this reflects a growing shift in consumer sentiment, with some evidence that consumers rate their experience with Samsung and Sony on par with Apple.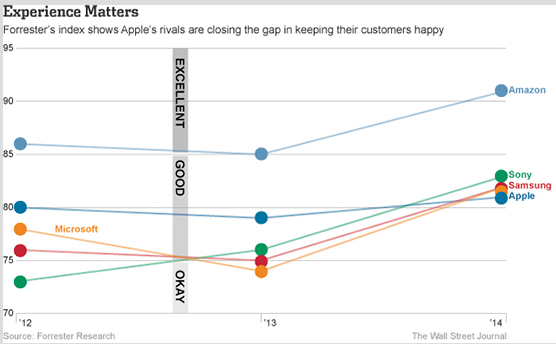 Source: Forrester Research
This was evident in the recent Samsung Galaxy S5 launch, where a U.K. survey found that over 37% of the S5 buyers were upgrading from an iPhone.

Source: BGR
Morgan Stanley research confirms that a lot of iPhones in use are older models in the U.S. installed base.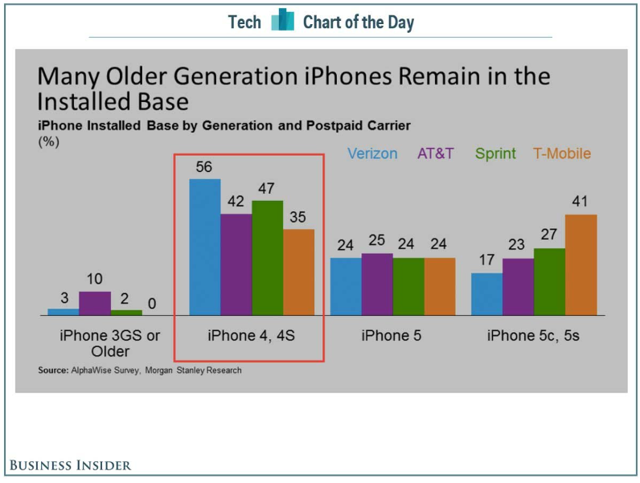 Those phones are strong candidates for upgrades either to the iPhone 6 or to a competing product. No doubt that latent demand will contribute to a good launch for the iPhone 6 in North America. However, these potential upgrades are included in my above estimates.
In the meantime, Apple's "thermonuclear war" on the patent front seems to have its sails luffing a bit. Apple's hoped-for $2 billion damages award turned out to be $120 million, and the court found that Apple had infringed a Samsung patent, as well. In some courts, the doctrine of "clean hands" might have eliminated the award altogether. In any event, it seems Apple's threat to limit its competitors' use of the rectangle went full circle.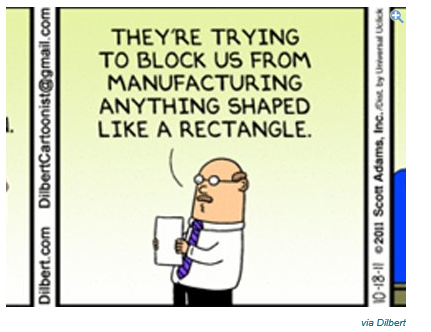 Source: Dilbert.com
The smartphone market grew 29% in the March quarter, according to IDC. If that rate of growth continues, Apple will continue to sell more iPhones, even with some share losses. If growth slows to 20%, Apple unit sales will decline, by my estimation.
I reiterate my long-held views. Smartphone markets are maturing; pretty well everyone on earth who wants and can afford an iPhone has one now, and while many, if not most, of them will buy another one when their current contract runs out, others will defect to less costly alternatives; and Apple will start to see declining unit sales if it continues to experience declining market share and market growth drops from 33% to single digits.
I am sure the Apple bulls will find plenty of cause for optimism. New products, entry into mobile payments, or the "next big thing". I am always mystified by the amount of emotion in the comments on any article negative about Apple. Or at least, I was, until I chanced upon a possible answer. Americans rank their mobile phone above sex in their priorities. I should have known Apple fans' love for their iPhones was more deeply rooted. I wonder how many keep their call answer set to "vibrate".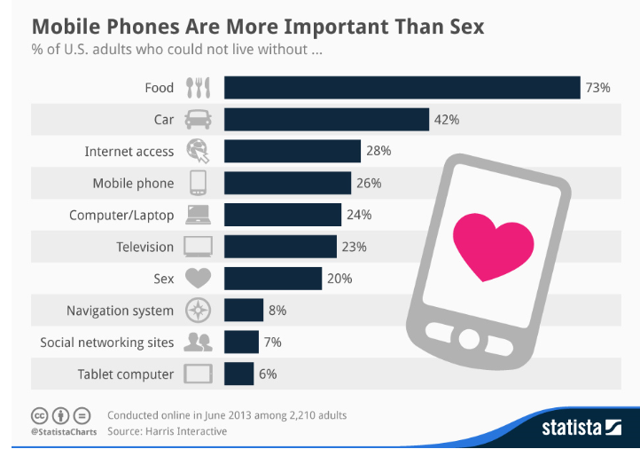 I have been an Apple short since September 2012, when I sold short 200 shares at $668 a share, and have traded in and out of the name ever since, both directly and through options. I have made and lost money on the trade, with the results to date a net loss.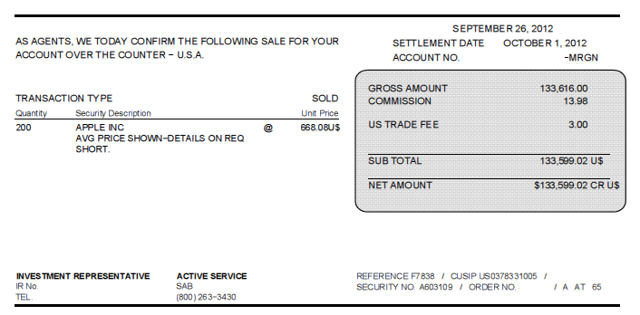 Source: Blair trade ticket (account number removed).
I remain an Apple short, although for the time being, I have hedged by selling in-the-money puts and out-of-the money calls, which comprise an offsetting long position. Euphoria could drive the stock higher in the short term. Reality will eventually bring it down.
Good luck with your investments.
Disclosure: I am short AAPL. I wrote this article myself, and it expresses my own opinions. I am not receiving compensation for it (other than from Seeking Alpha). I have no business relationship with any company whose stock is mentioned in this article.