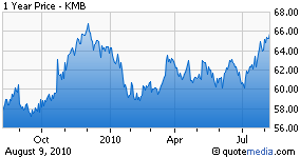 Click to enlargeIs Kimberly-Clark (NYSE:KMB) Hoisted on Success of Its Own Brand Label?
Its product slate is as familiar to consumers around the world as a box of Cheerios. In fact, some marketing strategists have and will continue to argue that instant and widespread recognition of the Kleenex brand name actually works against the company's interest. Shoppers enter a retail outlet intending to load the cart with "kleenex," a term associated in the minds of many with facial tissue in general, neither specifically nor categorically linked to KMB's brand label.
Inasmuch as a pejorative has been raised here at the outset, we might as well proceed immediately to an enumeration of Kimberly-Clark's other challenges -- "headwinds" as they are increasingly referred to -- and company specific risks:
lower cost generic substitutes, a feature not lost on cost conscious businesses and individual households;
possibility of rising and sustained high input prices of such as pulp and assorted other manufacturing inputs;
close to 13% of Book Assets are occupied with unfunded Pension liabilities, up from 9% only a few years ago. Although far smaller in relative scale than comparable numbers at the Federal Government, it nonetheless is an item that sooner or later will need to be dealt with.
These comprise a familiar roster, so long and so thoroughly documented, agreed upon and analyzed that in combination they are virtually certain to be incorporated into the trading price of every round lot transaction in the stock.
Why Bother?
Salient risks duly acknowledged, the remainder of this essay will accent the positives. Investors wading in a today's offered price will initially come away with a 4%+ current (i.e. dividend) yield, about double that of the S&P 500 and in another sphere when compared with bank CD's and other money market instruments. The company routinely throws off free cash flows -- including dividend payments -- of a little over $1.00 a share, and its current annual $2.64 a share rate sets the payout ratio at only 55% of plausible 2010 net after tax estimates. Put another way, you are urged to consider the payout as prudently safe, in fact to anticipate another 8-10% lift beginning the second quarter of next year (the company maintains a December 31 fiscal year).
Revenue and operating results over this year's opening half rolled in altogether on a par with prior assumptions and expectations. In line with risks summarized above, the consumer tissue segment (there the Kleenex is found) did essentially stand still in sales dollar while dipping 6% in operating income. Welded into 2010 results to date is a $96 million after-tax charge -- coming to around 23 cents a share -- stemming from accounting rules in turn linked to unusually high inflation rates (correspondingly falling currency exchange rates) out of KMB's Venezuelan manufacturing facility. No additions to this are expected the remainder of this year, but some recurrence should not completely be ruled out in sizing up year 2011.
The remaining three (3) principal operating segments -- Personal Care, Professional and Health Care -- all contributed in varying combinations of unit volume, price and currency. Although declining slightly from one measuring period to the next, North American business is 45-50% of the Sales dollar, with Europe, Asia and the BRICs gaining ground, a trend that could presumably describe 90% or so of U.S. manufacturers.
Kimberly-Clark routinely delivers after tax returns on book assets of 9-9.5%. The trade lets it get away with a fairly large overall debt ratio in a zone of 70%, enabling returns on equity to consistently strike 33-35%. This leaves behind a comparatively small book value of under $13, and at the current market quote a flip side comparatively high price/book multiple of 4.5-4.7x.
The firm's weighted average cost of capital should be estimated at 9-9.25% (book); 11-12% at market. common sense revenue and earnings models -- carefully yet insistently including the 23 cent a share accounting charge -- will point to 2010 EPS centering on $4.80; capital outlays of $1-1.2 billion; net free cash rolling in somewhere close to $570 million, the latter equal to $1.40 a share. Mark 2011 revenue down at plus 3-3.5% and a broadly similar pattern will unfold under the column headed 2011.
As this is written the stock changes hands at $65.50 a share, 13.6x this year's number and 12.5x next. The price is also 11% ahead of where it was offered six-eight months ago, so some investors will doubtless prefer to allow for some retreat. Inasmuch as the low-mid 70's will touch multiple year and decade share price highs, such a tactic cannot be gainsayed.
A block that can be picked off at $62, or thereabouts, will lift the entry yield to 4.25%, beckoning a 16% capital gain. Far less appealing options abound in today's markets, and today's world.
Disclosure: no positions