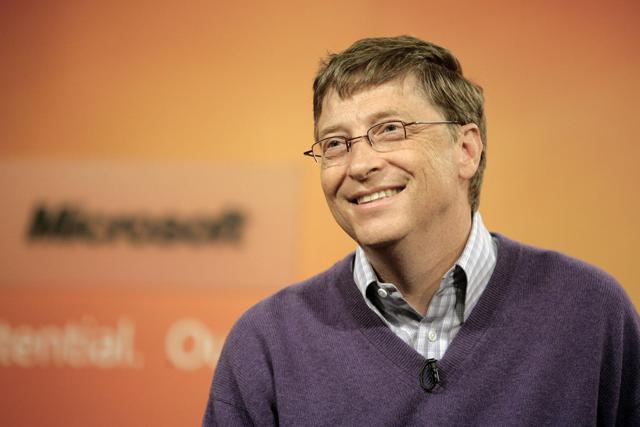 It seems Bill Gates is slowly, systematically getting rid of his Microsoft (NASDAQ:MSFT) stock. It seems to be a purely business decision, and is definitely one that probably makes a lot of sense.
The question for us to ponder is, why?
Some context: The news comes from an article in Reuters, and the pretty inflammatory title is, "Bill Gates on track to own no Microsoft stock in four years".
(Reuters) - Bill Gates, the former chief executive and chairman of Microsoft Corp, will have no direct ownership in the company he co-founded by mid-2018 if he keeps up his recent share sales.

Gates, who started the company that revolutionized personal computing with school-friend Paul Allen in 1975, has sold 20 million shares each quarter for most of the last dozen years under a pre-set trading plan.

Assuming no change to that pattern, Gates will have no direct ownership of Microsoft shares at all four years from now.
The article takes no position and is factual in its context. Gates is selling, and Steve Ballmer has more shares than he does now. In fact, with Gates' latest sale, Ballmer is currently Microsoft's largest individual shareholder, with approximately 4 percent of the total outstanding shares, according to the article.
There are a couple of interesting clues, though, about what is happening. First, the article does talk about the fact that there has been some consistency to the trading. It's described as a "pre-set trading plan" that has been in effect for most of the past 12 years.
Second, it's impossible to know if and when that plan will stop in the future. Heck, it might stop tomorrow, for all we know.
I think that this is much ado about nothing. Gates is the spiritual head of Microsoft, and no one can ever question his loyalty to the company.
I think that if the "pre-set" plan was accelerated for any reason, that might be a cause for concern but at the current pace, even if he's out by 2018, so what?
Besides, he doesn't run the company anymore, and has done more than enough for Microsoft as a company.
Microsoft has very clearly moved into a post-Bill Gates era, but the CEO (Satya Nadella) still bends over backward to work with Gates and assure the world that the former chairman is involved with the company.
Bottom line: Don't be panicked by the sensational headlines. Microsoft is being run as a very profitable business, and will be just fine with or without Gates.
The former Microsoft executive has been singularly focused on his work in Africa and around the world with his foundation for a long time, and the company has done very well in many areas despite others having taken the helm in his absence.
Besides, the company has much bigger problems to worry about than Gates and his shares, such as establishing a solid foothold in the smartphone, tablet and cloud services markets, where, despite early entry, it now lags significantly behind competitors like Apple (NASDAQ:AAPL), Google (NASDAQ:GOOG) (NASDAQ:GOOGL), and other front-runners in those areas.
What do you think? Is Gates selling a bad sign? Leave your comments below.
Disclosure: I have no positions in any stocks mentioned, and no plans to initiate any positions within the next 72 hours. I wrote this article myself, and it expresses my own opinions. I am not receiving compensation for it (other than from Seeking Alpha). I have no business relationship with any company whose stock is mentioned in this article.
Additional disclosure: I am the CEO of Learn About The Web Inc. (learnabouttheweb.com). Learn About The Web™ is an online business education platform dedicated to providing universities with the tools required to credibly teach online business. I teach and discuss online business companies (including Microsoft) frequently. I also own several Microsoft related online properties like Eye On Windows (eyeonwindows.com) and Windows 9 Update (windows9update.com).