Company Background:
Allergan (NYSE:AGN) is a growing, mid-cap healthcare company that blends the growing areas of both specialty pharmaceuticals and medical devices. The company appears to excel among its peers in areas where the rest of the healthcare industry is lacking:
Highly diversified portfolio
Deep pipeline across specialized products
Driven by high internal R&D
Successful in-licensing/M&A
Global infrastructure offering multiple channels for expansion
Increasing operating leverage through purchase of distribution channels
Investment Case:
Improving growth story in areas such as anti-aging, obesity, and vanity warrants high P/E multiple; EPS growth of mid teens this year.
Botox is more sustainable than believed (new indications include spasticity in 2010, migraine in 2011, and overactive bladder in 2012).
Pipeline is underappreciated.
The company's growth profile would be a nice fit within big pharma

There are not many areas to hide when the U.S. population is aging and fattening. We feel confident owning AGN shares at this time and expect shares to trade materially higher due to mid-double-digit EPS growth.
Catalysts:
Botox migraine approval which might come near the end of October and not fully in Street forecasts or stock.
Follow-on treatments that are in Phase 3 such as OAB (Over-active bladder)
Investment Risks
The main risk is multiple contraction to levels at par with the pharma industry. We perceive the following risks to be the negative catalysts of that even.
Re-trail of Botox for migraine (highly unlikely but could happen)Failure to launch Botox OAB (Over-Active Bladder) and Botox CDH (Chronic Daily Headaches)Uptake of competitive products that will undermine Latisse (Dry Eye), Restasis, XalatanShare gain by competitor's botulinum toxins in the US Market, particularly Dysport
Economic & currency headwinds.
Pipeline Chart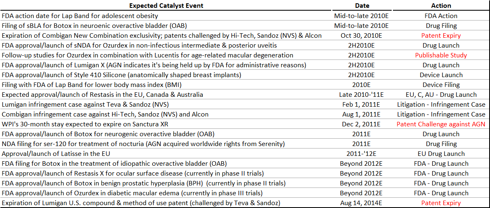 Investment Conclusion
Although, we believe that this stock is currently trading ($64.50) at an expensive valuation (Forward P/E)
2010E - 19.9
2011E - 17.8
2012E - 15.4
The company appears to be a in a unique position where it can extract growth from multiple channels. With their ongoing purchase of global distribution capabilities:
Japan/China in 1Q10
Turkey/Poland 2Q10
Both strategic in nature, it is an effective way of moving money from balance sheet back to P&L. Management steered clear of quantifying the impact, but it is understood that there was a modest increase in gross margins. With this trend continuing, future pipeline developed, and a good record of execution. We believe this is still a good buy.


Disclosure: Long AGN