The market volume was weak today, but the market moved higher.
Going into the day I discussed my expectations of continued bullish activity and a break of 1130 early this week, which was the high in June. Today, the market ran higher into the close, and once again tested 1130 resistance, where it was met by sellers. A few indices, like the Industrials and Transports, already eclipsed their June highs. Curiously, old leaders like technology and financials remain weak.
The near-term battle for trend may very well be won or lost on Tuesday. The market has struggled for direction throughout all of August. Tomorrow, the Fed rate decision will be announced and it will have a major impact on the market. The biggest impact should be to the dollar, which as I have mentioned over the past two weeks, is very oversold and ready to bounce. A rising dollar will put a halt to the recent price momentum in the market and likely result in a speedy pull-back to 1085. Despite the recent erratic market activity, I have been, and remain, bullish, until the market flashes reversal.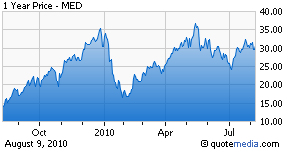 The Chart of the Day
Medifast (NYSE:MED) finished the day 4% higher.
We looked at this stock over the weekend, examining how price reacts to a breach of the 50-day moving average. In the chart we can clearly see that on three separate occasions in the past six months, the stock has moved sharply following a violation of the 50-day moving average. Going into this week the stock traded right at the moving average. If the stock finds support along this average, shareholders are likely to see new highs, but should the stock dip below, it's time to load up on puts.
Watch List
Our watch list was higher today, similar to the market.
Leading the way higher was Telestone Technologies (NASDAQ:TSTC) up 8% along with a slew of Chinese names that have been discussed in the past month.
Disclosure: No positions