Last week, the Organization of Economic Cooperation and Development (OECD) Composite Leading Indicators signaled a possible peak in economic expansion in the U.S. The CLI turned negative for the first time since February 2009.
click to enlarge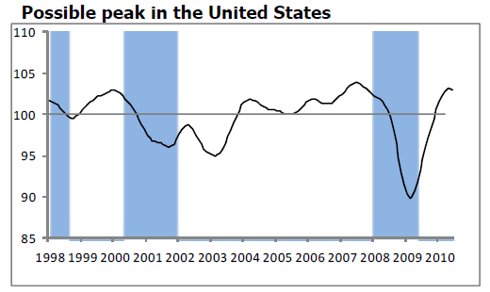 Source: oecd.org
Then the Conference Board issued a press release titled "Starting the Second Half with Little Forward Momentum". They've got that right. And that's just the latest in a string of news pointing to a slowdown in the second half of this year. But we have another red light flashing a warning signal…and that is falling price levels.
Recent data from the Commerce Department doesn't look promising. The consumer price index (a measure of inflation) has declined for the past three months in a row. And on a yearly basis, the index eased to 1.1%...after 2% growth the month before. And while the headline CPI reading has been driven down by lower energy prices, core CPI (which excludes food and energy) has risen slightly…only after coming in flat in April and May.
And there's a good chance we will see further declines in the inflation measure. The producer price index (a measure of producer price inflation) has fallen for the past three months. And because declines in inflation at the production level give us an idea of what's coming down the pipeline to consumers…we could very well see prices come down further.
Now, there was concern about inflationary pressure because the monetary base expanded so dramatically during the recession…but over the last several months the base has contracted from its peak of $2.2 trillion.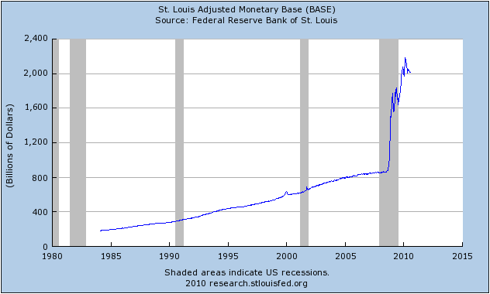 But it's not just a matter of what's happening with the monetary base. How frequently money is changing hands matters, too. And we are seeing a fairly flat reading of the velocity of M2 (a measure of the amount of money in circulation). And when money is not moving…price levels aren't going to rise.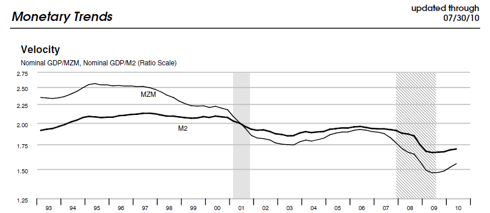 Source: research.stlouisfed.org
On the surface, falling price levels seem like a benefit to consumers. But deflation that occurs as a result of falling velocity, low consumer demand and, in turn, a lack of pricing power, is a threat to growth rather than a support.
Could we be headed for a period of deflation (negative inflation)? Quite possibly. St. Louis Fed President James Bullard is worried, warning that we are "closer to a Japanese-style outcome today than at any other time in recent history". But at the very least, it looks as if we are facing disinflation (slowing inflation). And the International Monetary Fund forecasts as much, with CPI slowing to 1.1% next year.


Source: International Monetary Fund
The bottom line: inflationary pressure is likely further down the road… for now we should be more worried about deflation and its impact. As Moody's Analytics chief economist Mark Zandi told Barron's, deflation might be somewhat "benign", but it is "worrisome given the fact that unemployment currently stands at 9.5% and we see a one-in-three chance that the deflation will be accompanied by a recessionary double dip".
Faced with the threat of a double dip recession and possible deflation, Treasuries are a standard play for safety. But Treasuries (particularly long term maturity) wouldn't be my first recommendation. At some point, we will see some inflationary pressure, and the Fed will counter it by raising rates…and long term securities will lose value.
For an investment opportunity, take a look at Vanguard Short-Term Bond ETF (NYSEARCA:BSV): this ETF has holdings in short-term Treasuries and short-term corporate bonds.
Also consider iShares Barclays 1-3 Year Credit Bond (NYSEARCA:CSJ): this ETF provides exposure to short-term investment grade corporate debt.
Disclosure: No positions