By Alexander Moschina
Sweet and salty – it's a match made in heaven. And that heaven exists in Charlotte, North Carolina – home of Lance, Inc. (Nasdaq: LNCE), the original maker of the sandwich cracker.
Founded in 1915 by food broker Phillip Lance, Lance Inc. was initially born out of a mix-up involving 500 pounds of raw peanuts. Rather than renege on a bargain made with a local peanut farmer, Lance roasted and sold the nuts in Charlotte. After some relative success, he moved on to making his own peanut butter. Then one day, Lance's wife and daughters decided to spread some between two saltine crackers. And the rest is history…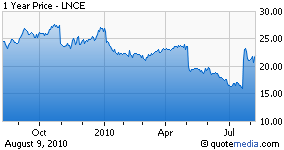 The snack pioneer recently announced that it's merging with Snyder's of Hanover, a privately traded snack manufacturer and the current leader of the pretzel industry. News of the merger sent Lance's stock soaring by 30%, opening $4 per share higher on July 22.
The companies themselves are referring to the deal as a "merger of equals." And given their extensive product offerings and long company histories, they make a good point.
Meet Me at the Snack Table
With a combined 196 years of experience, the veteran snack-makers are set to create one giant corporation – Snyder's-Lance Inc. As a single entity, it will be the second-largest salty snacks provider in the U.S. (behind Frito-Lay).
Not only that, they're joining forces at a time when the industry is growing. In 2007, salty snacks sales in the U.S. amounted to $16 billion. Last year, that number jumped to $17.7 billion. And as more and more consumers choose eating at home over the high cost of dining out, demand for these ready-made foods is rising. In fact, if current trends continue, industry sales will balloon to over $21 billion by 2013.
And the joining of Lance and Snyder's will ensure a long-term presence in this booming market.
Each brings some major brands to the table. Snyder's will contribute its extensive line of pretzel products, while Lance offers 100 Calorie Packs, Cape Cod Potato Chips and Archway Cookies, in addition to its popular sandwich cracker line.
Lance predicts that its 2010 net revenue will fall between $930 and $950 million, compared with net revenue of $918.2 million in 2009. In addition, the firms say the merger should help cut their annual costs by $30 million.
Forming under a single identity unites all the strengths of these experienced companies. With their iconic brands and proven track records, this merger solidifies two already sturdy positions in the snack food industry.
Disclosure: None.
Disclaimer: The Oxford Club LLC/Investment U and Stansberry & Associates Investment Research are separate companies, and entirely distinct. Their only common thread is a shared parent company, Agora Inc. Agora Inc. was named in the suit by the SEC and was exonerated by the court, and thus dropped from the case. Stansberry & Associates was found civilly liable for a matter that dealt with one writer's report on a company. The action was not a criminal matter.