Linn Energy (LINE) presented first quarter 2014 results last week that mostly met analyst expectations. Linn Energy, along with Kinder Morgan Energy Partners (NYSE:KMP), is one of my cornerstone investments in my long-term income portfolio. While I believe Kinder Morgan Energy Partners is a less risky bet for investors who want to get exposure to the domestic energy sector, Linn Energy offers investors not only a double-digit distribution yield, but also capital appreciation potential stemming from production growth and asset transactions.
Unfortunately, many investors focus solely on Linn Energy's distribution record, as the stock is often held in income-tilted portfolios. I think this approach to a Linn Energy investment is short-sighted. In my last article about Linn Energy, I have pointed out the importance of accretive acquisitions in order to drive cash flow and, ultimately, distributions. I wrote:
I still stand with the assertion made in the last article and believe Linn Energy is an extremely attractive income vehicle for investors who want to play the secular trend of domestic energy exploration, who desire high income and who want to gain exposure to cash flow accretive portfolio acquisitions. Linn Energy's transaction history shows, that the exploration company is a busy driver of upstream acquisitions in the domestic oil- and gas sector.
Linn Energy's first quarter results were solid
Linn Energy increased average daily production from 796 MMcfe/d in Q1 2013 to 1,104 MMcfe/d in the most recent quarter: A whopping increase of 39%. Linn Energy's Rockies, California and Permian Basin operations were mostly responsible for the sizable y-o-y increase in production (see below). Production in the Permian Basin increased 108% y-o-y, making this geography now the third largest in Linn Energy's portfolio.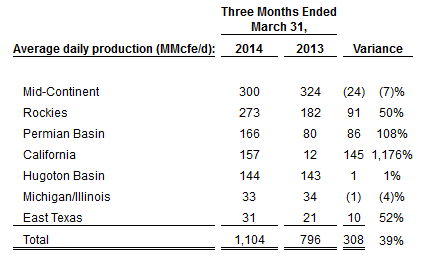 (Source: Linn Energy, Investor Relations Website)
Linn Energy also announced that it is continuing its efforts to monetize Wolfcamp. A first quarter results related press release noted:
As previously announced, the Company is exploring various alternatives for potential asset trades or sales for its approximately 55,000 net acres in the Midland Basin. Recently, LINN completed drilling its first operated horizontal well in Midland County targeting the Wolfcamp B interval and expects to complete it in the second quarter 2014. In addition to the Company's three rigs targeting the vertical Wolfberry trend, another development program is underway in the Clearfork formation of the East Goldsmith Field, which was acquired in 2013. This three-rig program is expected to generate attractive returns from this vertical oil target and has further potential upside tied to future waterflood and CO2 opportunities.
Wolfcamp still offers Linn Energy a great opportunity to create value for unitholders, and I am all for developing the assets to determine the inherent value of the 55,000 net acres under review. Whether Linn Energy conducts an outright sale or trades its Midland Basin assets in for other complementary properties, Linn Energy's unit prices are likely to react strongly to a news release laying out specifics. A sale (and certainly a cash infusion) would also help alleviate investor concerns about the sustainability of Linn Energy's unitholder distributions.
Further noteworthy first quarter results included:
An increase in operating cash flow from $335 million in the first quarter of 2013 to $434 million in the most recent quarter -- up 30%.
A net loss of $85 million ($0.27 per unit) compared to a net loss of $222 million ($0.96 per unit) last year.
A decline in net cash shortfall from $20 million in Q1 2013 to $3 million in Q1 2014.
Distributions
Linn Energy currently pays investors $0.2416 per unit per month, which results in annual payments to unitholders of $2.90 per unit. At a present unit price of $28.65, Linn Energy's annual payments translate into a forward distribution yield of 10.12%. Linn Energy scores at the higher end of the yield spectrum, and I believe the exploration company will be able to sustain its payments to unitholders in 2014.
Technical picture
Though I am not primarily a chart-driven investor, I still pay attention to overall patterns. After units of Linn Energy were sold off at the end of February/beginning of March 2014, Linn Energy now appears to have found a bottom. I previously suggested that Linn Energy had bottomed out, and I recommended an investment in the energy exploration company.
Though I think investors are looking at an attractive entry price here, income investors clearly need to be aware of high short-term volatility -- just like in the past. Over the last year, Linn Energy's unit price has fluctuated wildly between $20.35 and $36.20.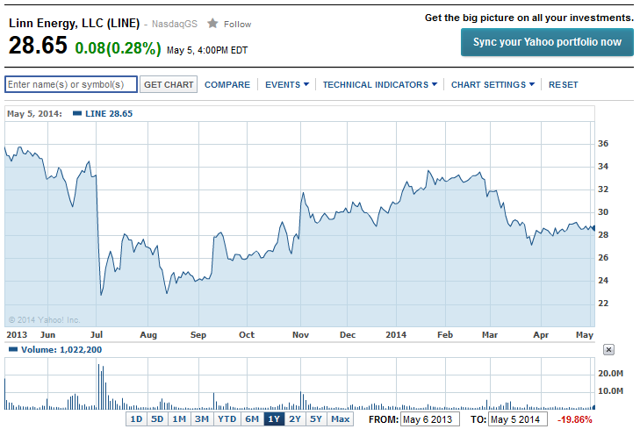 Click to enlarge
(Source: Yahoo Finance)
Conclusion
Investors who like to get exposure to an opportunistic acquirer of development assets that has an extensive mergers and acquisitions record could consider Linn Energy. Linn Energy would also be a suitable investment for investors who desire recurring income, a high distribution yield and who like to allocate funds to a high-growth energy exploration business. The energy sector will likely experience a consolidation wave over the next couple of years as opportunistic energy players with deep pockets will take advantage of companies that underestimated the capital intensity of their development projects. Linn Energy has one of the most convincing acquisition records in the industry, and I believe the company is greatly positioned to benefit from increased transaction activity going forward. I believe an investment in Linn Energy combines characteristics of both a growth and a value investment: A high distribution yield, potential for above-average production growth and opportunistic asset transactions make Linn Energy suitable for both income investors and investors with a focus on capital gains. Long-term BUY.
Disclosure: I am long LINE, KMP. I wrote this article myself, and it expresses my own opinions. I am not receiving compensation for it (other than from Seeking Alpha). I have no business relationship with any company whose stock is mentioned in this article.