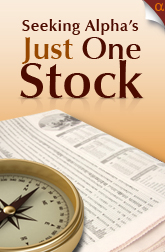 Several times a week, Seeking Alpha's Jason Aycock asks money managers about their single highest-conviction position - what they would own (or short) if they could choose just one stock or ETF.
---
Shaun Noll is founder and managing partner of San Francisco-based Stirling Capital Management, a conservative, research-oriented deep-value investment firm focused on managed accounts.
If you could only hold one stock position in your portfolio (long or short), what would it be?
I am going to take a risk and choose one of our more speculative investments. In accordance with our principle of prudent risk management, we only hold this stock in small allocations in cases where we can tolerate volatility. The stock is Cano Petroleum (CFW), an onshore oil & gas company with assets in the Southwest U.S., based on the simple idea that one can buy oil, in the ground in Texas, for less than $3 a barrel.
Using conservative metrics, my analysis shows recovery to equity holders in Chapter 7 liquidation of over $1.00 a share, while a company auction would likely produce $2.00-plus per share of value within one year, compared to $0.66 per share price today. The primary risk involves management destroying value in a misguided attempt to continue managing the company.
Tell us a little more about Cano Petroleum.
Cano is an E&P company operating in Texas, New Mexico and Oklahoma, focusing on long-life assets and application of enhanced oil recovery techniques. The board and CFW management recently terminated a merger agreement with Resaca Exploitation that was crafted during the height of the credit crisis and low oil prices. This has caused the equity to shed nearly 50% of its value as merger arbitrage players exited the trade in a stock with relatively low liquidity.
Although based on any financial or screening metric Cano looks terrible, upon closer examination of underlying tangible asset value, we believe the current equity price offers an unusually compelling risk vs. reward scenario with clear catalysts.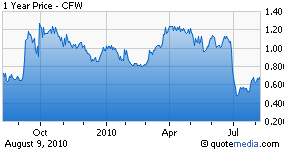 Using Resaca's conservative estimates, Cano has 43 million barrels oil equivalent of proved reserves while their own engineer team estimates 49.1 million boe. These reserves comprise 79% oil, 21% of which are proved developed and producing 1,200 boe/day with additional probable reserves of 13.9 million boe. Through the equity of the company, you own these assets against liabilities and market cap of only $127 million.
Note that Cano is currently in violation of its credit agreement with Union Bank; however, the company has received waivers. Based on past actions by Union Bank and discussions with management, we do not believe the lenders will foreclose on the assets.
How does your choice of Cano reflect your fund's investment approach?
We are extremely research-intensive deep value investors very focused on minimizing the risk of permanent capital loss. We scour the globe for asymmetrical risk vs. return situations with limited downside even in a worst-case scenario. We have talked with Cano, Resaca and the management teams of competitors, other operators in the area, investment banks, expert engineers, industry specialists and other shareholders. After our extensive research, Cano clearly fits our mandate as even in a liquidation scenario, we see potential for 30%-plus appreciation, while upside in an orderly sale could prove to be higher.
How much is your selection based on the oil industry, as opposed to a pure bottom-up pick?
While we are always conscious of the macro and industry dynamics, this is a bottom-up analysis. Valuation is extreme with a near-term catalyst; as long as oil prices don't crash and the credit markets stay reasonably stable, there is a high probability of a profitable outcome. In short, would you buy oil in the ground in the Southwest U.S. at less than $3 a barrel with properties next door selling for over $14?
How does Cano's valuation compare to its competitors?
Cano's stock has traded down sharply since the termination of the merger, despite this being tremendously positive news. Not only does the termination of the merger agreement open up the possibility of much more attractive alternatives, but it also indicates management's interest in creating and protecting shareholder value. Cano has recently hired Canaccord and Global Hunter, and I believe the most likely outcome is an outright sale of the company or merger with a better capitalized peer.
Given this potential outcome, let us compare Cano's current value to other similar transactions. There have been many transactions but I will highlight a few recent deals: TXCO Resources sold their Southwest Texas assets for $22.80/boe. Just two weeks, ago Concho (CXO) bought the Marbob Energy assets for ~$34.50/boe of proved developed reserves. In July 2009 BreitBurn Energy Partners (BBEP) sold their Permian assets for $19/boe. Since 2008, average transaction price is roughly $14/boe in the region.
While Cano's assets are less developed and have lower level of flowing boe/day, let us conservatively use $5/boe for their total proved reserves, including both developed and undeveloped.
Cano has an enterprise value of $120.6 million, supported by a conservatively estimated 43 million boe of total proved reserves - or a valuation of their proved reserves of only $2.80/boe. If the assets are sold for $5/boe, this leaves equity holders with value equal to $2.60 per share. At $6/boe, equity value approaches $3.50 per share.
How does your view differ from the consensus sentiment on Cano?
Current sentiment is extremely bearish and is pricing in certain bankruptcy, as well as total loss to equity holders in the event of liquidation. By any metric, the financial health of the company is in question and they are currently in technical default.
After talking with all involved parties and analyzing valuation, not only do I feel that bankruptcy is unlikely, but I feel that bankruptcy could be a positive catalyst for the equity. In bankruptcy they would auction the assets and liquidate the company. Even at fire-sale prices, with cash burn and adviser fees, I calculate $1-plus of value left after all liabilities for equity holders in a Chapter 7 liquidation scenario.
Does Cano's management play a role in your selection? If so, how?
The company would not be in such a dire situation if not for management execution issues in the past. At this point, investors only need management to be competent and motivated enough to sell the company for a vaguely reasonable valuation.
CEO Jeff Johnson has had difficulties in the past, but we feel he is more than up to the task of selling the company for a fair price. He recently made some wise and impressively decisive actions in choosing advisers and he has always made a strong effort to be available to shareholders. His recent push to terminate the Resaca merger also indicates a shareholder-friendly team. Lastly, Jeff owns 1.6 million shares as well as the opportunity to receive a healthy severance package, serving as personal financial motivation for a sale.
What catalysts, near-term or long-term, could move CFW significantly?
Near-term, I expect an announcement of progress working with Union Bank. Medium-term, I expect clarity on status of potential acquirers or merger partners. At this valuation, essentially any news that reduces the risk of bankruptcy should be good for equity prices, however.
If a merger with somebody is still the best-case scenario for Cano, what's the likelihood that the Resaca deal yet comes through in some form?
It is possible Resaca can come back and put together another offer to merger with or acquire Cano. Given that they were not able to close the previous merger at absurdly low valuations, however, I think it is unlikely they can come back with an offer competitive with current market prices.
Given that oil has nearly doubled and credit markets have improved dramatically since the Resaca deal was initially constructed, I expect higher offers and more interested parties than when Cano was exploring its options previously. As a result of Resaca's inability to close the previous deal and my expectations that there will be more and higher valued offers in the future, I doubt Resaca ends up with Cano's assets. If they do it would have to be at market prices now, which are multiples of the current valuation.
What could go wrong with Cano?
Risk management is protecting yourself from the outcome of events you can not foresee. If oil prices decline dramatically, or credit markets experience a traumatic event again, then a sale will become more difficult and asset value could be reduced.
There is always the possibility of fraud or unforeseen concerns regarding the viability and value of Cano's reserves. I think this is unlikely, given that three independent engineer teams (Union Bank, Cano, and Resaca) have evaluated Cano's financials and reserves, but it's worth noting, especially considering the large short interest in the stock.
Union Bank could also seize Cano's assets and liquidate them for less than $2.80/boe, wiping out equity holders. This would open them up to unnecessary shareholder lawsuits since assets similar to Cano's have traded for multiples of this valuation - but it is not impossible. Also, Union Bank has been very forgiving with Cano in the past.
My primary concern is that management attempts to sell some of their assets to pay down debt and continue running the company. Given management's track record of long-term value creation in the past, this would be the worst-case scenario in my view. I think the risk of this scenario occurring is low given capital needs and borrowing base issues. While I think the stock would trade up on this news as bankruptcy risk is removed, I would exit the position if this occurred.
All of these risks are compounded by the low liquidity of this stock. Should any of these negative events occur and cause a lower stock price, ability to exit the position without pushing the price down further will be impaired. This can be mitigated by keeping the position size small relative to daily trading volume.
Given that Cano selling assets to pay down debt and continue as a standalone company is your worst-case scenario, what do you think the probability of this outcome is?
I feel this outcome, while not impossible, is very unlikely. Recent transactions show that it is likely Cano will receive at least one offer for all or the majority of their assets. Given this, Jeff would be ignoring his fiduciary and legal obligation to maximize shareholder value by only selling a fraction of the assets and using the proceeds to reduce debt. If proved undeveloped reserves were sold, this would reduce the borrowing base and reduce the ability of Cano to raise capital to develop assets in the future. If they sold their producing assets this would reduce cash flow and also reduce the ability of Cano to raise future capital.
Either option is clearly unfavorable for all involved and would likely induce a wave of shareholder lawsuits, especially since the top 10 shareholders of Cano control nearly half the shares outstanding. I think Cano management and board are sharp and recognize that clearly the most attractive option for every stakeholder is a complete sale or merger and they do not want to expose themselves to personal risk.
Thanks, Shaun, for sharing your choice with us.
Disclosure: Stirling Capital Management is long CFW.
Read more Just One Stock interviews »
If you are a fund manager and interested in doing an interview with us on just one stock or ETF position you'd hold, please email Rebecca Barnett.