Dex Media's (NASDAQ:DXM) 1Q validates that digital momentum is accelerating. We believe additional catalysts will further support a dramatic re-rate of the equity.
On May 6th Dex Media reported very solid 1Q14 results, with digital growth of 8.5% (accelerating from the 0%/5.1% in 3Q13/4Q13) while managing to generate $97mm in free cash flow ($5.71 per share or $22.82 annualized) in a seasonally weak quarter. The fundamental momentum of their underlying business is accelerating and their overall ad sales change was the best in 7 years, as their recently introduced multi-platform strategy is gaining traction with small businesses. The key, in our view, is Dex Media is proving that its strategy of being the marketing partner for small/medium businesses is gaining traction and resonating.
The upturn in fundamentals argues for a more dramatic re-rate of the stock higher since the equity is still only trading at 0.37X P/FCF. As we mentioned in our last note distributed this morning, Yellow Media is currently trading near 5X P/FCF. Applying a FCF multiple to DXM that is less than half of Yellow Media's would yield a price for DXM approaching $50. We understand that this sounds absurd. However, the company is clearly on a path that can yield tremendous reward for the equity holders.
Below are some of our key takeaways from 1Q:
#1: Momentum continues on digital, which is now profitable. Digital ad sales growth accelerated to 8.5% from 5.1% in 4Q13. The tone on the company's earnings conference call yesterday implied that this momentum is actually accelerating. In other words, we believe 2Q14 digital ad sales could grow 12% and reach 15% by 3Q. Even management noted "with continued focus on cost controls, digital product innovation and a great client experience, we believe we can build on this momentum into the future." Their recently introduced product "Start Smart" flexible bundle is resonating with small/medium businesses and generating growth. Take a look below, and note that digital revenues are now 27% of sales, up 600bp in mix from a year ago. At this pace, the company will have over 30% of total sales from digital by year-end.
Figure: Dex Media digital mix is up 600bp y/y (% of sales digital)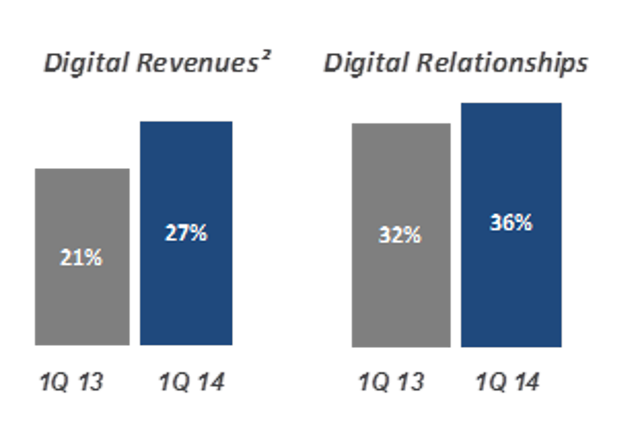 Source: Dexmedia.com
Even more importantly, total top-line trends show dramatic improvement with overall ad sales at the best levels in 7 years. As impressive as the acceleration seen in digital is, a more impressive trajectory is the overall trend in ad sales. As shown below, ad sales decline of -12.9% is a sharp improvement Q/Q and is the best in 7 years. This suggests that company's focus on multi-platform and flexible bundles (see our prior notes) is resulting in overall improved demand for the company's services, both print and digital. Why does this matter? It tells us that digital is not cannibalizing print. In fact, the company continues to boast an impressive 80% customer retention rate.
Figure: Dex Media ad sales change y/y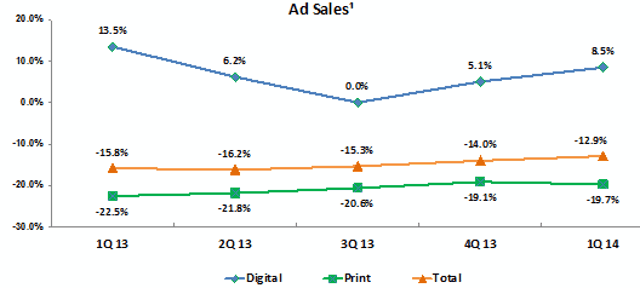 Source: Dexmedia.com
#2: Cost synergies are on track for 2H14 and digital is profitable. We still expect $100mm in cost synergies in 2014, with all of this back-end loaded in 2H. The company noted that it incurred $18mm in merger expenses in 1Q and, despite this, EBITDA came in at $194mm. Historically, EBITDA is seasonally weak in 1Q and typically falls $50mm sequentially. It was down only $13mm Q/Q, which suggests potential margin surprises coming in 2H as cost savings get realized.
#3: Management hinted at a strategic deal - we believe it may be YELP. We continue to believe DXM may strike a partnership with Yelp (NYSE:YELP), similar to the deal YP inked with Yelp earlier this year. On the call, there was some general discussion on this topic and of management's desire to make strategic partnerships/investments. Management stated that "there is a lot of strategic activity in the space…stay tuned…" The logic of this deal is intuitive, Yelp gains DXM's local footprint and local ad sales force (the strategic edge of DXM) while DXM gains "user ratings" and better listings on Yelp. Again, this could be a 2H catalyst.
#4: We could see another debt tender in the next few months and potentially a "global refi" late this year. The company indicated that they will do an additional debt tender when and if the opportunity rises. Current cash balances are $179mm and should be over $300mm by the end of 2Q (seasonally 2Q and 3Q are the strongest FCF quarters). As a reminder, the company tendered debt last fall and the shares subsequently gained over 30% in the following weeks. We believe it would make sense for the company to do a global refi, subsequently replacing silo debt with a package of a high-yield/term bank facility. (Please see our previous reports for a more comprehensive discussion).
#5: The stock is exceptionally cheap at 0.37X P/FCF. We have higher conviction in the company's fundamentals today than we did prior to their reporting 1Q results. The quarter validates our belief that the company has turned the corner fundamentally (in 4Q) and momentum is accelerating. This begs the question of fair value. Our FCF per share projection for this year is $25.89. As we mentioned earlier, we believe it is very reasonable to apply a multiple of 2X P/FCF, considering Yellow Media is trading near 5X. Again, this would value DXM shares near $50. We have stated before that, as absurd as it sounds, DXM could ultimately be valued at the same multiple of Yellow Media and trade north of $100 per share.
Disclosure: I am long DXM.
Business relationship disclosure: Additional disclosure: The opinions expressed above should not be construed as investment advice. This article is not tailored to specific investment objectives. Reliance on this information for the purpose of buying the securities to which this information relates may expose a person to significant risk. The information contained in this article is not intended to make any offer, inducement, invitation or commitment to purchase, subscribe to, provide or sell any securities, service or product or to provide any recommendations on which one should rely for financial, securities, investment or other advice or to take any decision. Readers are encouraged to seek individual advice from their personal, financial, legal and other advisers before making any investment or financial decisions or purchasing any financial, securities or investment related service or product. Information provided, whether charts or any other statements regarding market or other financial information, is obtained from sources, which we and our suppliers believe reliable, but we do not warrant or guarantee the timeliness or accuracy of this information. Nothing in this article should be interpreted to state or imply that past results are an indication of future performance. THERE ARE NO WARRANTIES EXPRESSED OR IMPLIED AS TO ACCURACY, TIMELINESS, COMPLETENESS, OR RESULTS OBTAINED FROM ANY INFORMATION IN THIS ARTICLE OR ANY LINKED WEBSITE.