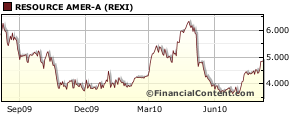 Resource America (NASDAQ:REXI), Philadelphia, Pennsylvania, announced it has formed a committee of independent directors to explore ways to boost its stock price, which has been stuck under $10 per share since the fall of 2008 after reaching $27.95 in February 2007.
Among its possibilities are selling business units, such as LEAF Financial, as well as going private or selling the entire company, it was stated. Advisers announced were law firm Stevens & Lee and FBR Capital Markets.
One of the units, reportedly in escrow, is LEAF Specialty, to First Trillion Funding, LLC, out of Phoenix, Arizona, a start-up. Dwight Galloway denies having any "involvement," stating he is aware his former "team" is working on a company, and in earlier interviews, acknowledged he had the "blessings" of LEAF Financial to find a buyer.
Leasing News was told by four well-informed and reliable sources the original papers were signed on July 28th regarding 1,050 leases worth about 60 million dollars. Several actions were put in place, which appears this is in escrow, and a hang up may be very well from LEAF Financial. Google has the new site up
in cache (1).
There were three facilities set up with Morgan Stanley. Two were paid off (Morgan Stanley (NYSE:MS) /RBS – A & B - $97M) by part of the $210M securitization (REIT Line), along with the $100M PNC warehouse line back in late May, 2010. The other $137.5M loan with Morgan appears still outstanding and not paid or extended. It came due 6/2010.
No one at Resource America or LEAF Financial is talking to Leasing News on how this would be handled. It could be part of the escrow or being refinanced partly elsewhere. It may be an extension or possibly LEAF is in breach/default with Morgan and Wells Fargo right now.
Please see items in red in LEAF 10K "Note 6 Bank Debt:"

Disclosure: No position