This article is a follow up to "Part 1" and "April Profit Rankings", taking into account the latest financial results from 10 of the 26 BDCs that I follow that have already reported. As a part of ranking BDCs, "Profit" is a key category, because it indicates dividend sustainability and the potential for dividend growth or reductions. Profitability takes into account many things, but the four key categories that I use are historical and projected dividend coverage, EPS growth and operating expense efficiency. The following table breaks out these categories and my updated profit rank for each BDC. The overall rank is weighted more toward sustainability than the other measures.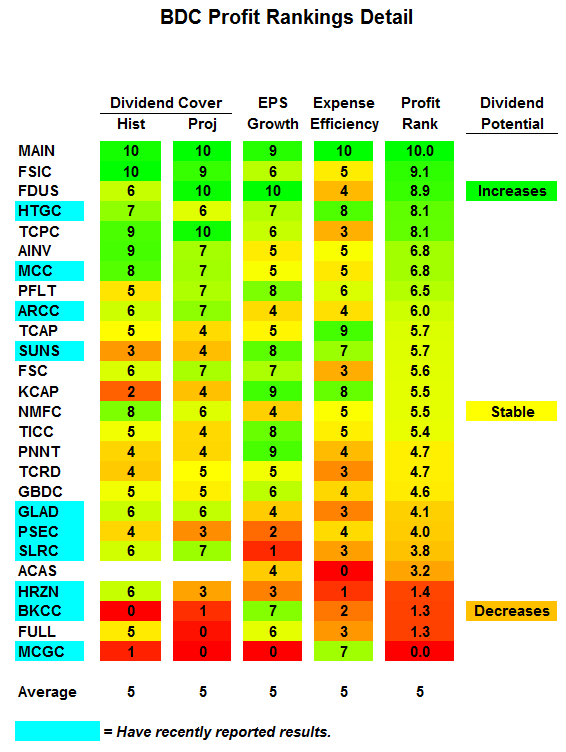 Whenever possible, I use "core net investment income" that excludes capital gains and associated expenses, such as one-time incentive fees on gains. This core NII is more representative of recurring income available to cover dividends.
Prospect Capital (NASDAQ:PSEC) reported core NII of $0.31, below analyst expectations and between my worst- and best-case scenarios of $0.29 and $0.33. Earnings did not cover dividends for a third quarter in a row reducing undistributed NII to $60 million compared to the $68 million the previous quarter with a total of 342,399,896 shares as of May 5, 2014 = $0.176 remaining dividend cushion. As shown in my "PSEC Undistributed NII Chart" PSEC is currently on a trajectory of reduced undistributed NII especially with the amount of yield compression in the portfolio dropping to 12.5% from 12.9% the previous quarter. I still need to revise my projections after listening to the earnings call later today.
Horizon Technology Finance (NASDAQ:HRZN) earned $0.26 for the quarter compared to dividends paid of $0.35, retaining its lower-than-average profit rank.
Ares Capital (NASDAQ:ARCC) had core NII of $0.38, GAAP EPS of $0.39 and covered dividends. In addition ARCC also had $12 million in net realized gains or $0.04 per share.
BDCs reporting results today:
I consider KCAP Financial (NASDAQ:KCAP) to have one of the riskier BDC profiles for many reasons including declining net asset value ("NAV") and history of missed EPS estimates (see the Yahoo table below) and lack of dividend coverage giving it a lower profit rank. However I have not performed my own analysis for projecting earnings for KCAP.

I consider New Mountain Finance (NYSE:NMFC) to be one of the higher quality BDCs and have included it in my "Total Return" portfolios. The company has already provided guidance for core NII between $0.35 and $0.37 and NAV of $14.57. This would adequately cover its quarterly dividend of $0.34 and grow its current NAV per share.
Triangle Capital (NYSE:TCAP) is not expected to cover dividends this quarter most likely for the reasons discussed in "Triangle Capital Suffers From Repayments" and "TCAP January Report". The current quarterly dividend is $0.54 compared to analyst projected EPS of $0.49 and core NII of $0.48 last quarter giving TCAP a lower rank for historical and projected coverage.
PennantPark Investment (NASDAQ:PNNT) currently has a lower profit rank due to not covering dividends over the last four quarters but is expected to this coming quarter as projected by analysts and in my "PNNT February Report" with projected worst- and best-case core NII of $0.24 and $0.30 compared to its quarterly dividend of $0.28.
American Capital (NASDAQ:ACAS) does not pay a dividend and has missed its projected EPS over the last four quarters (see the Yahoo table below) with declining year-over-year earnings giving it a lower profit rank.

More importantly ACAS investors should be looking for NAV growth. The following chart shows the continued decline of quarterly NAV growth rates.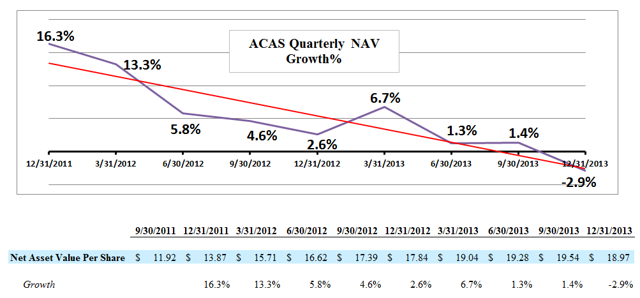 Investors should only use this information as a starting point for due diligence. See the following for more information:
Disclosure: I am long FSIC, HTGC, PSEC, MAIN, TCPC, FSC, ARCC, TCRD, NMFC. I wrote this article myself, and it expresses my own opinions. I am not receiving compensation for it (other than from Seeking Alpha). I have no business relationship with any company whose stock is mentioned in this article.