Most of us know about the Tesla (NASDAQ:TSLA) Model S that is poaching luxury sedan sales from traditional automakers. In fact, the electric vehicle was the third most-popular luxury car in California through the first six months of 2013. The Tesla sports an 89 mpg fuel economy rating, which is more than sufficient to meet CAFE standards for the next 11 years.
A different upstart automaker is following a similar trajectory to Tesla Motors, and its product is also expected to achieve 80+ mpg. This is Elio Motors, whose three-wheeled vehicle is technically classified as a motorcycle. While Tesla aims at the high end of the market, Elio Motors has targeted the bargain segment. Despite its motorcycle classification, the Elio is expected to achieve a 5-star safety rating, and (by several reviews) it offers comfortable seating for two occupants.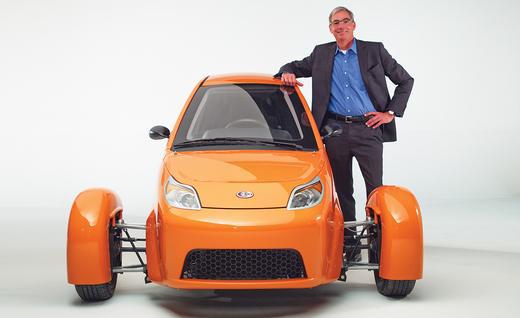 The Elio achieves such ridiculous efficiency because of a very aerodynamic profile and composite body panels, which reduce weight. There is nothing fancy about the Elio's engine: it's a naturally aspirated 3-cylinder gas burner that wouldn't seem out of place in a 1995 Geo Metro. In fact, Elio's first prototype was powered by a Geo Metro engine.
Elio has now made four prototypes, and it's interesting to see the progression from P1 to P4. I'm particularly impressed by the evolution of the interior from bland gray (Prototype 1) to a catchy orange theme.
Interior Comparison: Prototype 1 vs. Prototype 4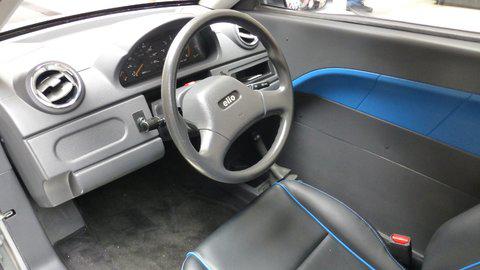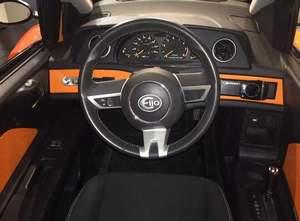 The Elio will be the cheapest vehicle in the US market, at $6800. In fact, it's about $5,000 cheaper than the closest contender (a Nissan (OTCPK:NSANF) Versa). While the Elio has the basics (AC, power windows, radio), it won't offer many frills. Interestingly, the car will be built in Louisiana, and 90% of the components have been sourced from American suppliers. Production is scheduled to begin in 2015.
Some have argued that Elio Motors is doomed to failure; it may go the way of the Yugo or the Dale. I'm more optimistic. Clearly, the company's prototype progression shows a serious commitment to detail, and the company has booked 16,822 reservations (worth at least $8M dollars, by my estimation). Since I started watching the numbers about two weeks ago, the Elio has gained ~1500 reservations. With at least seven months to go before production, I would be surprised if there were fewer than 30,000 reservations by January 2015.
Why should the Elio matter to traditional automakers? Elio Motors' initial goal is annual sales of 68,000, and that's a drop in the bucket compared to GM's 2013 sales of 9.7 million. It's also not clear that the Elio will replace traditional autos; the company markets it as a second car which is so cheap, you might as well keep your first car. If the Elio does poach sales, the traditional models that will be hurt the worst are likely to be:
1. Kia (OTC:KIMTF, KRX:000270) Soul
2. Nissan Versa
3. Chevrolet (NYSE:GM) Sonic
I'm basing that guess on the most popular subcompacts, with the hypothesis that the Elio will mainly steal subcompact sales. The Toyota (NYSE:TM) Prius might also be a victim, because its buyers are interested in great fuel economy at a relatively cheap price.
Besides poaching sales, the Elio might have an impact on future policy. My initial impression from the preliminary 2025 54.5 mpg CAFE standard was that it was too strict. I thought the mpg rating would be too difficult to achieve and the fuel economy standards would be lowered. An interim assessment is scheduled for 2017 to review the cost and effectiveness of fuel-efficient technologies, and I originally expected the standards to be lowered during that assessment.
However, we now see two upstarts that have found creative methods to surpass the 54.5 mpg mark by a wide margin. Amazingly, one of the approaches uses a naturally-aspirated engine with no technological bells or whistles. So I'm beginning to believe that the aggressive CAFE standard is reasonable, and it may actually move forward.
Any way you look at it, simultaneous pressure from the top and the bottom is bad news for traditional automakers. Although Ford (NYSE:F) seems like a bargain with a PE~9.8 and a 3.18% dividend, I'm going to abstain from any traditional auto stocks.
Disclosure: I have no positions in any stocks mentioned, and no plans to initiate any positions within the next 72 hours. I wrote this article myself, and it expresses my own opinions. I am not receiving compensation for it (other than from Seeking Alpha). I have no business relationship with any company whose stock is mentioned in this article.
Editor's Note: This article discusses one or more securities that do not trade on a major U.S. exchange. Please be aware of the risks associated with these stocks.