by Carla Fried
Amid an uninspiring first quarter of economic activity that saw overall GDP rise just 0.1%, consumer spending was a bit of a bright spot. Overall consumer spending rose 3.3% powered by a near 10% rise in consumer health care spending, extending a trend that kicked into gear in the fourth quarter of last year.
No doubt, the rollout of Obamacare is a factor. Add a few million new folks to the ranks of the insured, and at the very least premiums paid to health insurers will pick up. But as this chart shows, the sector has been on a roll for the past two years. The Health Care Select Sector SPDR ETF (NYSEARCA:XLV), the Vanguard Health ETF (NYSEARCA:VHT) and the subsector SPDR S&P Health Care Services ETF (NYSEARCA:XHS) have thumped the broad market SPDR S&P 500 ETF (NYSEARCA:SPY) over that stretch.
Which is sort of odd and impressive for a supposedly defensive sector that is supposed to outperform in bear markets, not bulls. Yet even with that strong performance, valuations aren't out of whack. According to S&P Capital IQ, the S&P 500 health care sector trades at an 16.9x estimated 2014 earnings. Granted that's higher than the 15.9 forward PE ratio for the overall S&P 500. But within defensive sectors, it's a bargain compared to 18.3x for Consumer Defensive stocks and 17.7x for Consumer Staples.
The three largest positions in both the Health Care Select SPDR ETF and the Vanguard Health Care ETF are Johnson & Johnson (NYSE:JNJ), Pfizer (NYSE:PFE) and Merck (NYSE:MRK).
As noted earlier at YCharts, Johnson & Johnson has been attracting fresh dollars from impressive fund managers. A 19 trailing PE ratio for Johnson & Johnson isn't a screaming bargain compared to the sub-10 PE ratio for Pfizer. Merck, with a 40 PE is the most expensive of the three. What's worth noting is that Johnson & Johnson hasn't had another valuation metric, EV/EBIT, creep up of late.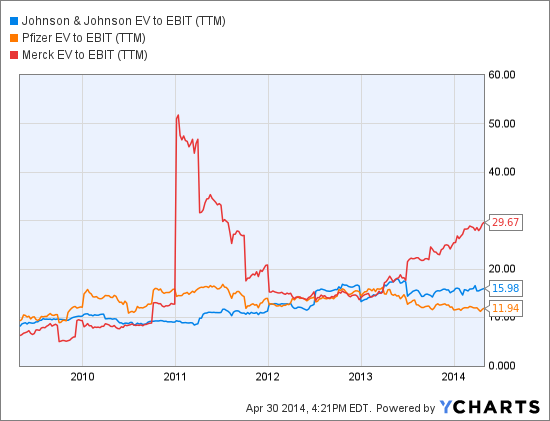 JNJ EV to EBIT (TTM) data by YCharts
UnitedHealth Group (NYSE:UNH) is also a top 10 holding of both ETFs. As covered at YCharts, Don Kilbride, manager of the Vanguard Dividend Growth mutual fund, recently fingered UNH as a company he expects to be a long-term winner as the ACA takes hold.
UnitedHealth was also one of the few positions the venerable (and value conscious) $37 billion Vanguard Health Care mutual fund added to in its most recent filing. UnitedHealth is that fund's third largest position behind Merck and Forest Laboratories (NYSE:FRX). Other top funds adding to UnitedHealth recently include Dodge & Cox Stock, T. Rowe Price Capital Appreciation and FMI Large Cap, which doubled its position to 5% in the first quarter.
Those are all patient funds that aren't looking for one-quarter wonders, nor are spooked by short-term headwinds if they espy a long-term opportunity. That pretty much sums up the case for UnitedHealth as it adapts to ACA requirements. UnitedHealth says ACA and Medicare Advantage rate cuts are expected to shave at least $1.50 off EPS this year. But over the long term it is well positioned to grow its user base. It also has enviable back-office info tech systems in place that it is now aggressively selling to other care providers struggling to meet ACA data reporting standards.
In UnitedHealth's recently reported first-quarter results, the Optum data services component generated $11.2 billion in revenue, a 29% increase. That represents more than one-third of total UnitedHealth revenue, which reported a 5% overall sales increase. Kilbride is looking spot-on in his assessment that this info tech piece of the UnitedHealth pie is going to be a growth engine.
Optum's 20% pop in operating earnings wasn't enough to pull the mothership's earnings higher. First-quarter earnings of $1.10 a share were down from $1.16 in the year earlier period. A 5% rise in operating costs is the culprit. Again, the transition to ACA reality is a current headwind, but looking beyond this earnings season a whole lot of smart managers are betting that UnitedHealth emerges one of the long-term winners. And it's certainly not requiring a dear price to settle in for a longer ride.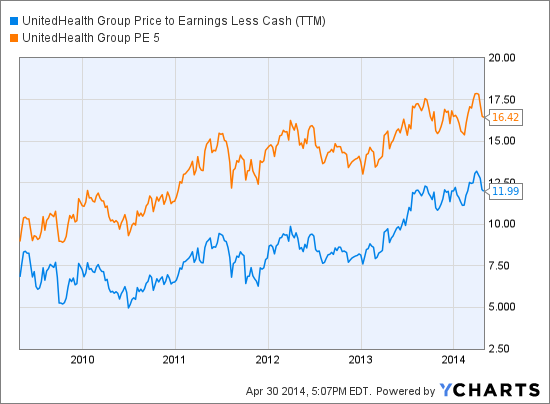 UNH Price to Earnings Less Cash (TTM) data by YCharts
Though the PE ratio has moved up over the past year, it is still below its five-year normalized level. Moreover, this is one company where the PE ratio less cash actually means something. UnitedHealth is a decidedly domestic-based business. Less than 6% of 2013 revenue came from its international operations. That means the near $10 billion in cash and short-term holdings is truly free, unlike say a Pfizer, that is looking to unlock the foreign chunk of its $30 billion plus cash horde by merging with U.K. based AstraZeneca (NYSE:AZN) and thus avoid having to - gasp, pay taxes -- if it repatriated those dollars to the U.S.
With cash clearly on-shored, UnitedHealth should have no problem delivering more impressive dividend growth, given a payout ratio that is about half the (already low) norm for the S&P 500.
Disclosure: No positions