by Carla Fried
Sometimes sexy is overrated. We're nearly a third of the way through the year and it's those old wallflowers, bonds, particularly municipal bonds, which are outperforming. Here's a year-to-date peek at the SPDR S&P 500 ETF (NYSEARCA:SPY), the iShares Core MSCI Total International Stock ETF (NYSEARCA:IXUS) stacked up against the iShares National AMT-Free Muni Bond ETF (NYSEARCA:MUB) and the iShares Core Total US bond Market ETF (NYSEARCA:AGG).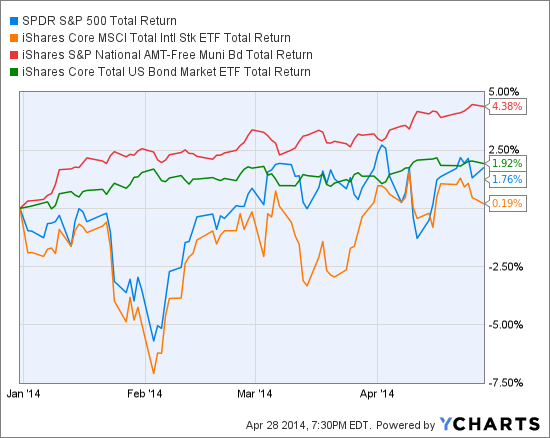 SPY Total Return Price data by YCharts
Yes, we're only four months in, and yes, one really good week for stocks closes the gap. (As does the reappearance of rising rates -- which has not followed the conventional wisdom playbook so far (10-year Treasury). But for all the bond haters out there, that chart is a telling rebuke / reminder that a little ballast has its place.
In fact, from the start of the year through early February, the gap was more than six percentage points when stocks had a modest sell-off.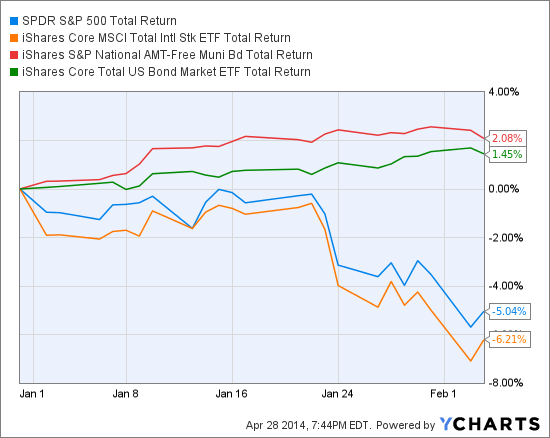 SPY Total Return Price data by YCharts
The outperformance of muni bonds is keeping in character with that niche of the bond market. A research note from Eaton Vance earlier this year pointed out that after muni funds experience big fund outflows, they have a funny habit of having fast and strong bounce backs. What's at play is the fact that the retail-dominated muni market tends to flee for the hills every time there is headline risk (last year we had Detroit, Puerto Rico and a Chicago downgrade) and then once everyone calms down and realizes whatever crisis du jour is not systemic, the market stabilizes. The first eight months of 2013 was the exodus; during that stretch the iShares National AMT-Free Muni Bond ETF was down nearly 8%. Since that low it has already claimed back nearly 7%.
Of course, what's really at play in the bond vs. stock comparison is not so much the great performance of bonds, as much as the reappearance of some volatility for stocks. As noted earlier at YCharts, this is the sort of market where high quality stocks are not just undervalued relative to momentum, it's also where inveterate bond haters can find some ballast within the stock universe (that is, relative, not absolute ballast). And part of the ballast comes in the form of a competitive dividend yield with a genetic marker suggesting stable dividend growth ahead.
Both Exxon Mobil (NYSE:XOM) and Chevron (NYSE:CVX) fit the bill. Exxon Mobil's yield of 2.5% is more than 70 basis points ahead of the S&P 500 yield. Chevron's 3.2% yield is not just a stock standout, it's more than you get from a high quality bond portfolio. Both are not expensive, but Chevron is the cheaper of the two: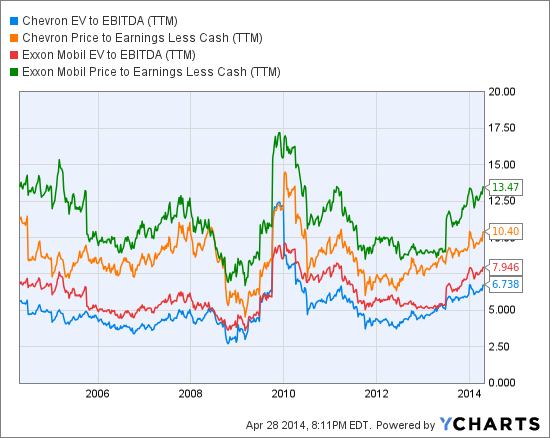 CVX EV to EBITDA (TTM) data by YCharts
As YCharts has noted, Chevron's on seemingly every value screen these days.
Microsoft continues to deliver income -- the dividend yield is above 2.7% -- at a PE ratio below 13. Back out the cash, and Microsoft's PE sinks under 11. A nice yield from a global behemoth with a fortress solid balance sheet doesn't seem like a bad deal right about now. For all the sturm und drang surrounding CEO Steve Ballmer's long goodbye, the stock's more than 30% climb over the past year is 10 percentage points ahead of the S&P 500. And as for everyone eating Microsoft's lunch, recent growth in net income after the 2012 swoon suggests it's not heading straight to dinosaur status.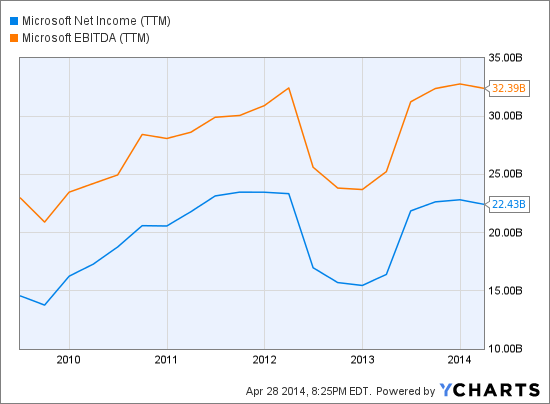 MSFT Net Income (TTM) data by YCharts
Disclosure: No positions
Editor's note: Article was originally published on April 29, 2014.