For the last year or so, the focus at Intel (NASDAQ:INTC) has been with the company trying to catch up to the mobile and tablet wave, and monetize accordingly. A bit late to the party, the chipmaker showed some signs of life in its last earnings call with getting its chips into millions of tablets. But, there's still work to be done for Intel.
You also may have noticed Intel's revamped selection of TV ads - boasting about the power that Intel chips can bring to your tablet. This is all part of the push for Intel to try and make sure it's on the inside of the tablet that consumers purchase.
Yesterday, it was announced that Intel was going to be pairing with Google (GOOG, GOOGL) and releasing the inexpensive Chromebooks from LG, Toshiba (OTCPK:TOSBF), Acer (OTC:ASIYF), and several other hardware makers. Intel is going to be cranking up the number of Chromebooks that it's in - from around four, currently, to over twenty, come the third quarter of 2014. The Chromebooks feature Intel's Celeron and i3 processors - hardly powerhouses, but enough power to get the job done.
Google's Chromebooks seem to be the right prescription for the portable world, now that we're entrenched in a world where tablets and mobile are taking away from actual PC sales. Thus, Chromebooks could be a secret little backdoor for Intel to find some growth doing what it does best - providing PC chipsets - that it may not have accounted before in the past.
The Chromebook is the closest thing you can get to a tablet, without actually being a tablet - it's cheap, it's light, and it stores data in Google's cloud. It's an Internet-powered, lightweight machine that gets the basics done for around $349.
Thus, the amount of traffic being pushed forward by Chrome OS is growing - albeit slowly, as the world catches on.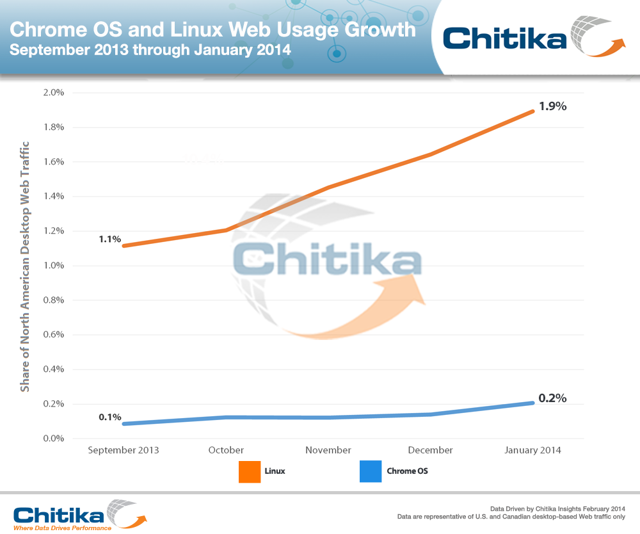 According to Forbes, IDC estimates that about 2.5 million Chromebooks were sold last year, and that number is supposed to jump 68% this year. They make up a quarter of the sub-$300 laptop market.
Analysts estimate that as a group, Chromebooks are going to continue growing in market share. This is exactly what Intel needs to keep a hold on: new consumers; those already using Intel returning to the market to purchase Intel products; and those new to the market starting with Intel products.
(click to enlarge - image source c|net)

One of the main issues with Chromebooks - and the reason that QTR doesn't own one, is because they're questionable when it comes to power. QTR currently uses two laptops - one with a Core i7 and one with a Core i5. There's a noticeable difference between the two, and I cringe when I have to use the Core i5 machine, even though it's the newer of the two. I'm just not sure I could get by using a Celeron processor or a Core i3 processor; I'm just not sure it would be enough gusto for me.
Forbes reports that power was one of the main issues of contention that Intel and Google were trying to fix:
The Intel-powered machines, along with improvements to the Chrome operating software they run on, are intended to answer a couple of uncertainties users have about cloud-based machines like Chromebooks. For one, they're seen as underpowered, unable to run demanding or multiple applications at the same time. Intel demonstrated new Chrome machines running games as well as Google Hangout videoconferences with document editing at the same time.

Google also promised upgrades to Chrome that will allow movies and TV shows to be viewed offline. It's also planning to add its Google Now concierge service and voice actions that to date have been available only on Android smartphones and tablets.
Additionally, the new Celeron books are supposed to provide up to 11 hours of battery life. Samsung (OTC:SSNLF), the company that, if you remember, launched the original Chromebook, was nowhere to be found in yesterday's presentation.
This low-end market is a great niche for Intel, for a couple of reasons:
It doesn't compromise the relationship that Intel has with high-end laptop providers
It's a perfect niche in between PC and tablet for the company to jump on; much like that phablet was to a phone/tablet, the Chromebook is to a laptop/tablet mash-up
On the heels of what is a reaffirmation of Google and Intel's strongest partnership signs yet, it likely isn't a bad time to be long Intel here. The company showed on its last conference call that it's taking steps to find vision, move the company in the right direction, and find avenues for growth. Whether it planned it or not, this partnership for Chromebook could wind up turning out to be a secret catalyst for growth for the chipmaker.
Best of luck to all investors.
Disclosure: I have no positions in any stocks mentioned, and no plans to initiate any positions within the next 72 hours. I wrote this article myself, and it expresses my own opinions. I am not receiving compensation for it (other than from Seeking Alpha). I have no business relationship with any company whose stock is mentioned in this article.