MLPs have generated higher yields than bonds or stocks over the past ten years, but have exhibited higher volatility than bonds, more like the volatility of stocks (see Part 2). However, the correlation of returns between stocks and MLPs over the past several years is only moderate, making them more useful in an asset allocation / rebalancing program than some other securities with higher correlation to stocks. As stocks and bonds have tended to have a negative correlation in recent years, MLPs and bonds have also had negative correlation.
This table of correlations between stocks (represented the S&P 500 index fund, VFINX), bonds (represented by the Barclay's Aggregate Bond index fund, VBMFX), and the ten largest MLP's in the Alerian MLP index, shows the correlation for 1 year, 3 years, and from the stock market peak to trough (10/2007 to 03/2009), and from the stock market trough to now (03/2009 to 07/2010). In each case the correlation between stocks and MLPs is only moderate, and the correlation between bonds and MLPs is negative, as it is between stocks and bonds.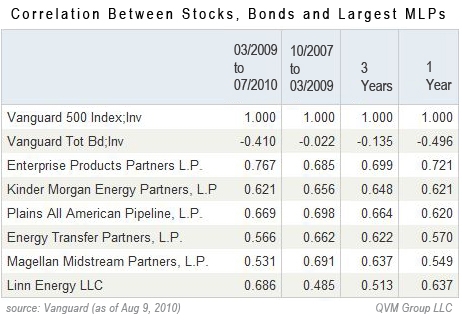 ETF alternatives to the stock and bond proxies in the table are: SPY, IVV, AGG and BND.
Symbols for the six MLPs in the table are: EPD, KMP, PAA, ETP, MMP, LINE.
Holdings Disclosure: As of August 9, 2010 we own AGG, BND, EPD, KMP, and PAA variously in some managed accounts. We do not currently own any other securities mentioned in this article in any managed accounts.
Disclaimer: Opinions expressed in this material and our disclosed positions are as of August , 2010. Our opinions and positions may change as subsequent conditions vary. We are a fee-only investment advisor, and are compensated only by our clients. We do not sell securities, and do not receive any form of revenue or incentive from any source other than directly from clients. We are not affiliated with any securities dealer, any fund, any fund sponsor or any company issuer of any security. All of our published material is for informational purposes only, and is not personal investment advice to any specific person for any particular purpose. We utilize information sources that we believe to be reliable, but do not warrant the accuracy of those sources or our analysis. Past performance is no guarantee of future performance, and there is no guarantee that any forecast will come to pass. Do not rely solely on this material when making an investment decision. Other factors may be important too. Investment involves risks of loss of capital. Consider seeking professional advice before implementing your portfolio ideas.