by Jeff Bailey
Since roughly peaking on November 5 of last year, Starbucks (NASDAQ:SBUX) shares are off some 13%, with the S&P 500 moving up about 7%, so roughly a 20% relative plunge in the stock of the coffee retailer.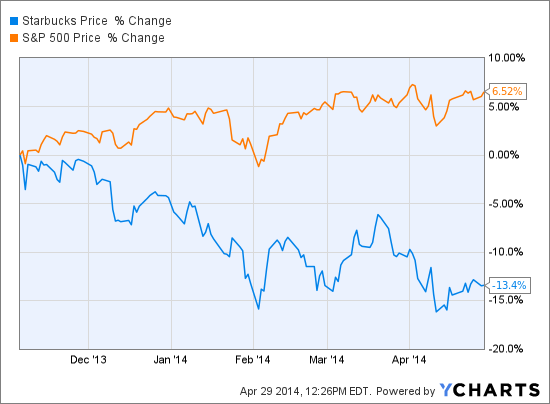 SBUX data by YCharts
Any stock trading at a multiple above the market, of course, is going to be more subject to sell-offs and investor skittishness, and Starbucks is far from cheap; here it's lined up against McDonald's (NYSE:MCD), Chipotle Mexican Grill (NYSE:CMG) and Dunkin Donuts (NASDAQ:DNKN).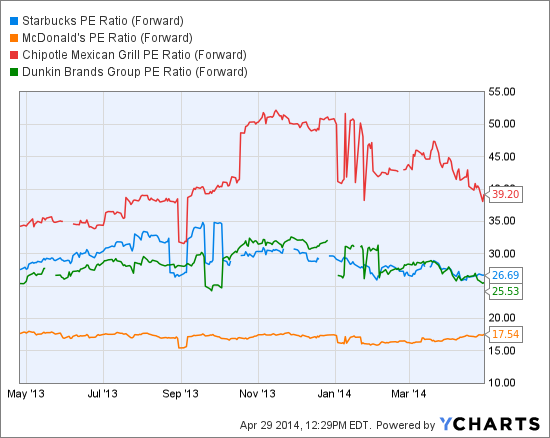 SBUX PE Ratio (Forward) data by YCharts
The decline, however, comes as Starbucks has posted particularly impressive results and appears to be increasingly focused on the sorts of incremental operating improvements that distinguish great companies from merely well positioned ones. YCharts provided a run-through on the nuts-and-bolts of Starbucks earlier, and its impressive multi-year turnaround.
In the second fiscal quarter, ended March 30, Starbucks' operating margin widened by 130 basis points year-over-year (the earlier spike downward reflects a big charge from litigation over grocery store coffee rights, not an operating problem.)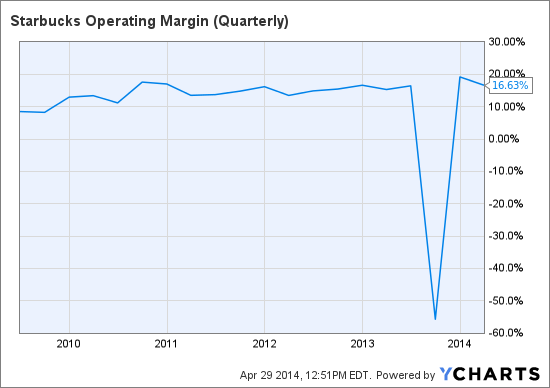 SBUX Operating Margin (Quarterly) data by YCharts
Same store sales worldwide grew 6%. That's 17 straight quarters of same store sales growth, with each quarter at 6% or higher, with the exception of the fiscal first quarter ended December 29, which was just a 5%-growth quarter. Not bad in an earnings season marked by flat revenue and modest profit gains.
The turnaround under the returned CEO Howard Schultz compares favorably now to the multi-year (and seemingly now ended) turnaround that occurred under Jim Skinner at McDonald's. Both CEOs, taking over after a period of sloppy growth, slammed on the brakes, refocused on basic operating results and reaped incredible rewards for stockholders in the process. McDonald's shares and results have flattened out since Skinner departed.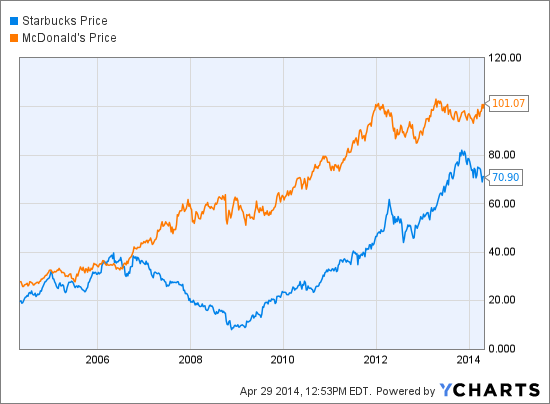 SBUX data by YCharts
But Starbucks may have considerably more running room than McDonald's did. McDonald's operates in a very crowded fast food market where there is more than one outlet for every 1,000 consumers in the U.S. New concepts pop up constantly, attract funding and grow rapidly. Many are offering food priced below that of McDonald's, so margins are constantly under pressure.
Starbucks, on the other hand, arguably sits atop a category that is still growing rapidly and is under-stored. At the higher end of the coffee beverage business, there is no other competitor of scale. And Schultz has accelerated growth once again, both in the U.S. and abroad. He also is constantly working to increase same store sales, as with testing of a Starbucks remote ordering system.
Starbucks has become a high-quality growth company with the sort of operating rigor found at companies like Wells Fargo (NYSE:WFC), United Parcel Service (NYSE:UPS) and Southwest Airlines (NYSE:LUV). The recent sell-off, when looked at against the overall market, could be a nice entry point.
Disclosure: No positions
Editor's Note: Article was originally published on April 29, 2014.