Linn Energy (LINE) and its sister stock LinnCo (LNCO) have had rough 2014. While both stocks rallied coming into the year, that momentum quickly dissipated after the Q4 2013 earnings, which were widely considered to be poor. However, for Q1 2014, Linn Energy returned to its typical self, with a much needed "normal" quarter.
Q1 2014 Overview
For a more in-depth review please see my earlier article.
Production of 1,104 MMCFE/D

Net loss of $85 million, or $0.27 per unit

Net loss includes a $241 million, or $0.73 per unit, non-cash charge related to changes in the value of derivative contracts

Oil, natural gas and NGL sales of $939 million

Distributions paid to unitholders of approximately $240 million

Shortfall of net cash of approximately $2.99 million
The quarter was mostly inline for Linn Energy. Production grew 24% Q/Q thanks to a full quarter of production from Berry. In addition, the company posted modest "organic" production growth and is on track to deliver the guided 3 to 4% growth rate.
Linn Energy benefit greatly from improved prices for its production, with natural gas in particular up 58% to $5.23 per MCF. Liquids were also much improved, with NGLs pricing inline with guidance at around $40 per barrel, while light oil posted a 4% gain to $92.95 per barrel.
Citigroup remains neutral: Hardly surprising
In a recent report, Citigroup analysts Faisel Khan and Vikram Bagri both seemed to be unimpressed by Linn Energy's results. As noted in a Barron's blog,
Based on our forecast, Linn will pay out ~100% of its distributable cash flow (coverage of ~1.0x) this year assuming flat distributions and no operational missteps. In addition, the partnership's balance sheet is stretched with 2014 Debt/EBITDA expected to be 4.4x. As a result, we believe LINE will focus on reducing leverage, improving coverage and lowering the overall decline of its asset base through the Permian asset sales and accretive third party acquisitions. Overall, we believe that management needs to execute well on all fronts to improve distribution sustainability and reduce leverage to a more manageable level. We maintain our Neutral rating and target price.
That Citigroup is not bullish Linn Energy is hardly surprising, with that firm only recently downgrading the stock from a buy rating about a month ago.
Citigroup's concerns echo what previous analysts have been noticing. Linn Energy distribution coverage is simply too close for comfort and the company has too much debt. In addition, the firm noted that Linn Energy should see a boost from its proposed Permian asset sale as this would free up capital for distributions/dividends.
However, this news follows a long trend of analysts lowering their ratings. In late February to early March, Linn Energy suffered through various downgrades, with JP Morgan, Howard Weil, and even Cramer throwing in the towel. Indeed, these downgrades (along with the weak Q4 earnings) were the main catalyst for the share price plunge seen last quarter.
Permian asset sale: When will Linn Energy pull the trigger?
Citigroup also had a blurb regarding the Permian asset sale:
Linn did not make any announcements regarding the timing of the sale and expected value of its Midland basin assets that are on the selling block. Management disclosed it would prefer an asset swap and that a number of interested parties have offered MLP suitable assets in exchange of Linn's Permian properties. Linn is also open to do a cash sale of the Permian acreage and a 1031 LKE by redeploying the proceeds in mature MLP suitable assets. At this point, a JV remains the last option. Based on recent transactions in the area, we estimate that the partnership could acquire ~$2.0 billion worth of mature producing properties in exchange for its acreage on sale
Citigroup's estimate of $2.0 billion seems to be a fair one. They are largely basing their estimates on a recent purchase by Athlon Energy (NYSE:ATHL) in the Permian Midland basin. Athlon spent $873 million for 23,500 net acres and 4,800 BOE/D of production.
While the final price will depend largely on the value of the 17,000 BOE/D of production, Linn Energy's 55,000 net acres should fetch a pretty penny. Indeed, during the Q1 conference call, a Howard Weil analyst pondered if a valuation of $20,000 to $25,000 an acre was feasible.
However, Linn Energy needs to be careful and not price itself out of the market. EP Energy (NYSE:EPE) recently was able to purchase undeveloped acreage in the Wolfcamp region for around $2,700 per acre. While these assets only had 1,000 BOE/D of production, the price per acre has to be concerning.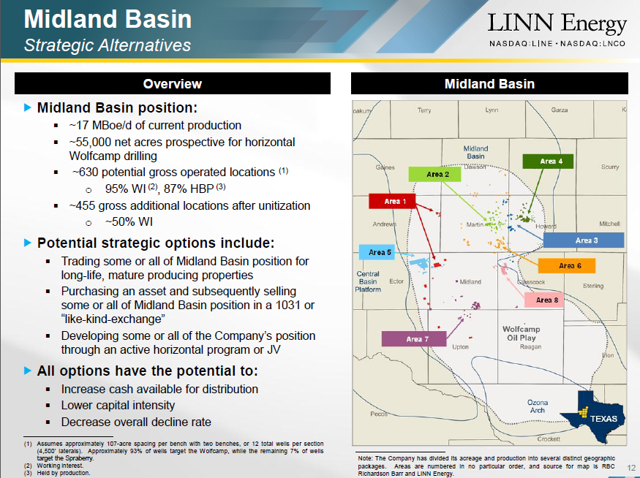 Conclusion
If Linn Energy does plan to sell its Permian assets it should do so soon. Both natural gas and oil prices are elevated, while NGLs seemed to have recovered from their record lows in 2013. The company has noted that it could sell them piecemeal over time. Nevertheless, any sale should provide an immediate boost for the stock.
Linn Energy needs to focus on its core assets and grow its production organically. The addition of Berry's assets to the portfolio has provided the company with many opportunities for such growth. The same can be said for investors. Focus on the core results and ignore the distractions caused by the bears. All the while, Linn Energy should be able to pay its monthly distributions, good for 10% annual yield.
Disclaimer: The opinions in this article are for informational purposes only and should not be construed as a recommendation to buy or sell the stocks mentioned. Please do your own due diligence before making any investment decision.
Disclosure: I have no positions in any stocks mentioned, and no plans to initiate any positions within the next 72 hours. I wrote this article myself, and it expresses my own opinions. I am not receiving compensation for it (other than from Seeking Alpha). I have no business relationship with any company whose stock is mentioned in this article.