It's been more than a week since Nokia (NYSE:NOK) completed its $7.5 billion sale of Devices & Services (D&S) to Microsoft (NASDAQ:MSFT). I prayed for action towards $8 but it never happened. I'm greatly disappointed with the market's lukewarm reception but I'm still holding on to my NOK.
The apathetic attitude of Nokia bulls after April 25 can perhaps be attributed to the fact that management plans to spend most of the D&S money towards dividends and buybacks. Hindsight is always better but I suspect that NOK would have rallied past $8 if Suri announced that the new Nokia will use most of the $7.5 billion towards acquiring Juniper (NYSE:JNPR) or Alcatel-Lucent (ALU).
Investors never gave Nokia serious props after the $7.5 deal was sealed. NOK is now even trading below its pre-April 25 closing price. It now looks to me that the path towards the $10 price target from SEB is a long and arduous journey.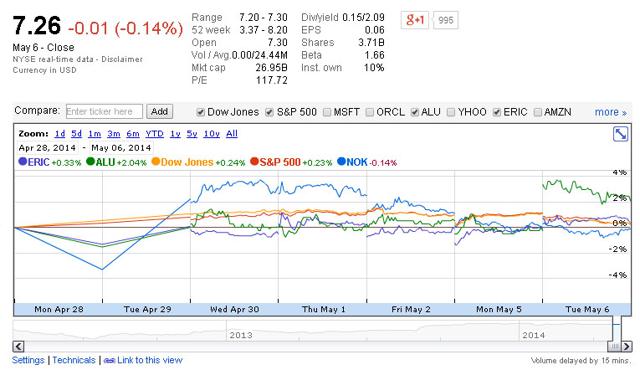 Click to enlarge

Click to enlarge
Charts from Google Finance
Look at the huge trading volume on April 28, Nokia pessimists even sold it down to $7.03. The April 29 to 30 bounce trading helped NOK reach a high of $7.54. But that's the peak of investors' interest - $7.54 from April 25 closing price of $7.27. A +3.71% market reaction is just dismal.
Why Bulls Are Ignoring Nokia
The weak market reception to the completion of the Nokia and Microsoft deal can perhaps be explained by Alpha Omega Mathematica (AOM). Nokia, despite it being mega cash-rich, only received an aggregate score of 43% from AOM's quantitative/comparative algorithm. The overall Hold recommendation for Nokia is also not conducive to bulls to notice Nokia.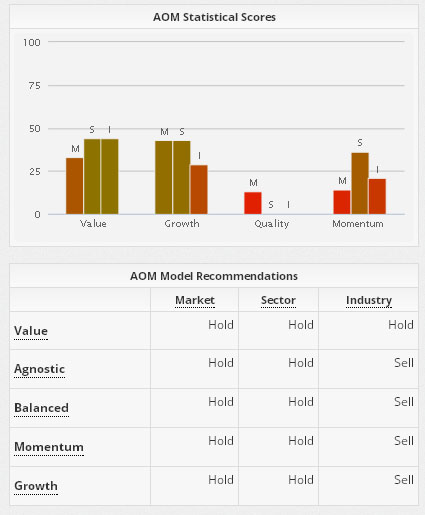 Chart from getaom.com
The AOM Model for Value Strategy investors gives a HOLD for Nokia when compared to its market, sector, and industry peers. However, AOM's math rates it a SELL for Momentum and Growth Strategy investors when Nokia is compared to its Communications Equipment industry peers.
The only saving grace for Nokia under AOM's valuation system lies in its decent Value Indicators. Nokia is still worthy of my loyalty because it has better Price/Sales, Price/Book, and Price/Cash ratios than its market, sector, and industry peers.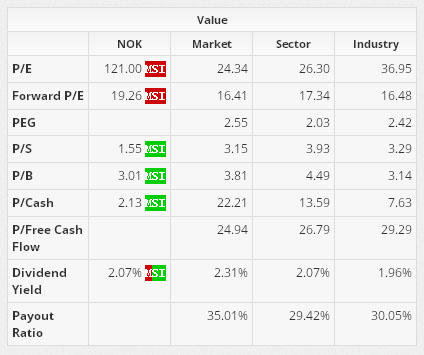 The disheartening score from Alpha Omega Mathematica is a valid reason why Nokia underperformed after D&S sale was completed. The sentiment of AOM is shared by analysts at BarChart.com. A majority of the experts there still give NOK a Hold rating. Notice that the current average recommendation score of 2.65 is even lower than the 2.74 median figure for last month.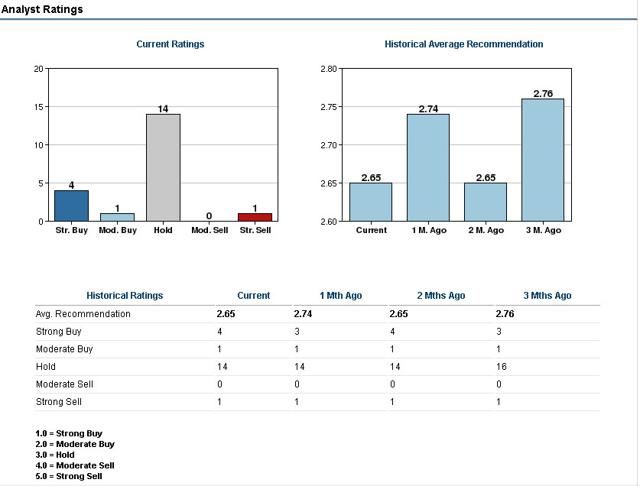 Click to enlarge
A majority of FT.com analysts are also not inspired to make a Buy recommendation for Nokia. The $7.5 billion from Microsoft is becoming more and more a non-factor. With many analysts recommending NOK as just a Hold, Nokia will again likely languish below $8 this month.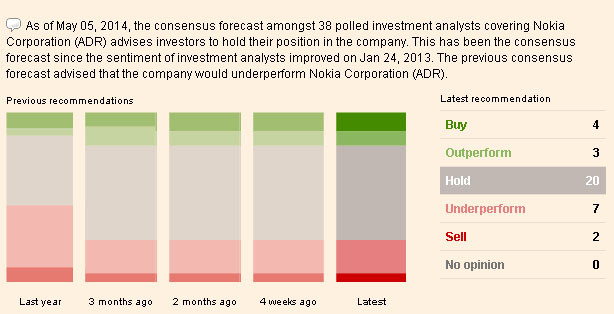 Source: markets.ft.com
On the other hand, the Ft.com analysts see Nokia posting new highs for the next 12 months. The median price target is up by 8.3% while the High price target is up by a huge 48.8%.

From that optimistic 12-month prediction by FT.com analysts, I'd like to add more positive news. Nokia is using some of the $7.5 billion to strengthen its HERE division. The company set aside $100 million towards acquiring new smart car IP assets to help improve the monetization potential of HERE.
Out of Smartphones, Going In to Smart Cars
Nokia is putting $100 million under its Nokia Growth Partners as seed capital to acquire smart car IP assets. HERE is the weakest link among the New Nokia. This small bet should at least assuage exasperated NOK holders like me that Suri is really intent on improving HERE. This lackluster division has the technology to compete with Google (NASDAQ:GOOG) (NASDAQ:GOOGL) Maps.
Based on the latest earnings report of Nokia, HERE's numbers are still uninspiring. I hope that this new $100 million fund will make Nokia's mapping services more attractive to customers. HERE employs 6,000 people but it only generates 7% of Nokia's sales.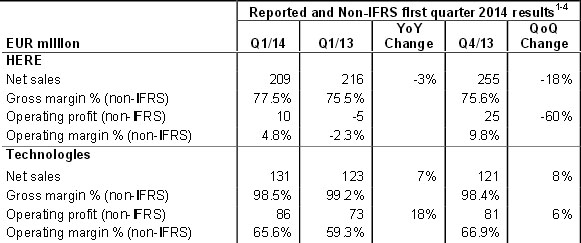 Source: Nokia.com
I look forward to HERE making double digit sales growth with the help of smart car technology. During the last quarter, HERE both delivered negative YoY and QoQ growth. The mapping asset of Nokia might just become its most important future growth driver.
Despite HERE's money losing performance, it gives Nokia a dominant leadership position in the car navigation system industry. Nokia's smart maps have 80% of the global navigation market. Google and Apple (NASDAQ:AAPL) are very much interested in stealing Nokia's pole position. The $100 million fund for smart car technology should help Nokia keep its leadership in car navigation maps.
Nokia's biggest selling point is that HERE maps are updated 2.7 million times a day which makes it more accurate and updated than competing products from Google and others. Microsoft even tried to buy Nokia's HERE assets but it is good for the new Nokia that mapping assets are still sole property of the company. HERE's superior technology makes it an attractive unit- it has a possible price tag of $6 billion if ever Suri decides to sell it.
Conclusion
Investing in smart car technology fortifies Nokia's dominant position in car navigation systems. Smart cars will help Nokia find the path towards the $10 price target. It might be a slow process but Nokia will ultimately get there.
HERE should not be sold because, like its vast patent portfolio, the mapping assets will help Nokia generate more sales to offset any future seasonal downturn in its Networking business.
I am going against the Hold recommendations by AOM, BarChart, and FT.com analysts. Nokia is a Buy for long-term investors. I will add a few more shares if NOK goes below $7. The near term pain of it going down further is annoying but no pain, no gain.
Disclosure: I am long NOK, AAPL, GOOG. I wrote this article myself, and it expresses my own opinions. I am not receiving compensation for it (other than from Seeking Alpha). I have no business relationship with any company whose stock is mentioned in this article.